The fastest Pentax telephoto lens to the test: Pentax smc DA Star 200mm F2.8 ED (IF) SDM
Tuesday May 15 2012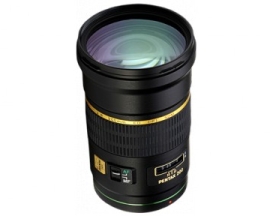 The PENTAX DA Star 200mm F2.8 ED (IF) SDM is the fastest telephoto lens in Pentax's high-end product range. For example, on an APS-C like the Pentax K5, its focal length is equivalent to a 300mm on a full-frame camera. With its weather- and dust-resistant construction and fast ultrasonic autofocus, it could prove a great companion for wildlife and sports photographers.
Pentax also included three extra-low dispersion (ED) elements to deal with chromatic aberration, so let's see how the PENTAX DA Star 200mm F2.8 ED performs in term of image quality.
Measurements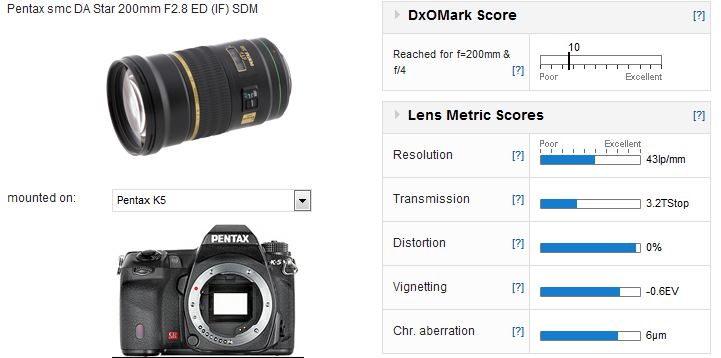 The strong points of the Pentax DA Star 200mm F2.8 ED (IF) SDM:
Zero distortion.
Very good behavior with respect to vignetting; zero vignetting from f/4 onwards.
Good correction of chromatic aberrations.
SDM autofocus.
The questionable point of the Pentax smc DA Star 200mm F2.8 ED (IF) SDM:
The lens transmission is 0.4EV less than the manufacturer's announced transmission measurement.
Comparison
Comparison at F=200mm: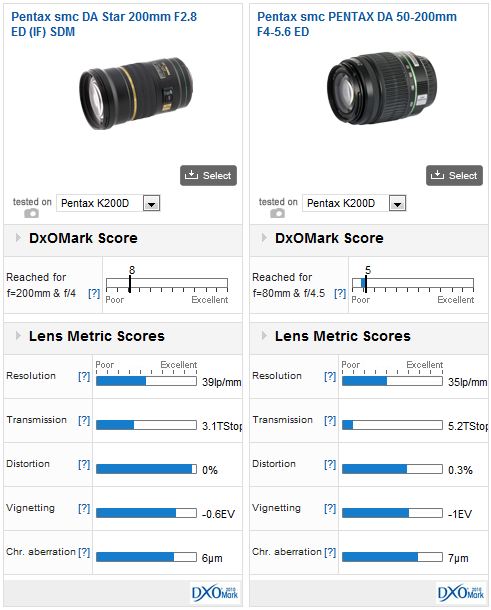 The advantages of Pentax smc DA Star 200mm F2.8 ED (IF) SDM:
Much brighter, with a gain of nearly 2EV.
Better sharpness at the same focal distance and aperture (i.e, 200mm opened to 5.6). In fact, the sharpness at 200 mm opened to 2.8 is the same as or even slightly superior to the sharpness measured for the 50-200mm at 200mm opened to 5.6, despite the difference in aperture.
Better handing of distortion.
Better handing of vignetting.
SDM autofocus.
Circular aperture.
The advantages of the Pentax smc PENTAX DA 50-200mm F4-5.6 ED:
More compact.
More versatile.
Lighter.
More economical.
Further readings for the The fastest Pentax telephoto lens to the test: Pentax smc DA Star 200mm F2.8 ED (IF) SDM
To provide photographers with a broader perspective about mobiles, lenses and cameras, here are links to articles, reviews, and analyses of photographic equipment produced by DxOMark, renown websites, magazines or blogs.
---
---
Comments
Sigh

I wanted the K5 a lot. I wish Pentax would produce some good lenses. They're not BAD, but they're also not really good, either.

Oh, and about the bot detection during sign-up, I was so disappointed that I couldn't selection "no" for the question "are you a human."

And I REALLY wanted the ability to select "Negative. I am a meat popsicle."


Reply
---