Tokina AT-X M35 PRO DX AF 35mm f/2.8 Macro for Canon and Nikon
Friday September 07 2012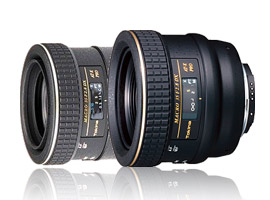 Are you a Canon or Nikon photographer looking for a versatile prime standard lens? The Tokina's AT-X M35 PRO DX AF 35mm f/2.8 Macro might be the lens for you. It gives users myriad shooting options: you can take portraits, photograph detail oriented macro pictures, or snap landscape images. DxOMark takes a look at how the lens performs on select Canon and Nikon cameras, and how it stacks up against rivals.
Further readings for the Tokina AT-X M35 PRO DX AF 35mm f/2.8 Macro for Canon and Nikon
To provide photographers with a broader perspective about mobiles, lenses and cameras, here are links to articles, reviews, and analyses of photographic equipment produced by DxOMark, renown websites, magazines or blogs.
---
Lens Review
|
September 07, 2012
| | |
| --- | --- |
| | The Tokina AT-X M35 PRO DX AF 35mm f/2.8 Macro for Canon and Nikon is the Jack of all trades: the lens allows photographers to snap pictures with macro like details by providing life-sized (1:1) reproduction; its 35mm prime standard lens also grants shooters the flexibility of photographing just 14 centimeters, or less than a hands length away from an object; and when mounted on a digital SLR camera, the Tokina 35mm f/2.8 Macro behaves more like a 52mm lens, giving photographers another option for shooting portraits. |