Two new Pentax pancakes to the test: SMC DA 21mm and SMC DA 70mm
Friday March 16 2012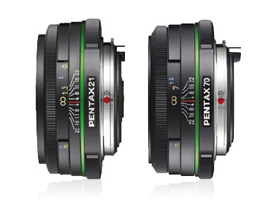 Compactness has become a key factor for the hybrid cameras, but Pentax anticipated this trend with some nice pancakes launched a few years ago.
We go on our first round of reviews of Pentax pancake lenses with 2 more extremely compact lenses.
Further readings for the Two new Pentax pancakes to the test: SMC DA 21mm and SMC DA 70mm
To provide photographers with a broader perspective about mobiles, lenses and cameras, here are links to articles, reviews, and analyses of photographic equipment produced by DxOMark, renown websites, magazines or blogs.
---