A wider view: Independent Super Wide-Angle lenses compared
By Ben Boswell -
Friday February 01 2013
Lens Review
"Unsurprising" Test Results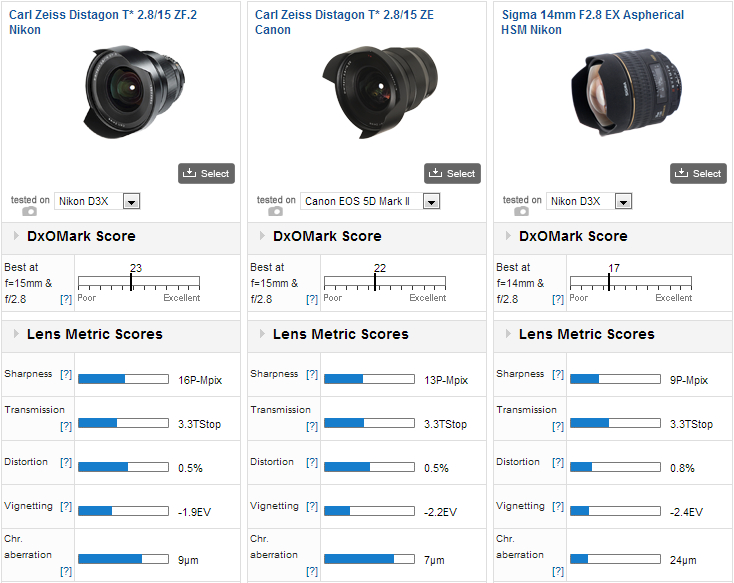 The basic similarity between the specifications is only on paper, the lenses perform rather differently.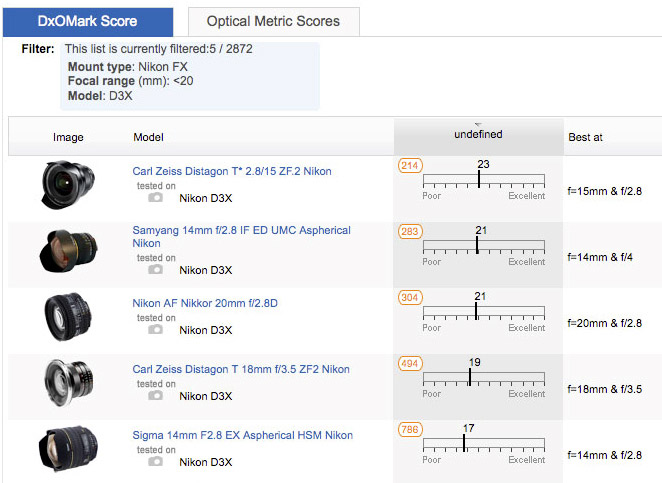 This comparison of Nikon FX mount lenses 20mm or wider shows the Zeiss 15mm lens at the top and the Sigma 14mm at the bottom of this small group.
In DxO Mark's testing the quality of the Zeiss lenses over the Sigma lens is very clear. A DxO Mark score of 17 for the Sigma lens is an OK score for a lens with this extreme wide angle: there are few wider corrected lenses on the market to cover full frame 35mm so if the lens were considered in isolation the score might possibly be accepted as a reasonable consequence of the focal length. However, when you look at the other lenses in this category the score does not look quite as good. Zeiss on the other hand have a shining DxO Mark score of 23 for their Nikon version, the highest for any lens of 20mm or wider with a Nikon FX mount (the Canon version scores a creditable 21). The Zeiss lens is much more expensive, nearly 4 times the price of the Sigma, so there will obviously be people for whom the Zeiss is just too much.
The breakdown of the scores does give some relief for the Sigma lens, the three measures that can be corrected: Distortion, Vignetting and Chromatic Aberration all contribute quite heavily to the poor overall score and the proper application of digital corrections using DxO Optics Pro will certainly improve the overall situation immensely. However the sharpness score of just 9 P-Mpix (bearing in mind that the tests were carried out on a Nikon D3X which has a sensor of 24Mpix), means that post production is not going to redeem the lens entirely. Zeiss's 15mm does much better, with a score of 16 P-Mpix for the Nikon version and 13 P-Mpix for the Canon. The Zeiss Distagon T* 2.8/15 in both it's versions handles distortion and Chromatic aberration well. Vignetting is just what you would expect for both, super-wide lenses: the corners of the frame are darker by 1.9EV on the Zeiss and 2.6EV on the Sigma.
Further readings for the A wider view: Independent Super Wide-Angle lenses compared
To provide photographers with a broader perspective about mobiles, lenses and cameras, here are links to articles, reviews, and analyses of photographic equipment produced by DxOMark, renown websites, magazines or blogs.
---
---
---
---
Comments
First replies for this comment
---
XO Module for Samyang 14mm f/2.8 IF ED UMC

I too would appreciate a DxO Optics Pro module for the Samyang 14mm for use with my D800. I might have to get a copy of Lightroom if DxO doesn't deliver soon...


Reply
---
First replies for this comment
---
Zeiss 25mm F2

Any idea when this lens will be tested?
It was released before the Zeiss 15mm so one would have thought that it may have been tested first.
It's also a cheaper lens and may have more public interest.


Reply | Read all replies for this comment
First replies for this comment
---
DXO Module for Samyang 14mm f/2.8 IF ED UMC

Given your tests for this lens, why not a DXO module?? The lens is excellent especially in light of its price, and distortion corrections in a module would make it much, much better. I have had one for Nikon with a focus chip for well over a year waiting for a DXO module.


Reply
---