AF-S Nikkor 24-85mm f/3.5-4.5G ED VR Review
Friday June 15 2012
Lens Review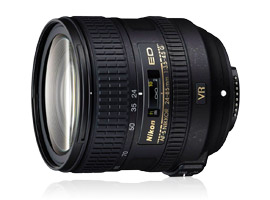 A middle-of-the-line lens, the AF-S Nikkor 24-85mm f/3.5-4.5G ED VR integrates an ED glass lens and three aspherical lenses, as well as a coating against flare. Its focal-length range extends from wide-angle to traditional lengths for taking portraits. The autofocus is driven by an ultrasonic (SWM) motorized internal focus (IF design). This lens's lightness (465 grams) is particularly appreciated as a counterweight (so to speak) to the 830 grams of the APS-C reflex trans-standard lens announced at the same time, the AF-S DX Nikkor 18-300mm f/3.5-5.6G ED VR.
Price and availability
The 24-85mm FX is being offered at 599 euros, an attractive enough sales price that may be a precursor to a medium-format camera that will be a bit more accessible to everyone than the D800.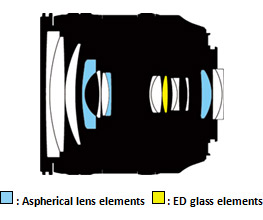 Principal characteristics
Focal length: 24–85mm
Zoom range: 3.5x
Maximum aperture: f/3.5–4.5
Nikon VR lens image stabilization
Circular diaphragm with 7 leaves
3 aspherical lenses
1 ED glass element
SWM ultrasonic motor and IF design
Minimum focus distance: 38cm at all focal lengths
Maximum reproduction ratio: 0.22x
Filter diameter: 72mm
Lens diameter: 78mm
Lens length: 82mm
Weight: 465 grams
Price: 599 euros (tax included)
Further readings for the AF-S Nikkor 24-85mm f/3.5-4.5G ED VR Review
To provide photographers with a broader perspective about mobiles, lenses and cameras, here are links to articles, reviews, and analyses of photographic equipment produced by DxOMark, renown websites, magazines or blogs.
---
| | |
| --- | --- |
| | Nikon is stepping up its efforts by expanding its FX-format lens range. Now an affordable and versatile full-frame lens has arrived in the Nikkor line: the AF-S Nikkor 24-85mm f/3.5-4.5G ED VR. |
---
Comments
Added by

vitaly

| May 02 , 2013

Thanks!

Many thanks for the review.
One question about these measurement: are the sharpness results reported for a certain distance taken from single spot or averaged over all points at that distance?
The reason I'm asking is that I've used several copies of the lens and they all had unusualy high decentering with at least one of the quarters of the image looking much worse than the other ones. This is most obvious at the long end of the zoom and can be also seen in many other tests done online.


Reply | Read all replies for this comment
First replies for this comment
---
Where are the promised tests for lenses for D600?

At the end of April, you promised to have a lot of tests for lenses to be used on Nikon D600. I am especially interested with a tests for Sigma 35mm f1.4 not only on D600, but also on D7100.


Reply | Read all replies for this comment
First replies for this comment
---
Added by

ttfatt

| April 22 , 2013

Expecting measurement

April is almost over. Have been waiting to see the measurement result for months. I wonder DxOMark will still do the measurement.


Reply | Read all replies for this comment
First replies for this comment
---
First replies for this comment
---
Added by

vitaly

| February 22 , 2013

When will we see the measurements

This is a very popular lens, so it would be great to see how it compares to other standard zoom options for Nikon. Please review it.


Reply | Read all replies for this comment
First replies for this comment
---