Best lenses for Nikon D610: Short telephoto and standard focal lengths
By Kevin Carter -
Thursday November 21 2013
Lens Recommendations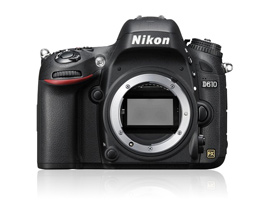 Following on from the lens recommendations for the earlier full-frame Nikon D600, we've now had the opportunity to assess a wide range lenses with that model's replacement, the 24-Mpix D610. We've analyzed a total of 95 Nikkor and third-party prime and zoom models with the D610 to assess image quality, and we've come across some unexpected results. Read onto find out more about that and which lenses perform best when paired with the camera.
Although the entry-level full-frame Nikon D600 was a hugely popular model it was not without some technical issues. While not officially recognized as a fault by the firm, users commonly reported oil spots and dust on the sensor after a period of use. A service advisory was announced outlining methods to clean the sensor, but the firm didn't go so far as to disclose the reason behind the problem. Whether by coincidence or design, within a year Nikon announced a minor update to that model, resulting in the Nikon D610.
While there was no mention of a remedy to the initial issues, curiously, the D610 features an enhanced shutter mechanism with a new quiet 3fps burst shooting mode and a slightly higher maximum continuous framing rate of 6fps (up from 5.5fps). Nikon also revised the white-balance metering system to improve color accuracy in artificial lighting. In almost every other respect though the D610 shares the same features as its popular predecessor.
Our labs have evaluated the optical characteristics of 95 different lenses on the camera from both Nikon and third-party makers. We've analyzed 41 zooms in total, recently adding two Sigma models, the new high-grade 120-300mm f2.8 EX and the older consumer-oriented APO 70-300mm f4-5.6 Macro Super II.
Out of the remaining 54 fixed focal length lenses, we've had the opportunity to include the new Nikon AF-S Nikkor 58mm f1.4G as well as well as the older Nikon AF Nikkor 14mm f2.8D ED and 180mm f2.8D IF-ED models. We've also added the highly regarded Sigma APO Macro 150mm f2.8 EX DG OS HSM to our database.
Intriguingly, the sharpness scores between the D600 and D610 aren't exactly the same, as you might expect, in fact the newer model shows some small improvement. Although the results are never more than 10% in favor of the D610, the evidence suggests Nikon has likely reduced the strength of the AA filter making something more to like about the Nikon D610 than the few official updates.
Further readings for the Best lenses for Nikon D610: Short telephoto and standard focal lengths
To provide photographers with a broader perspective about mobiles, lenses and cameras, here are links to articles, reviews, and analyses of photographic equipment produced by DxOMark, renown websites, magazines or blogs.
---
Lens Recommendations
|
November 22, 2013
| | |
| --- | --- |
| | Following on from the lens recommendations for the earlier full-frame Nikon D600, we've now had the opportunity to assess a wide range lenses with that model's replacement, the 24-Mpix D610. We've analyzed a total of 95 Nikkor and third-party prime and zoom models with the D610 to assess image quality, and we've come across some unexpected results. Read on to find out more about that and which lenses perform best when paired with the camera. |
---
---
Lens Recommendations
|
May 15, 2013
| | |
| --- | --- |
| | Following on from our series of selecting the best lenses for the Nikon D800 with its potential for massively detailed images from the 36Mpix sensor, we've now turned our attention to that camera's younger sibling, the 24Mpix D600. |
---
---
---
---
---
---
---
Comments
Added by

Rediff

| May 12 , 2015

Sigma 24-105 f/4

Thanks for all helpfull info.

What do you think about Sigma 24-105 f/4? Is there any place here for it?

Kind regards


Reply
---
How do you calculate overall score ?

If we compare Sigma and Nikon 24-70...

Sigma has better sharpness (the only thing you can't correct in post prod), has better transmission, vigneting, and chromatic aberration.

(and BTW is HALF THE PRICE)

Nikon has only a (very slightly) better distortion.

But Nikon has a 23% better overall score... I really don't get it





Reply | Read all replies for this comment
First replies for this comment
---
Re: How do you calculate overall score ?

Hello,

The full comparison is available here :
Tamron 24-70mm f/2.8 vs Nikon 24-70mm f/2.8 vs Sigma 24-70mm f/2.8
The 2 scores do not measure the same thing
- For Sharpness, we take the best score for each aperture for each focal and we average all the focal scores available.
- To compute the DxOMark Score, we take the best score too and then average too. But, as the DxOMark score is computed for lowlight condition, the widest aperture is most of the time the best score. And the sigma is not a great performer at the wider aperture.
This difference at the wider aperture explains the larger gap between both models for the dxomark score.

Best regards,

The DxOMark team


Reply
---
Added by

Toshik

| November 24 , 2013

Nikon D610 oil free.

"While there was no mention of a remedy to the initial issues, curiously, the D610 features an enhanced shutter mechanism with a new quiet 3fps burst shooting mode and a slightly higher maximum continuous framing rate of 6fps (up from 5.5fps)."

Actually they were http://www.dpreview.com/news/2013/11/07/roger-cicala-gives-nikond610-a-clean-bill-of-health


Reply
---