Best lenses for the 16-MPix Panasonic Lumix DMC-GM1: Best primes
By Kevin Carter -
Wednesday April 30 2014
Lens Recommendations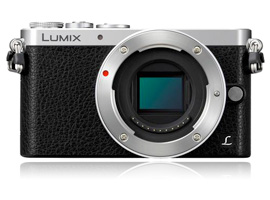 Following the lens recommendations for Lumix DMC-GX7 we've now analyzed the image quality of Panasonic's diminutive GM1 with over 33 lenses to assess the imaging characteristics specifically with the new camera. Read on to find out which of those models you should be using, and which, if any, you should try and avoid.
Makers have already made significant advances miniaturizing cameras but the GM1 complete with its tiny 12-32mm kit lens is literally small enough to fit in a pocket the body alone – it measures just 3.9 x 2.2 x 1.2" (98.5 x 54.9 x 30.4 mm). It might be small and lack an electronic viewfinder like its sibling the GX7 but it's a well-specified camera that should appeal to a wide audience, including enthusiasts.
Not only does it pack the same 16-Mpix sensor as that model but it can also boast an electronic shutter, built-in Wi-Fi (albeit without NFC), a slow-motion 1080 50/60 fps option to more usual 25/30fps and despite its diminutive size a large 3-inch touch screen display.
Also it offers a wide-range of manual control in a sleek, retro looking body with alloy top and bottom covers. At $749 including the equally compact 12-32mm collapsible zoom, it's not inexpensive but it's appealing nonetheless.
The bodies are only half the equation of course; the Micro Four Thirds models can boast an expansive line-up of lenses. We were curious to see just how well the GM1 performs compared with its pricier sibling. We've tested the optical quality of over 30 different lens models on the camera from not only Panasonic and Olympus, but we've also included the results from Sigma's DN range of prime lenses made specifically for mirrorless cameras.
Also, since the GX7, the labs have analyzed the new high-speed Leica DG Nocticron 42.5mm f1.2 stabilized portrait lens and the recently announced Panasonic Leica 15mm f1.7 'pancake' lens,
Further readings for the Best lenses for the 16-MPix Panasonic Lumix DMC-GM1: Best primes
To provide photographers with a broader perspective about mobiles, lenses and cameras, here are links to articles, reviews, and analyses of photographic equipment produced by DxOMark, renown websites, magazines or blogs.
---
Lens Recommendations
|
May 05, 2014
| | |
| --- | --- |
| | Following the lens recommendations for Lumix DMC-GX7 we've now analyzed the image quality of Panasonic's diminutive GM1 with over 33 lenses to assess the imaging characteristics specifically with the new camera. Read on to find out which of those models you should be using, and which, if any, you should try and avoid. |
---
---
---
---
---
---
Comments
Added by

MrToad

| June 29 , 2014

9mm Bodycap

Hi,
Thanks for this list!
Do you think you could add the 9mm Bodycap lens, to see if it's any better than the 15mm bodycap lens you have above?


Reply | Read all replies for this comment
First replies for this comment
---
Re: 9mm Bodycap

Hi MrToad,

Our apologies for the very late reply, and thank you for contacting us. Unfortunately, we are not sure to be able to measure it before long, due to other priorities that arose. We can only advise you to stay tuned.

Sincerely


Reply
---
Added by

DXOref

| May 03 , 2014

20mm 1.7 but no 14mm 2.5

Panasonic Lumix G 20mm F1.7 ASPH is an awesome lens but its been years and no full stats for the 14mm 2.5?

This little lens is a natural for the small GM1 body and a good deal cheaper than the new 15mm 1.7



Reply | Read all replies for this comment
First replies for this comment
---
Re: 20mm 1.7 but no 14mm 2.5

น่าติดตามเหมือนกันนะครับ


Reply
---