Best lenses for the 16-MPix Panasonic Lumix DMC-GX7: Part 1
By Kevin Carter -
Thursday December 12 2013
Lens Recommendations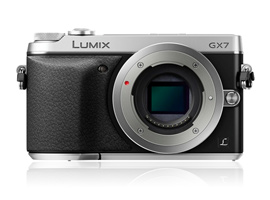 We've had the opportunity to analyze the image quality of Panasonic's high-end 16-Mpix Lumix DMC-GX7 mirrorless camera with over 70% of the native mount lenses that are currently available (for it). We've scrutinized a total of 33 Panasonic, Olympus and Sigma made lenses to assess the imaging characteristics specifically with the new camera. Read on to find out which of those models you should be using, and which, if any, you should try and avoid.
Intended as the replacement to the firm's enthusiast compact GX1 model the new GX7 has similar rangefinder-like lines but improves on the original in a number of significant ways. The most obvious perhaps is the inclusion of a built-in articulated widescreen electronic viewfinder and touchscreen LCD. This camera is also the first Lumix G-series model from the firm to feature built-in image stabilization, albeit not the same 5-axis stabilized sensor platform as found on rival high-end Olympus models.
Panasonic says the GX7 adopts a new 16-Mpix L-MOS sensor with a redesigned on-chip lens arrangement and promises increased saturation, an improved SNR and an increase in detail. But that's not clear if the firm is comparing the upgraded sensor and associated electronics to the GX1 or the more recent top-of the range GH3.
The increase in detail, claimed to be 10% in the press release published at the time of the camera's announcement is particularly of interest. Unlike rival firms, no mention has been made of the sensor's optical low pass (anti-aliasing) filter but it's likely the filter has been modified to enhance AF performance and improve detail.
Taking that into consideration our labs have evaluated the optical quality of over 30 different lenses on the camera from both Panasonic and Olympus, and we've also included the results from Sigma's new DN range of prime lenses made specifically for mirrorless cameras.
We've analyzed close to 20 zooms and 15 primes in total, recently adding the new high-grade Olympus M.Zuiko Digital ED 12-40mm f2.8 Pro and the recently upgraded Panasonic 20mm f1.7 'pancake' lens, previously one of the most popular lenses in the range. Panasonic has also updated the 14-140mm, a hugely versatile lens that was compact in size, stabilized and parfocal in design, making it very attractive to filmmakers. We've included the two models in our results.
If you have any particular lens you would like to see tested, please leave the details in the comment section below this article.
Further readings for the Best lenses for the 16-MPix Panasonic Lumix DMC-GX7: Part 1
To provide photographers with a broader perspective about mobiles, lenses and cameras, here are links to articles, reviews, and analyses of photographic equipment produced by DxOMark, renown websites, magazines or blogs.
---
---
---
---
---
---
---
Comments
Still confused on the GX7 sharpness scores

Still confused on the GX7 scores

I have read the forum articles from last year on the GX7 scores, but still don't understand how the GX7 has a DxOMark of 70 (higher than nearly all 4/3rds under $999) but has the lowest Sharpness scores across the board.

On every Panasonic Lens tested the GX7 got exactly half the sharpness score of the same sensor in the GM1 and in most cases a lower score than the three year older GX1

If the highest P-Mpix sharpness score of all lenses (including the Panasonic Leica models) tested on the GX& was 6P-Mpix (i.e. effectively) 37% of the pixels), how can it achieve a higher DxOMark than the GM1, 12P-Mpix sharpness, using 75% of the pixels?

How does the GX7 body and sensor review put it near the top of its class, but it tests poorly with every lens in the table?

Some forum comments refer to aggressive or soft jpeg compression on the GX7 impacting the sharpness, but I understood that all DxOMark tests were done using RAW files.

(Related question: since camera makers update the firmware in the bodies, wouldn't it be helpful to indicate which version of the firmware your results were obtained with?)

Another post from January 7th (or 28th) indicates DxO expected a second GX7 to test with… how can we tell if the results have been updated?

BTW: My real issue: I am a little disappointed with the sharpness in my GX7 pictures with the pancake lens and when I come to the DxOMark database it reports that no lens gets more sharpness than my iPhone. Ouch.

Hoping to be enlightened on how a camera can get such a good score with such poor sharpness!

JF


Reply | Read all replies for this comment
First replies for this comment
---
Added by

lddo133

| February 04 , 2014

where is panasonic Leica DG Summilux 15mm F1.7 ASPH ?

Tell me the DxOMark number and sharpness about the lense of Panasonic Leica DG Summilux 15mm F1.7 ASPH ?


Reply | Read all replies for this comment
First replies for this comment
---
Panasonic Lumix DMC-GX7 Retest

Where are the results of the promised GX7 retest? It has now been considerably more than the "1-2 weeks" indicated by Emilie January 7th, in response to someone else's comments, above. (Notably, in another of Emilie's replies, it was acknowledged that the second GX7 had been received, ready for retest, that same day. Even if retesting is still incomplete, we are overdue at least a hint as to whether the new results are looking different than first reported.


Reply | Read all replies for this comment
First replies for this comment
---
Added by

breiva

| December 17 , 2013

Strange

Comparing the sharpness with the bare eye doesn't show a big difference of the GX7 compared with any m43 camera at low ISO. It is definitely the sharpest of any Panasonic.

Look for your selves:
http://www.dpreview.com/reviews/image-comparison/fullscreen?attr18=daylight&attr13_0=panasonic_dmcgx7&attr13_1=panasonic_dmcg6&attr15_0=jpeg&attr15_1=jpeg&attr16_0=200&attr16_1=200&normalization=full&widget=7&x=-0.928995891675291&y=0.5093439649775026

Better go back to the test bench DXO.


Reply | Read all replies for this comment
First replies for this comment
---
Surprisingly Poor Resolution?

I've checked and cross-referenced other sites' tests and it appears GX7 indeed has slightly poorer resolution on imatest, resolving only 23-2400lines whilst E-P5 can do around 25-2600lines. Looking deeper, it appears GX7's JPEG engine renders things more softly and less contrasty and in reality the difference is not as great as the MPix scores shown here. I would guestimate the MPix score of Olympus 75mm on GX7 is more like 23/26*12 = 10.6MPix rather than 7MPix.


Reply | Read all replies for this comment
First replies for this comment
---
GX7 lower resolution than GX1?

According to your lens tests the GX7 offers at least 1 P-MPix worse resolution than the much older (and very much cheaper) GX1, and it looks very disappointing compared with the latest Olympus cameras. Has Panasonic produced an incredibly expensive piece of rubbish, or is your testing at fault?


Reply | Read all replies for this comment
First replies for this comment
---
Added by

@go

| December 12 , 2013

Where is sharpness gone???

Look at this with Oly 75mm:
http://www.dxomark.com/Lenses/Compare/Side-by-side/Olympus-MZUIKO-DIGITAL-ED-75mm-F18-on-Panasonic-Lumix-DMC-GX7-versus-Olympus-MZUIKO-DIGITAL-ED-75mm-F18-on-Olympus-PEN-E-P5-versus-Olympus-MZUIKO-DIGITAL-ED-75mm-F18-on-Olympus-PEN-EP3___898_901_898_883_898_724

GX7 (16mpix + AA filter): 7 mpix
E-P3 (12mpix + AA filter): 9 mpix
E-P5 (16mpix + AA filter): 12 mpix
E-M1 (16mpix - AA filter): 12 mpix

A bit strange...


Reply | Read all replies for this comment
First replies for this comment
---