Best lenses for the 16-MPix Pentax K-5 II and K-5 IIs: Measurement data now available online
By Kevin Carter -
Thursday January 30 2014
Lens Recommendations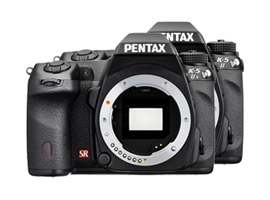 Although the Pentax K-5 II and K-5 IIs have now been replaced by the Pentax K-3, we've analyzed the two models with a range of lenses from both Pentax and third-party makers and thought the results would be of interest to our readers. The information is available online but we taken the opportunity to offer a brief overview of the best performing models. Read on to see how well the lenses perform together on the two cameras.
We've already assessed the Pentax K-3 with a wide range of lenses and we've now had the opportunity to assess the earlier K-5 II and K-5 IIs. We're not going to provide an in-depth analysis of the best performing models as we have in the past, as both camera models have now been discontinued. However, the data is now available online for comparison, and it makes interesting reading against the Pentax K-3 if you're thinking of upgrading.
We have analyzed the optical properties of 33 different models overall from both Pentax as well as third-party makers, including 20 prime lenses and 13 zooms. As well presenting the rankings in tabulated form, we were curious to see just how much sharper the results were when comparing the K-5 IIs sans AA filter with the standard (non AA filter) K-5 II, and have prepared the results in two charts.
Please note that we've not yet had the opportunity to analyze the Pentax 31mm f/1.8, 43mm f/1.9, 77mm f/1.8 Limited models or the 18-135mm f/3.5-5.6 and 60-250mm f/4.0 zooms, however we will be publishing the data on these important models in the future and it will be available online for comparison with the previously analyzed models.
Further readings for the Best lenses for the 16-MPix Pentax K-5 II and K-5 IIs: Measurement data now available online
To provide photographers with a broader perspective about mobiles, lenses and cameras, here are links to articles, reviews, and analyses of photographic equipment produced by DxOMark, renown websites, magazines or blogs.
---
---
---
---
---
---
---
---
---
Comments
Added by

kgyd

| January 31 , 2014

Typo in figure title

You say: "Sharpness is 25% higher than the Pentax IIs on high end lenses". This is obviously not what you mean to say.


Reply | Read all replies for this comment
First replies for this comment
---
Re: Typo in figure title

Thanks for your feedback, we have corrected the graph.

Best regards.


Reply
---