Best lenses for the 20-MPix Sony Alpha A3000: Primes and Zooms
By Kevin Carter -
Wednesday March 05 2014
Lens Recommendations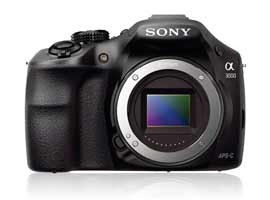 Continuing our series of lens recommendations for new camera models, we've had the opportunity to assess the new entry-level Sony A3000 - the first of a new DSLR form-factor from the firm to adopt the mirrorless E-mount. We've assessed and collated data on a sizeable collection of Sony and third-party prime and zoom models to assess image quality. Read onto find out which of these models perform best when paired with the new camera.
Sony's A3000 is the first model in the firm's reimagined line-up of Alpha APS-C mirrorless cameras, formerly known as NEX. It is an entry-level model aimed at replacing the NEX-3N but it adopts a built-in EVF and features a newly developed 20-Mpix CMOS sensor, up in pixel count from the previous 16-Mpix device adopted by the previous NEX-3N and NEX-5T models.
Intended as a cost-cutting exercise perhaps, the sensor is slightly smaller dimensionally than the standard APS-C size but it's not lacking much in signal performance (see our earlier sensor analysis here). It's also rather good at rendering fine detail. As a result of a less aggressive AA filter the A3000 can match the resolving power of the 24-Mpix Sony NEX-7, and can even out-perform it slightly with some high-grade lenses.
Our labs have analyzed the optical quality of nearly 20 E-mount and recently introduced full-frame FE-mount models from both Sony and third-party lens makers on the A3000. We will be analyzing more lenses from Sony and others with the A3000 as soon as they're available and adding the results to our interactive database.
In the meantime, some of the Sony models evaluated with the A3000 include the new full-frame Sony FE Zeiss Sonnar T* 55mm f1.8 ZA and 35mm f2.8 ZA (primarily intended for the Sony A7 models), but also the two original E-mount Zeiss Touit models – the high-speed standard Planar 1,8/32 and ultra-wide 2,8/12.
Sigma offers a trio of accessibly priced DN A or 'Art' series f2.8 models, the 60mm, 30mm and 19mm, and we've the results on the former two. We've yet to analyze the latest 19mm model but we have tested the earlier, now discontinued EX version and have included it here for reference.
Further readings for the Best lenses for the 20-MPix Sony Alpha A3000: Primes and Zooms
To provide photographers with a broader perspective about mobiles, lenses and cameras, here are links to articles, reviews, and analyses of photographic equipment produced by DxOMark, renown websites, magazines or blogs.
---
---
---
---
---
---
---
---
---
---
Comments
Best lens for the A3000

I have been using the A3000 for the last few weeks. Great camera for the price - absolutely unbeatable! My favorite lens is the SEL18200 original version. It feels perfectly balanced and the IQ is sufficient for a $300 camera. Just bought the SEL50F18 and will be using it in scenario where I must have the best IQ and also when I need absolute low light performance. I think the A3000 + SEL18200 is the best combination for around $1,000 (Just sell the SEL1855 kit lens from the A3000). Hope Sony will continue to improve the A3000 while keeping prices low. This is how you grab market share!


Reply
---
SONY SEL1670ZA

Hi Guys
Thanks for yet another great article. I was wondering when you will be reviewing the Sony SEL1670F4 ZA. I am deciding whether or not to purchase the lens or not and I always refer dxo mark before buying any lens. It would definitely help me.

Awesome work as always!!!

Regards
Juny


Reply | Read all replies for this comment
First replies for this comment
---
Added by

Ido

| March 05 , 2014

You missed some lenses…

It's a shame you didn't cover some lenses, like the 55-210mm. The only "telephoto lenses" you tested are the superzoom models, which usually tend to be outperformed by lenses with a more modest zoom range. There' salsa the a3000's kit lens, 18-55mm.


Reply | Read all replies for this comment
First replies for this comment
---