Best lenses for the 24-MPix Nikon D3200: Concise overview
By Kevin Carter -
Wednesday December 11 2013
Lens Recommendations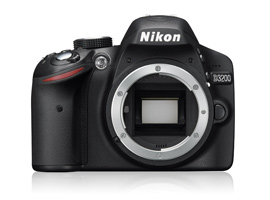 We've now had the opportunity to assess the entry-level 24-Mpix Nikon D3200 with a wide range of lenses. We've analyzed a total of over 140 Nikkor and third-party prime and zoom models to assess image quality, and to discover which of those models perform best on the camera. Read on to find out the models you should be looking to use and which ones you should try to avoid.
As the entry-level APS-C model in the range the Nikon D3200 has a surprisingly upmarket capability with a high-grade sensor, one that is potentially similar in performance as the firm's high-end D7100.
Like that model it has a 24-Mpix APS-C size CMOS with a wide sensitivity (from ISO 200-12,800 with expansion). It's capable of stills up 4fps and Full HD video capture for NTSC/PAL regions at 30/25 fps and there is also a movie inspired 24 fps option as well.
However, with the exception of the aging 12-Mpix D300s, the D3200 stands out now (after the announcement of the new D5300) as the only APS-C model in the firm's range to feature an anti-aliasing filter over the sensor; handy for budding filmmakers but potentially limiting the sharpness of the lens and sensor combination.
With this in mind our labs have evaluated the optical quality of over 140 different lenses on the camera from both Nikon and third-party makers. We've analyzed over 83 zooms in total, recently adding two new models from Sigma, the new high-speed 18-35mm f1.8 DC HSM standard and the professional-oriented APO 120-300mm f2.8 EX DG OS HSM.
Out of the remaining 63 primes, we've had the opportunity to include the new premium high speed Nikon AF-S Nikkor 58mm f1.4G as well as well as the new Zeiss Otus 1,4/55 though at $4,000 this and some of the more recently analyzed lenses are at odds with the intended market of the Nikon D3200.
However at just $499 (complete with 18-55mm kit lens) this camera may also appeal to advanced users. Not only does it have a sensor with a high pixel density in a small form factor, it also has an optical viewfinder and phase-detection AF (the same AF module from the earlier Nikon D7000).
Further readings for the Best lenses for the 24-MPix Nikon D3200: Concise overview
To provide photographers with a broader perspective about mobiles, lenses and cameras, here are links to articles, reviews, and analyses of photographic equipment produced by DxOMark, renown websites, magazines or blogs.
---
Lens Recommendations
|
January 16, 2014
| | |
| --- | --- |
| | Following the lens recommendations for Nikon D7100 and entry-level D3200, we've now turned our attention to the new mid-range D5300. We've tested the camera with more than 140 Nikkor and third-party prime and zoom models to assess image quality. Read onto find out which of these lenses have the best image quality when paired with the new camera. |
---
---
---
---
---
---
---
---
---
Comments
Overall ratings vs. Sharpness


Thank you again for the great work you do.
In your overall ratings, you actually rate the D 5200 higher than the D7100 by one point; but as I read the lens comparisons, on lens after lens, the 7100 rates as much as 20% higher than the 5200. Now comes the 5300 that ranks with the 7100, lower than the 5200, but presumably will also have sharper images as does the 7100. So is the 5200 better with an overall higher rating? or the 5300/7100 with greater sharpness?


Reply | Read all replies for this comment
First replies for this comment
---
Re: Overall ratings vs. Sharpness

Hello,

Thanks for your support, the dxomark score does not take into account sharpness and resolution. It evaluates sensor on a noise/color point of view.
Basically the D5300/D5200 and D7100 achieve the same score on the DxOMark sensor rating. (1 point of difference means only 1/15 of a Stop)
To have the whole story, you should maybe wait for the lens result for Nikon D5300 (which should be available very soon).

Best regards,

The DxOMark team


Reply
---
D3200 Lens Reviews

Thanks again for the review. The difference in performance of the same lenses on the D7100 and D3200 is a little greater than I had thought based on some initial tests you had done with the same lenses on both bodies. These reviews make it easier to understand what lenses are best at what focal lengths and apertures.

I generally just plug my FX lenses on the D3200 to provide a second body (in addition to a D600) to avoid lens switching and extend the reach of a 70-200 f4 Nikkor. A nice landscape set up is the 18-35G on the D600 and the 24-85G VR on the D3200 (effective 18-130 mm), bargain lenses and quite good performance when you consider the D3200 is the cheapest part of the set. Add in the 70-200 and I have 18 to 300 covered with good quality glass and very good bodies. Great performance on a budget. I supplement the set with a 50 mm AF-D and used manual focus fixed length Nikkors for low light work and where an easily found infinity focus point is required (astro imaging).

In general the performance of lenses on the D3200 is quite good, certainly better than on the older 10 & 12 MP Nikon bodies, but still well short of the D600.


Reply | Read all replies for this comment
First replies for this comment
---
Added by

jyhfeei

| December 12 , 2013

Re: D3200 Lens Reviews

Quote:


These reviews make it easier to understand what lenses are best at what focal lengths and apertures.


And you could not tell what lenses are best from the D5200 and D7100 llists that came before?

What is good for the D3200 is good for the D5200 is good for the D7100. There is not one lens that breaks this rule. Maybe we should have a few more rehashed lists for other Pentax or Sony bodies as Nikon seems to get unneeded attention here. :P

The only significant difference in these lists is the addition of lenses. But who is going to put a $4000 prime on a D3200.


Reply
---
Re: D3200 Lens Reviews

Hello,

Good point, this review is performed for all Nikon D3200 owner who was waiting for the results.
Of course, results are very close to the previous Nikon D7100 and D5200 lens recommendation.
That why we make something shorter for this camera.

Best regards,

The DxOMark team


Reply
---
Good review.

Thanks for the review. I was waiting for it very much. I own kit 18-55, nikkor 55-300 and Sigma 17-50 which I bought just several weeks ago. Also was looking for new Sigma 17-70 and 18-35 but 17-50 looks like a good compromise and already available in local market. Also very interesting looks new 18-140 but high level of distortion is confusing.


Reply
---
lenses in the k3

Much remains?


Reply
---
---