Best lenses for the 24-Mpix Nikon D7100: Telephoto primes and zooms
By Kevin Carter -
Thursday October 10 2013
Lens Recommendations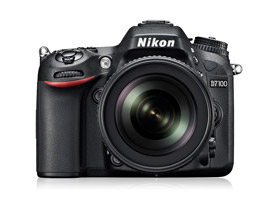 This is the third part in the series of our lens recommendations for the Nikon D7100 where we've analyzed nearly 46 Nikon and third-party telephoto prime and zoom models to assess their optical quality. Read onto find out which of these lenses are the best performers when paired with Nikon's ultra-high resolution 24-Mpix APS-C format semi-pro model.
This is the third part of a four part series where we've analyzed the optical performance of nearly 46 telephoto primes and zooms lenses from Nikon and third-party makers. Nikon offer an extensive and highly respected range of models, as do Sigma, Tamron and Tokina. Together with the Nikon D7100 we've tested 11 primes telephoto between 100mm and 600mm, a further 32 zoom with a maximum focal between 135mm and 500mm !
Introduced earlier this year as the upgrade to the 16-Mpix D7000, the new Nikon D7100 has a 24-Mpix APS-C format CMOS sensor and is the first standard model for the firm to lack an anti-aliasing filter to further improve resolution. As we've previously revealed in part I, this sensor is capable of very high definition.
In fact, with certain lenses we discovered the Nikon D7100 is capable of achieving an increase of up to 50% percent in sharpness with certain models. However, the sensor is just as capable of extracting definition from lesser lenses though it is dependent on the resolving power of the lens. Some will inevitably be at their resolution limit while other newer, higher grade lenses will likely have more in reserve for as yet unannounced higher resolution bodies.
Further readings for the Best lenses for the 24-Mpix Nikon D7100: Telephoto primes and zooms
To provide photographers with a broader perspective about mobiles, lenses and cameras, here are links to articles, reviews, and analyses of photographic equipment produced by DxOMark, renown websites, magazines or blogs.
---
---
Lens Recommendations
|
October 02, 2013
| | |
| --- | --- |
| | This is part one of our lens recommendations for the Nikon D7100 where we've tested over 120 Nikkor and third-party prime and zoom models to assess image quality. Read onto find out which of these lenses are perform best when paired with Nikon's 24M-Pix APS-C format semi-pro model. |
---
---
Comments
Added by

yetitov

| December 30 , 2014

Would like to see more telephoto lenses

I thing you miss Tamron 90mm 2.8 VC (very sharp lens).

I also would like to see test results for Nikon AF DC-Nikkor 135mm f/2.0


Reply
---
Added by

dpi

| October 11 , 2013

Nikon AF-S DX VR Zoom-Nikkor 55-200mm f/4-5.6G IF-ED

Thank you for all the good info on this test.

The Nikon AF-S DX Nikkor 55-300mm f/4.5-5.6G ED VR is listed in both "Best Super Zooms for the D7100" and "Best telephoto zooms for the D7100" sections.

Conversely, the Nikon AF-S DX VR Zoom-Nikkor 55-200mm f/4-5.6G IF-ED, although marked as tested with the D7100 in the Camera Lens Ratings and having a dxomark of 14, is absent from the writeup.

Might this absence be unintended?


Reply | Read all replies for this comment
First replies for this comment
---
Re: Nikon AF-S DX VR Zoom-Nikkor 55-200mm f/4-5.6G IF-ED

Hello,

It is a very relevant remark of yours. The lens (55-200)'s zoom ratio is not high enough to be ranked in super zooms. And it does not have a maximum focal long enough to be ranked in the telephoto zooms...

Best regards,

The DxOMark team


Reply
---