Best lenses for the 24-Mpix Nikon D7100: Wide-angle and primes and zooms
By Kevin Carter -
Friday October 11 2013
Lens Recommendations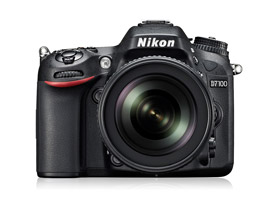 This is the fourth and final part in the series of our lens recommendations for the Nikon D7100, where we've analyzed over 20 Nikkor and third-party wide and ultra wide angle prime and zoom models to assess their optical quality.
Read onto find out which of these lenses are the best performers when paired with Nikon's ultra-high resolution 24-Mpix APS-C format semi-pro model.
This is the last of a four part series, where we've analysed the optical performance of 22 wide-angle and ultra wide-angle lenses from Nikon and third-party makers. Nikon are no strangers to this group of focal lengths, of course, having once made one of the most extensive and respected ranges of wide-angle lenses in the history of the 35mm format. Today, Nikon and the third party makers such as Sigma, Tamron, Tokina and Zeiss offer an expansive range of models that exceed those models from yesteryear in both scope and performance. We've tested the high-resolution D7100 with 10 full-frame primes between 14mm and 24mm in focal length and 12 zooms including the DX format ultra-wide Sigma 8-16mm (12-24mm equivalent) f/4.5-5.6 and Nikon's extreme full-frame AF-S 14-24mm f/2.8G ED.
Further readings for the Best lenses for the 24-Mpix Nikon D7100: Wide-angle and primes and zooms
To provide photographers with a broader perspective about mobiles, lenses and cameras, here are links to articles, reviews, and analyses of photographic equipment produced by DxOMark, renown websites, magazines or blogs.
---
---
---
---
Comments
Nikkor AF-S 12-24 f/4 DX

I would really appreciate seeing a review of this lens. Many photographers shooting DX would like to see how the 10-24 and 12-24
AF-S DX Nikkors stack up against each other in DxoMark. Thanks!


Reply | Read all replies for this comment
First replies for this comment
---
Added by

yetitov

| January 07 , 2015

D7100 wide angle

Hi Kevin
I have one suggestions to your review:
It looks like you miss up for the definition of the wide angle for the DX format ( and that is not only for that Review).
If we will took in attention that for FX format wide angle focus length is equal or less than 35mm according to this link:
http://en.wikipedia.org/wiki/Wide-angle_lens,
That means for the DX format wide lens must be less than: 35mm/1.5=23.33...mm.
In this case 3 lenses in your wide lens for D7100 table must be removed:
#1. Carl Zeiss Distagon T 25mm f/2 ZF.2 Nikon;
#2. Nikon AF-S Nikkor 24mm f/1.4G ED;
#3. Carl Zeiss Distagon T 25mm f/2.8 ZF2 Nikon.

If this lenses will be removed, the winner will be:
"Sigma 20mm F1.8 EX DG ASP RF".
I am not surprised, because I use this lens for more than 3 years in DX and FX cameras and for the long time inside Pro Photographers I kept my secret of "Best Sharpest Wide FX and DX Black Cardinal" lens. It's really cost not to match.
I also think that Pro photographers would like to see in Lens Specification page angle parameters and for both FX and DX formats.
Just keep in mind that in lens parameters for Real Pro Photographers: first Max Aperture,
second max and min focus length, but more important - max and min parameter of standard diagonal lens angel.
Sorry, but I can not find this parameter, which most as I think much more important than:
Tripod mount No, or Color Black.

I would like more your review after it will be improved.

Thanks




Reply
---
First replies for this comment
---
Tokina 12-28mm Lens

When do you expect to test the newer Tokina 12-28mm f/4.0 AT-X Pro lens? This lens is an upgrade to the Tokina 12-24mm lens with an extended focal length. It would be especially interesting to see a test of this lens in terms of its corrections for Lateral Chromatic Aberration that have been a bugaboo for Tokina lenses.



Reply | Read all replies for this comment
First replies for this comment
---
Nikkor 12-24 DX

Thanks for review. Do you plan to test Nikkor AF-S DX 12-24mm f/4G IF-ED? Is there any difference to Nikkor AF-S DX 10-24mm which cost extra money?


Reply | Read all replies for this comment
First replies for this comment
---
Nikon D7100 Review - Reflection on D3200

Another tour de force for the team. Thank you very much. This type of work makes it easier for me to rationalize purchasing your software in part to support the information that saves me much more on lens purchases.

I currently shot with a D600 (no sensor spot issues) and a D3200. The D600 is outstanding in all ways as evidenced by your reviews, and my experience. The D3200 is not so obvious. So I did a little bit of digging with the DxO data. It may be of interest to other readers.

There are only three lenses that have DxO data with the Nikon D3200. These are: Tamron 28-300, Sigma 120-400 and Tamron 120-400. There is also data for the D7100 with these lenses, so we can perhaps start to see what the impact is of the slightly different sensor and the removal of the low-pass filter. Here are the numbers that I have uncovered. They relate only to the 'Sharpness' scores, see the full lens reviews for more information.

Tamron 28-300
- D3200 5, D7100 6
Tamron 70-200
- D3200 5, D7100 6
Sigma 120-400
- D3200 7, D7100 7

The comparable 'Sharpness' scores for the D600 are 9, 15 and 12 respectively. Clearly not all 24 MP cameras are the same.

I estimate the difference in sharpness between the D3200 and D7100 is about 15% or so, in favor of the D7100. This is a bit less than the improvement seen when comparing the D800 and D800E using the DxO numbers.

I hope this helps those of you who wonder how the D3200 and D5200 stack up until the DxO team comes out with more figures. The bottom line is go out and shoot. I still have lots of fun taking my D70 out and shooting candid B&W photos.



Reply | Read all replies for this comment
First replies for this comment
---