Best lenses for the 24M-Pix Sony SLT-A77: Primes and Zooms
By Kevin Carter -
Friday November 15 2013
Lens Recommendations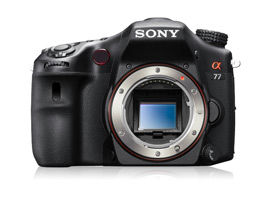 Following our recommendations for the flagship Sony SLT-A99, we've had the opportunity to assess the firm's semi-professional 24-Mpix DT (APS-C) format model - the SLT-A77 - with a sizeable collection of Sony and third-party prime and zoom models to assess image quality. Read onto find out which of these models perform best when paired with the camera.
Sony announced the top-of-the-range APS-C format SLT-A77 in mid 2011, and it has remained one of the most highly desirable and accomplished semi-pro models ever since. It adopts a high-resolution 24-Mpix CMOS sensor with the firm's SLT fixed semi-transparent mirror technology for continuous shooting up to 12-frames-per-second at full resolution.
The A77 also has a high-resolution EVF and combines a 19-point full-time PD-AF system (with 11-cross type sensors) with object tracking via CD-AF using the image sensor. As with other SLT models from the firm, and the reason for the technology in the first place is that the A77 maintains both real-time viewing with the EVF and the PD-AF capabilities during stills and video capture. All this and the semi-pro build have kept this camera at the forefront of the market since its introduction.
Our labs have analyzed the optical quality of nearly 40 lens models from both Sony and third-party makers on the SLT-A77, and while not as comprehensive as some of our previous round-ups it's still a significant and useful sample. We will be analyzing more lenses from Sony and others with the SLT-A77 and adding the results to our inter-active database as they become available.
In the meantime, some of the Sony models evaluated with the SLT-A77 include the Sony DT 35mm f1.8, and Zeiss Vario-Sonnar T* DT 16-80mm f3.5-4.5 models and some exotics including the Zeiss Distagon T* 24mm f/2.0, Sony 70-400mm f4-5.6 G SSM II, Zeiss 85mm f1.4 and the longest lens from Sony currently, the 500mm f4 G SSM super-telephoto.
Third party models haven't been overlooked either. We've analyzed the extreme ultra-wide DT format Sigma 8-16mm f4.5-5.6 DC HSM, as well as the firm's 17-50mm f2.8 EX DC HSM and remarkable 35mm f1.4 DG HSM A models. We've also included Tamron's previously impressive SP 24-70mm f2.8 Di USD full-frame standard zoom, as well as the earlier more accessibly priced SP 28-75mm f2.8 XR Di version, which is still available.
Please note we've not yet seen the new high-speed Sony DT 16-50mm f2.8 OSS SSM or the Sigma 18-250mm F3.5-6.3 DC Macro OS HSM, but they should be available soon and they will be added to our interactive database in due course.
Further readings for the Best lenses for the 24M-Pix Sony SLT-A77: Primes and Zooms
To provide photographers with a broader perspective about mobiles, lenses and cameras, here are links to articles, reviews, and analyses of photographic equipment produced by DxOMark, renown websites, magazines or blogs.
---
---
Lens Recommendations
|
June 28, 2013
| | |
| --- | --- |
| | After evaluating the performance characteristics of lenses mounted on full-frame models such as Nikon D800 and D600, as well as the Canon EOS 5D Mk III, we've now had the opportunity to analyze a range of lenses on the Sony SLT-A99. In this concise report, we'll see how well the combination of Sony's high-end image sensor and the latest Alpha mount lenses perform. |
---
---
---
---
---
---
---
---
Comments
Sony DT 16-50 mm / 2.8 Kit Lens for A77

I have observed the non-testing of this lens for quite some time now. While other lesser Sony lenses have been tested this one has not. So what exactly is the politics behind this decision? The longer this lens remains untested, the greater the suspicion and the less credibility Dxomark accrues regarding its testing programme. If it is good enough for Lightroom to include in its lens profiles why is it not good enough for Dxomark to test?


Reply
---
Still not tested?

I see that the DT 16-50/2.8 SSM is still not tested (and isn't even included in the zoom list), it's the A77/A77II kit lens!

It was released in 2011! Come on!


Reply | Read all replies for this comment
First replies for this comment
---
Added by

frankdk

| November 23 , 2013

Where is Sigma 24-70mm

I was looking forward to see the test from the Sigma 24-70mm and 12-24mm. Especially the 24-70mm is a very popular lens on the A77.


Reply | Read all replies for this comment
First replies for this comment
---
Added by

mike211

| November 23 , 2013

Sony 50/1.4 vs Minolta 50/1.4

Sony 50/1.4 – sharpness score:9
Minolta 50/1.4 – sharpness score: 15

Given that these lenses have identical optics, an astonishing result. How reliable are these tests?


Reply | Read all replies for this comment
First replies for this comment
---
Added by

fogfire

| November 22 , 2013

Don't Forget Sigma 17-70 "Contemporary"

I have this on the A77... Great Lens...
Have never seen this kind of consistency across the zoom range on a lens like this.


Reply
---
Sigma 85mm f1.4 HSM

how about the Sigma 85mm f1.4 HSM? At the time I couldn't afford the Zeiss 85mm f1.4, so I went with the Sigma, while I've been happy with this lens, I've always wondered how it measures up to the Zeiss. It'd be great if you guys could do some tests with the Sigma 85mm with Sony bodies (especially with the a77 and a99)


Reply | Read all replies for this comment
First replies for this comment
---
RE: Why are the Sony DT 35mm 1.8 and DT 16-50mm 2.8 missing?

Why have you left out the Sony DT 35mm 1.8 and DT 16-50mm 2.8 from your recommendations? Although Sony has some very good Zeiss lenses, both the DT 35mm and 16-50 mm are excellent lenses for the APS-C system and have been reviewed positively by many reviewers. So please do add them to your recommendations for the Sony A77.


Reply | Read all replies for this comment
First replies for this comment
---
Finally ?

First of all, nice that you did this lens review for a77, but it comes WAYYYYYYYYYYYY TOO LATE! How much time did it took you to do it? We are now waiting for a78 or so camera, in early 2014 its gonna be replaced.

Second, my best lens is Sony 35mm 1.8, try it on a77 please, great portrait lens


Reply | Read all replies for this comment
First replies for this comment
---