Best lenses for the Nikon D5300: Part 1 - concise overview of primes and zooms
By Kevin Carter -
Thursday January 16 2014
Lens Recommendations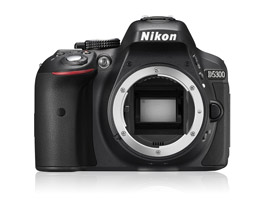 Following the lens recommendations for Nikon D7100 and entry-level D3200, we've now turned our attention to the new mid-range D5300. We've tested the camera with more than 140 Nikkor and third-party prime and zoom models to assess image quality. Read onto find out which of these lenses have the best image quality when paired with the new camera.
Nikon's consumer grade models follow a fairly consistent annual upgrade with the upper entry-level D5300 introduced almost exactly 12-months after the D5200. Along with a few external design changes, including a new larger 3.2-inch articulated display panel and some upgrades to the video spec, the new model is the first to feature built-in WiFi and GPS. However, it retains the same shutter and focus modules of the earlier D5200, including the 39-point Multi-Cam 4800DX AF module and 2016-pixel RGB metering sensor. Both the AF module and RGB meter were the same units used by the earlier 16-Mpix Nikon D7000.
Like the previous D5200 model that's built around a 24-Mpix APS-C CMOS sensor, the updated D5300 uses a related sensor with the same pixel count but sees the AA filter removed. Without the blur filter in place, the D5300 promises an increase in both sharpness and contrast, though that will ultimately depend on the quality of the lens in use.
Our labs have carefully analyzed the optical performance of over 140 models on the Nikon D5300, from both Nikon and third-party makers, ranging from the ultra-wide DX format Sigma 8-16mm (12-24mm equivalent) f4.5-5.6 DC HSM and Nikon AF-S Nikkor 10-24mm f3.5-4.5G ED through to the popular Sigma 50-150mm f/2.8 EX DC APO OS HSM and full frame Nikon AF-S NIKKOR 80-400mm f/4.5-5.6G ED VR.
New models assessed include the new high-speed Sigma 18-35mm f1.8 DC HSM A and full-frame Nikon AF-S Nikkor 80-400mm f4.5-5.6G ED VR, as well as the recently revamped Nikon AF-S Nikkor 18-140mm f3.5-5.6G ED VR – the official kit lens to the Nikon D5300. We've also added the data from the new full-frame ultra-high end Zeiss Otus Distagon T* 1,4/55 as well as the upgraded Sigma 30mm f1.4 DC HSM, and Nikon's new fast standard AF-S Nikkor 58mm f1.4G.
Further readings for the Best lenses for the Nikon D5300: Part 1 - concise overview of primes and zooms
To provide photographers with a broader perspective about mobiles, lenses and cameras, here are links to articles, reviews, and analyses of photographic equipment produced by DxOMark, renown websites, magazines or blogs.
---
Lens Recommendations
|
January 23, 2014
| | |
| --- | --- |
| | Following the lens recommendations for Nikon D7100 and entry-level D3200, we've now turned our attention to the new mid-range D5300. We've tested the camera with more than 140 Nikkor and third-party prime and zoom models to assess image quality. Read onto find out which of these lenses have the best image quality when paired with the new camera. |
---
---
Lens Recommendations
|
December 11, 2013
| | |
| --- | --- |
| | We've now had the opportunity to assess the entry-level 24-Mpix Nikon D3200 with a wide range of lenses. We've analyzed a total of over 140 Nikkor and third-party prime and zoom models to assess image quality, and to discover which of those models perform best on the camera. Read on to find out the models you should be looking to use and which ones you should try to avoid. |
---
Lens Recommendations
|
October 02, 2013
| | |
| --- | --- |
| | This is part one of our lens recommendations for the Nikon D7100 where we've tested over 120 Nikkor and third-party prime and zoom models to assess image quality. Read onto find out which of these lenses are perform best when paired with Nikon's 24M-Pix APS-C format semi-pro model. |
---
---
---
---
---
---
Comments
Nikon D5300 VS Sony a6000

Hi,

I have the Sony A6000, yesterday bought the Nikon D5300 because I finally decided to have some better optics.
So, I bought the 18-35 1.8 Sigma and 85mm 1.8 Nikon lenses as suggested by you in the post here.

I am dissapointed, the Sigma 60mm for Sony NEX/Alpha is SO MUCH SHARPER than both of the lenses for Nikon.

I spent 1500€ just because of your recommendations believing I was going to get something REALLY GOOD.

Well, there is the possibility the equipment is defective, but not ALL THREE (camera and two lenses).

Tested the Sigma 18-35mm on all apertures, lowlight/plenty of light (never sharper than the Sony Sigma at all apertures, focal length taken into consideration) - Nikon also (never sharper than the Sony Sigma even at F7 which was the sharpest setting for the Nikon lens).

Also, tried all different camera settings...

Just to inform you.

Regards.


Reply
---
Favorite Lens

I have been patiently waiting for an assessment of the Micro Nikkor 60mm f/2.8 G lens. The database lists the older f/2.8 D, but not the G version. I would like to have it reviewed, because I will be using it with the D5300 in the near future. I use it for documentation purposes in my work, and it would be nice to auto correct the lens in DXO. Thanks


Reply | Read all replies for this comment
First replies for this comment
---
Re: Favorite Lens

Hi Richard,

The 60mm f/2.8 G lens is now measured, and the review should be published next week. Stay tuned on our social media pages!


Reply
---