Best lenses for the Sony A5000: Best primes
By Kevin Carter -
Wednesday May 07 2014
Lens Recommendations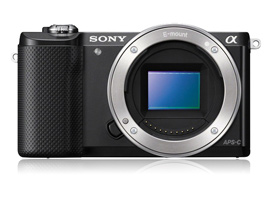 We've analyzed the image quality of the 20-Mpix Sony A5000 with over 22 zooms and primes. Read on to find out which of those models you should be using with Sony's smallest and lightest mirrorless model.
Sony like rival makers continue to miniaturize models and the new A5000 is the smallest and lightest at just 9.4 oz (269g) with the battery in the maker's current line up. At $499 including the 16-50mm collapsible kit zoom it's a modestly priced model that may appeal to enthusiasts on a budget. Housed inside the compact form factor is a 20-Mpix APS-C CMOS sensor along with the firm's Bionz X level processor which is capable of boosting sensitivity up to ISO16,000 and capturing Full HD video at up 50/60fps.
A 3.5 fps burst rate is a little pedestrian compared to the 10 fps of the NEX-5T or NEX-6 but this isn't quite aimed at the same audience. Nevertheless, while it lacks some high-end features such as Hybrid AF and the additional versatility of the Multi-Interface shoe, it has a useful 3.0" tilting LCD monitor (albeit just 460k-dot) and built-in WiFi with NFC connectivity for both convenient sharing and image capture.
The A5000 was the first new model to eschew the NEX moniker in favor of the Alpha branding but it's compatible with a steadily expanding line-up of lenses from the firm, currently standing at 22 when including the full-frame FE models, or 26 with the current Sigma DN and Tamron models. We've tested the optical quality of over 20 different lenses on the camera to see which of those models best suit your needs and which, if any, you should try to avoid.
Further readings for the Best lenses for the Sony A5000: Best primes
To provide photographers with a broader perspective about mobiles, lenses and cameras, here are links to articles, reviews, and analyses of photographic equipment produced by DxOMark, renown websites, magazines or blogs.
---
Lens Recommendations
|
May 22, 2014
| | |
| --- | --- |
| | We've analyzed the image quality of the 20-Mpix Sony A5000 with over 20 zooms and primes. Read on to find out which of those models you should be using with Sony's smallest and lightest mirrorless model. |
---
---
---
---
---
Comments
Sony a5000

Hi ive bought a sony a5000 (body only) and looking for a lens. Im not a photographer so dont need anything fancy i just do vlogging and youtube videos so need something suitable for that. Can anyone recommend what i get? Thanks


Reply
---
First replies for this comment
---
Re: A6000

Hi Jpcubizo,
Thank you for your interest in DxOMark, and our apologies for the very late reply. The tests on the Sony A6000 have been suspended for now, so I can only advise you stay tuned when the review is released, probably in the next couple of months.

Sincerely


Reply
---
Looking forward for your tests on Sony A6000 too

I hope they will include Sony 18-105mm and Zeiss 16-70

Thanks indeed


Reply
---
Sony lens 50mm 1.8: Maybe not so good on CA

Imaging Resource shows this lens suffers from hughe axial chromatic aberration from 1.8 to at least 4 or so. As this cannot be removed via software (as far as I know), your CA score should be reduced, and so the global note of this lens.
After all, why choose a speedy lens if its widest apertures are very limited in use?


Reply
---
First replies for this comment
---
Re: Your choice

Hi,

Thanks for contacting us. As far as portraiture is concerned, stabilisation is not the most useful feature. But it is definitely a helpful feature to have for other types of shots.

Best regards


Reply
---
Added by

am1t

| May 07 , 2014

A3000 is better, A6000?

It appears that the A3000 gives a slightly higher resolution with the same lenses, compared to the A5000...
The more interesting tests would be the A6000 with the Sigma 60 in particular,
I wonder if it can match the performance of A7 + Zeiss 55/1.8 at base iso.
Unfortunately, the very useful "Use case scores" have been removed recently from the tests, please bring it back !


Reply | Read all replies for this comment
First replies for this comment
---
Re: A3000 is better, A6000?

Hi,

Thank you for contacting us, and for your support to DxOMark. We are currently working on the Sony A6000, results should be available soon.

Best regards


Reply
---