Best lenses for your Olympus OMD E-M5 / Panasonic Lumix DMC-GH3
By Kevin Carter -
Thursday August 01 2013
Lens Recommendations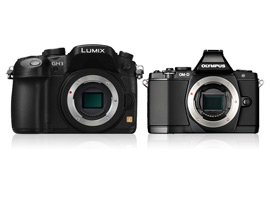 As with previous guides, this review is intended to help you make the right choice when selecting lenses, in this instance, for the micro Four Thirds Olympus OMD E-M5 and the rival offering from Panasonic, the Lumix DMC-GH3. These two flagship models share not only the same mount, as partners of the Micro Four Thirds alliance, but in this particular instance, a similar 16Mpix MOS sensor as well. The prevalence of high quality primes (and let's not forget zooms) for those cameras makes it, arguably, the most attractive proposition of any of the mirrorless camera systems currently available. Read on to see which lens models are the best performing in the range.
Further readings for the Best lenses for your Olympus OMD E-M5 / Panasonic Lumix DMC-GH3
To provide photographers with a broader perspective about mobiles, lenses and cameras, here are links to articles, reviews, and analyses of photographic equipment produced by DxOMark, renown websites, magazines or blogs.
---
---
---
Comments
Panasonic 14-42 f/3.5 5.6 (Version 1) is one of the sharpest lenses ever made.

<div id="linkdxomark">This a comment for <a href="http://www.dxomark.com/index.php/Reviews/Best-lenses-for-your-Olympus-OMD-E-M5-Panasonic-Lumix-DMC-GH3">this page on the website</a></div>Yes you heard right. It is a mystery why DxO has not reviewed one of the most common and least expensive Panasonic zooms available, the Panasonic 14-42 f/3.5 5.6 (Version 1) Slightly dialed up to 18mm and set at f/8, the lens is unbelievably sharp. Sharper than any prime lenses at that range. It would easily rank in the top 5 sharpest lens ever made at f/8 and/or 35mm equiv. That is an insanely bold statement to make, but you should really check it out for yourself. It really deserves your attention.

Do your primes do this?
https://dl.dropboxusercontent.com/u/64326938/panasonic.png


Reply | Read all replies for this comment
First replies for this comment
---
Panasonic Lumix 20mm f1.7

It seems a shame that arguably THE most impressive lens ever produced by Panasonic for the m4/3 lens mount is the 20mm f1.7. Not only is it a stellar performer but it was the first fast normal lens which effectively made the m4/3 system more attractive to photographers. Your list of "BEST" for GH3 and OM-D features quite a few poor lenses but strangely not the Pana 20mm f1.7. Why is this exactly? Go ahead and rate version II, but your readers in years to come would I'm sure be interested in seeing the first version in you archive.

One other point is that the lenses on the GH3 seem to have mostly the same rating as the GH2. Very interesting.


Reply | Read all replies for this comment
First replies for this comment
---
Requested Comments re: GH3 & lenses

You have requested comments re: the GH3 & lenses----Perhaps I can ask of you as well. I lost a GH2 and a 14-140 Panny in the Aegean Sea, however not my 100-300 nor 14-45 Panny lenses. I have since replaced the GH2 with a GH3 but have not as yet replaced the 14-140 which was my go to lens of choice.

The GH2/3's are my travel kit while my default system is a Nikon D600 system. I enjoy the size/weight difference of the smaller system. The menu system of the GH3 is far better, more simple than the GH2.

I have not replaced the 14-140, and I am in a quandary of: purchasing another same lens or perhaps choosing another Panny lens--I really do not know what to do, so your advise please.

I could replace the 14-140 again with another or : perhaps the 45-175, perhaps the primes, the Panny Leica 25mm or the Panny Leica Macro El 45mm----these are within a reasonable budget----I am trying not to "overlap" in my lens selection & with the 2 lenses I presently have, the replacement of another 14-140 may overlap to some degree. What would you do for a 3rd lens?

Raymond


Reply
---
Added by

vnm

| August 02 , 2013

Voigtlander MFT lenses

Have you guys tested the Voigtlander 17.5mm and the 25mm? I'm very curious where they would sit in that prime lens chart. :)


Reply | Read all replies for this comment
First replies for this comment
---
Added by

jaxupra

| August 02 , 2013

Panasonic Lumix G 20mm f/1.7 ASPH

I use you in large part to help me choose new lenses for my OM-D. The only M4/3 lens that is not reviewed is the Panasonic 20mm f/1.7, which is coming out in version II shortly. It is highly reviewed elsewhere, and I'd like to compare it with others on your site. Is there any reason for its absence?
Great work on the others.



Reply | Read all replies for this comment
First replies for this comment
---
Best Lenses Olympus & Panasonic

Alsas, I only have the Olympus E-PL5 rather than the OM-D, but the sensor and performance as you have noted separately are petty much identical.

I have the standard 14-42 and 40-150 Olympus lenses for the E-PL5 and concur with your general comments regarding performance. The results are very pleasing and nothing to criticize. As necessary I pop on my Nikkor lenses with an adapter to fill in the gaps or where I would prefer a fast prime (AF and MF).

Great work, keep it up. Your comparative evaluations provide a great apples to apples reference point for the photographer in the field needing to make a decision on what lens to consider.


Reply
---