Best lenses for your Olympus PEN E-P5: Zooms and Primes
By Kevin Carter -
Tuesday August 27 2013
Lens Recommendations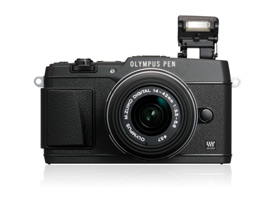 The depth of high quality primes and zooms for the PEN is, arguably, the most compelling reason to invest in the Micro Four Thirds system over rival mirrorless camera offerings. If you're already a PEN E-P5 owner or you're looking for advice or insights in lens performance in advance, this guide will aid you in making the right choice. Read onto find out which lens models in the range perform best optically.
Externally, with its stepped metal top plate and concealed screws the Olympus PEN E-P5 bears the closest resemblance yet to its film-era predecessors of the 60's. Internally, as you might expect, the camera couldn't be more different. Like the vaunted OM-D E-M5, the latest PEN has a 16-Mpix LMOS type sensor mounted on a stabilized platform that helps reduce blur from camera shake on 5 axes, as well as continuous shooting at up to 9fps.
The new model even adds some features that the OM-D lacks such as a focus peaking, a new mechanical shutter with a top speed of 1/8000th sec (very useful shooting wide-open at f/1.4 or 1.8), and built-in flash and WiFi. It also boasts a new optionally available articulated electronic viewfinder (EVF), the $279 VF-4, which has a higher resolution (2.36 million dot) and a larger, magnified view for improved clarity.
Of course the camera is just a part of the system; the lens is arguably the more important and should be considered as a longer-term investment. We've analyzed 22 lens models from Olympus, Panasonic and Sigma, and while we've not covered every model available it's still an extensive range from which to make a considered choice.
Further readings for the Best lenses for your Olympus PEN E-P5: Zooms and Primes
To provide photographers with a broader perspective about mobiles, lenses and cameras, here are links to articles, reviews, and analyses of photographic equipment produced by DxOMark, renown websites, magazines or blogs.
---
---
Comments
Added by

@go

| October 02 , 2013

New Olympus M.ZUIKO DIGITAL 14-42mm 1:3.5-5.6 II R??

You've got the old 14-42 in the database, is the new Olympus M.ZUIKO DIGITAL 14-42mm 1:3.5-5.6 II R the same optically?

Thanks


Reply | Read all replies for this comment
First replies for this comment
---
Re: New Olympus M.ZUIKO DIGITAL 14-42mm 1:3.5-5.6 II R??

Hello,

Thanks for your interest in DxoMark.

We will check it but it should be very close.

Best regards,

The DxOMark team



Reply
---
Added by

cccx

| August 31 , 2013

Missing some Panasonic lenses

Hi,

Thanks for trying to create a comparison article, however it seems incomplete given that the old Panasonic Lumix G 20mm F1.7 ASPH was never tested by you. Also the more recent Panasonic Lumix G 14mm F2.5 ASPH has not been tested by you.

These lenses have been widely available for quite some time...

Indeed it has been so long since that 20mm was released, there is actually a new version soon - the Panasonic Lumix G 20mm F1.7 II ASPH (which you should test) but people will still be curious as to how it compares to the MkI version (which you have not tested).

I hope you can catch-up on your Panasonic Lens testing backlog for the sake of data completeness.

Thanks.


Reply | Read all replies for this comment
First replies for this comment
---
Re: Missing some Panasonic lenses

Hello,

Thanks for your interest in DxOMark.

Panasonic Lumix G 20mm F1.7 II ASPH and version I are definitely the top priority for our micro four third lenses road map. Thanks for you suggestion http://www.dxomark.com/index.php/Lenses/Camera-Lens-Database/Panasonic/Panasonic-LUMIX-G-20mm-F17-II-ASPH

Best regards,

The DxOMark team



Reply
---