Canon 135mm f2L USM review: An oldie but a goodie
By Paul Carroll -
Thursday December 27 2012
Lens Review
Canon 135mm f/2L USM: A solid performer and a good deal second hand?
16 years on from its launch the 135mm f/2L USM is still a solid option for portrait, sport and low-light photography. That said as lens development continues to evolve recent telephoto primes like the Sigma 85mm f/1.4 EX DG HSM and Canon 300mm f/2.8L IS II USM do demonstrate notable improvements in Sharpness. Although performing well in all our DxOMark Lens Metric Scores the Canon EF 135mm f/2L USM only ranks 5th for EF mount telephoto primes on the EOS 5D Mark II and new in terms of quality to price ratio the Sigma 85mm f/1.4 EX DG HSM is noticeably sharper and a couple of hundred pounds cheaper. If you can pick up a Canon EF 135mm f/2L for a good price second-hand however then this very capable telephoto prime lens could be a bit of a bargain.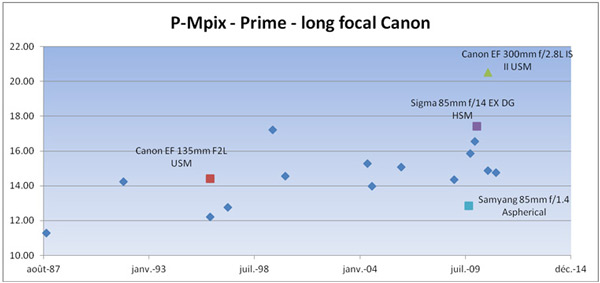 Ranking sharpness vs. age the trend in the main demonstrates newer telephoto primes have the edge but buying the 135mm f/2L USM second-hand could be a bargain for a very capable lens.
Further readings for the Canon 135mm f2L USM review: An oldie but a goodie
To provide photographers with a broader perspective about mobiles, lenses and cameras, here are links to articles, reviews, and analyses of photographic equipment produced by DxOMark, renown websites, magazines or blogs.
---
Comments
Added by

Alaix

| October 15 , 2013

Canon 135L F/2 on 5D Mark III

Why no dxoscore on 5D Mark III ?
He have on 6D a very good score but no on 5D Mark III.
Please go score this.
Thanks!


Reply
---
Sigma??? REALLY????

Well one thing is for sure. I ain't changing my 135/2L for no sigma anytime soon.. I'd marry my 135L if only I could find a ring that fits it :D.


Reply
---
i don't like this kind of testing.

This is funny test.


Reply
---
Canon 135L

"... the Sigma 85mm f/1.4 EX DG HSM is noticeably sharper." (than the 135L)

This just shows how meaningless your new metric is. Your own measurements do not show any noticeable difference. There is almost none here: http://www.the-digital-picture.com/Reviews/ISO-12233-Sample-Crops.aspx?Lens=108&Camera=453&Sample=0&FLI=0&API=0&LensComp=756&CameraComp=453&SampleComp=0&FLIComp=0&APIComp=2

Also, comparing 85 and 135mm can be tricky. For the same background blur, you need f/1.4 at 85mm vs. f/2 at 135mm (same physical aperture). The 135L is then really sharper, much less PF/LoCA.

BTW, nobody buys the 135L for sharpness - not that it is not sharp. It has gorgeous bokeh. Your "second hand" recommendation is really stupid.


Reply | Read all replies for this comment
First replies for this comment
---
Added by

Nerval

| December 29 , 2012

Re: Canon 135L

Sharpness has nothing ado with depth of field....

And even wide open, or at least at f2 central sharpness on the Sigma is quite impressive.

So yes the sigma is sharper than the 135L.

It is funny though how people complain about the irrelevance of a sharpness test, while they are actually complaining that their lens is better...

Both are telephoto portrait lens, so that's why DxO compare them.

Sharpness is not the most relevant factor for portraits, that's a given, but DxO does not pretend to test usability or practicality of a lens.

DxOMark tests resolving power, vignetting, light transmission and so on.

A kind of pure image quality test, be it relevant or not to the application.

If you want field tests and reviews, there are plenty of sources such as SLRGear, DPReview, photozone.de... and so on.

DxOMark is just a metric...


Reply
---
Re: Canon 135L

You missed my point. DXO does not just report data, it makes a conclusion about the value of the lens overall. Then bokeh, f-stop vs. FL, etc., are primary factors.


Reply
---