An in-depth case study of the use of DxOMark data
Tuesday June 09 2009
Sensor Insight
Nikon and Canon chose different strategies for their entry-level market new cameras: Canon chose to provide a 15 Mpix resolution sensor with a small pixel pitch (4.7 µm), and Nikon provided a sensor with only 12 Mpix, but with a larger pixel pitch (5.5 µm).
Here is the summary of DxOMark performance for the two camera sensors: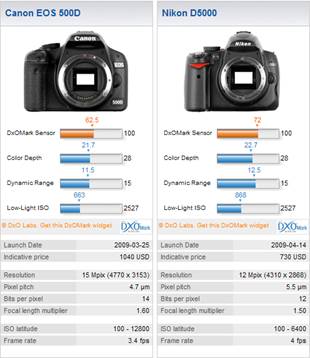 The Nikon D5000 outperforms the Canon EOS 500D for every score evaluated on DxOMark, but the differences are more significant for color depth (1 bit is equivalent to 2/3 stop) and dynamic range (1 Ev is 1 stop) than for low-light ISO (the difference between the 2 cameras is about 1/3 stop). Of course, as the Canon EOS 500D provides a 15 Mpix sensor, the sensor (with an appropriate lens) should be able to capture slightly greater detail.
In contrast to low-light ISO score, color depth and dynamic range characterize the sensor at low ISO settings. Even if the Nikon D5000 achieves better scores at high ISO settings, the differences observed for dynamic range and color depth are higher at low ISO settings and explain the gap between the two cameras with respect to their Sensor Overall Scores.
Further readings for the An in-depth case study of the use of DxOMark data
To provide photographers with a broader perspective about mobiles, lenses and cameras, here are links to articles, reviews, and analyses of photographic equipment produced by DxOMark, renown websites, magazines or blogs.
---
Sensor Review
|
January 31, 2012
| | |
| --- | --- |
| | With 15 MPix on a 14.0 mm x 18.7 mm sensor in an $800 bridge camera intended for the general public, the appearance of the Canon PowerShot G1X was one of the big events at CES 2012. |
---
Sensor Recommendations
|
February 17, 2010
Nikon and Canon launched their new top-of-the-line cameras for news and sports photography at the end of 2009. The Nikon D3s replaced the NikonD3, and the Canon EOS 1D Mark IV replaces the Canon EOS 1D Mark III.
On the one hand, the Nikon D3s's sensor specifications remain very close to those of the Nikon D3; on the other hand, Canon replaced the Mark III's 10 Mpix sensor with a new 15.9 Mpix sensor with the same sensor surface.
---