Canon 5D Mark III Review
Friday March 02 2012
Sensor Review
Canon's EOS 5D Mark III Stumbles Against Rival

The Canon EOS 5D Mark III, left, and Nikon D800 go head-to-head in DxOMark's image quality and sensor performance tests.
Camera heavyweights Canon and Nikon have traded punches over the past few decades, with Canon delivering a near knockout in 2008 with the wildly popular and industry changing EOS 5D Mark II – a camera that created millions of instant film makers through its use of hybrid technology that married impressive high definition video with a quality digital SLR camera.
The 5D MK II padded Canon's double-digit market share in the DSLR sector, especially since its combination of video and DSLR won over legions of Nikon users.
But Nikon has slowly crawled its way back into the ring in recent years. And in February, the company unveiled the D800, which also combines video capabilities and strong image quality.
Canon, not to be outdone by its chief competitor, announced on its 75th birthday and only weeks after the D800 debut, the release of the highly anticipated EOS 5D Mark III.
So will Canon retain its heavyweight title in the full-frame camera category?
Only time will tell, as consumers weigh the differences between the two camera titans.
However, at DxOMark, we have determined a clear winner - at least in regards to RAW image quality - after putting both cameras sensors under the scrutiny of our objective RAW-image based laboratory tests.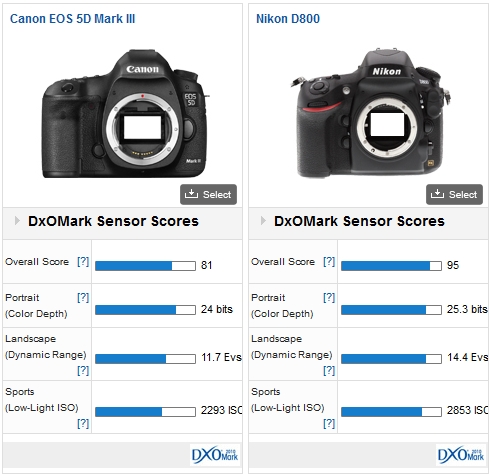 The D800 trounced the 5D MK III by 14 points, 95 to 81, in our overall score that combines our results for color depth, dynamic range, and low-light ISO. This widens Nikon's image quality lead over its chief rival in the lucrative flagship DSLR category.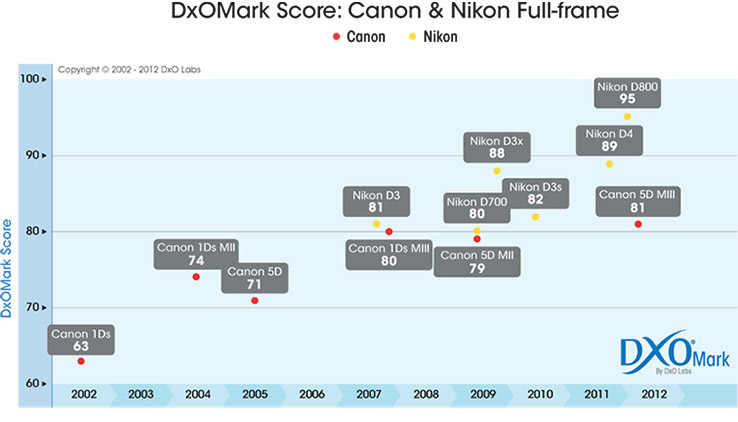 Canon and Nikon have been trading positions over the past decade as image quality leaders. The D800, however, seems to set a new high bar for not only Nikon and Canon, but the entire camera industry.
Dynamic Range: Dynamically Different Between Models
The most compelling difference between the D800's 36.3-MP sensor and the 5D MK III's 22.3-MP sensor came in our analysis of dynamic range, which corresponds to the ratio between the maximum and minimum brightness a camera can capture. The 5D MK III scored 11.7 EVs (exposure value) compared to the D800 score of 14.4 EVs. Both reached their maximum EV score under low ISO settings of between 50 and 100 ISO. It was interesting to note that Nikon's dynamic range continued to improve between ISOs 50 and 1000, while the 5D MK III's performance began to stagnate. The one bright spot for the 5D MK III was that it inched ahead of the D800 when the ISO's were measured above 3200.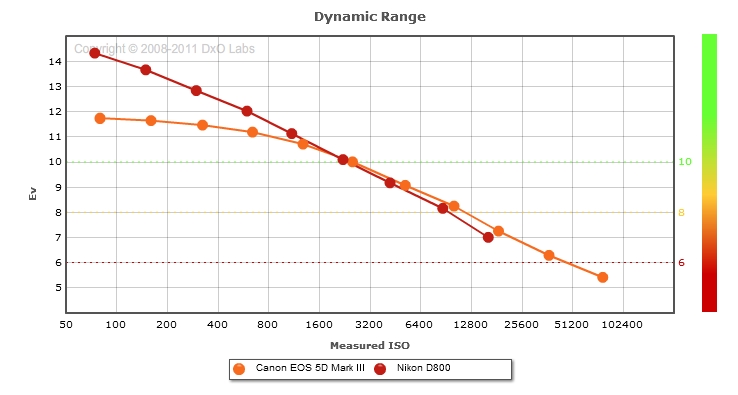 Canon EOS 5D Mark III vs Canon D800: Dynamic range comparison.
Another interesting observation in DR was that the 5D MK III changed very little from its 3.5-year-old predecessor, the 5D MK II. Our measurements actually revealed a regression by two-tenths of a point—although this is within our margin of error.
The D800, on the other hand, bested its sibling, the D700, by 2.2 EVs during about a four year span.
Now why does dynamic range (DR) matter? DR is particularly important when an image has both shadows and extreme brightness. For example, DR compensation will allow for the dark details of the iconic Eiffel Tower's metal frame to be observed on a sunny day—even if those details are cast in shadows. Within the same image, good DR will also limit some of the burnt highlights that are sometimes found in popcorn shaped cumulus clouds or light colored buildings. If a sensors DR is poor or limiting, it can record inaccurate data, especially in the shadows. In the photo world, the latter is known as that unpopular quality we call noise.
Low Light ISO: Comparing Apples to Apples
Sports and entertainment photographers looking for a recommendation on the best performing low-light camera might find this comparison a draw. Both cameras performed similarly in their ability to push the limits of good image quality recorded at a high ISO setting. The D800 is given a slight nod with reaching a threshold of 2,853 ISO. The 5D MK III's score was a negligible 1/3 stop lower, with a low-light score of 2,293 ISO.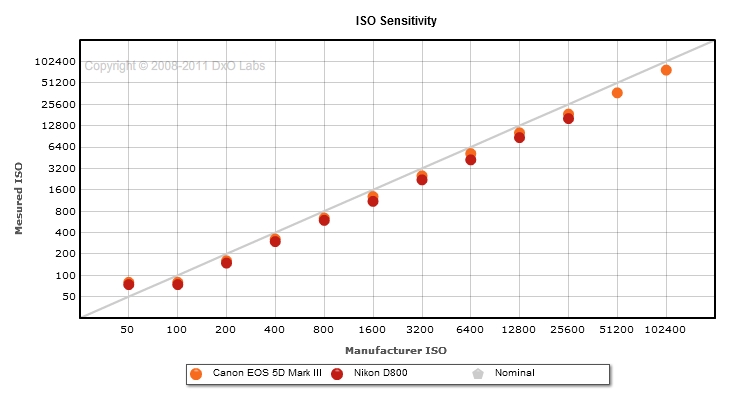 Canon EOS 5D Mark III vs Canon D800: Iso sensitivity comparison
Full SNR: Canon in the Dark
In our full signal-to-noise ratio (SNR) tests, which inspects how well sensors collect data from black (.01%), white (100%) and shades of gray (everything in between), the 5D MK III's sensor stumbles when assigned low ISO settings. This is evidenced by looking at the full SNR graph for the 5D MK III.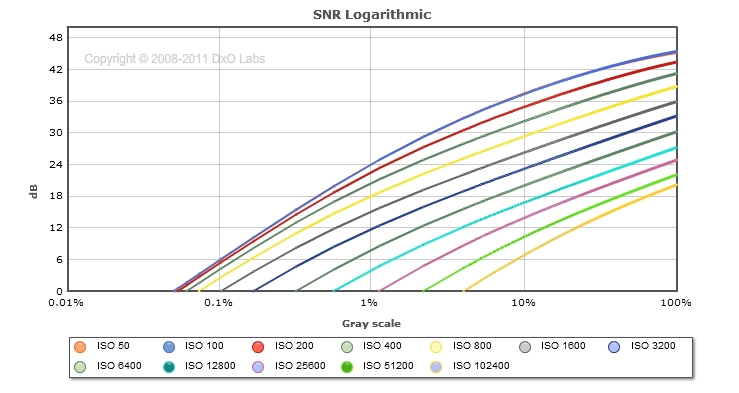 Canon EOS 5D Mark III: Full SNR
Here, you can note three of the 5D MK III's low ISO settings (ISO 100, 200, and 400) begin at nearly the same point on the gray scale. This indicates that these ISO values on the 5D MK III have little improvement over one another when collecting dark color values and the small details found within them. These results explain the 5D MK III's weak performance in the dynamic range test against the D800, at least when comparing low ISOs.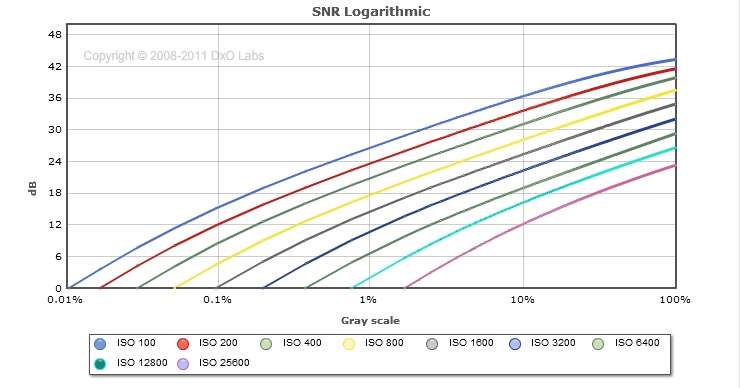 Nikon D800: Full SNR
Interestingly, Nikon's recently launched and high-end DSLR the D4, had similar results to the 5D MK III in our full SNR tests. We're not certain if the D4 included Nikon's own sensor, or followed in the D800 footsteps, which relies on a sensor from Sony. But we are certain the D800 outperformed its bigger sibling in nearly every category, the exception being low-light ISO conditions.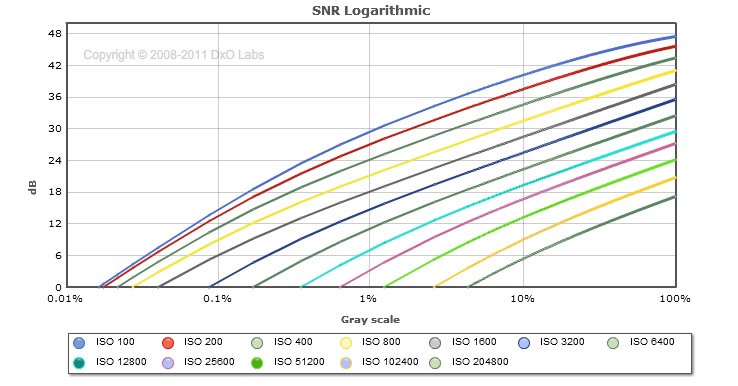 Nikon D4: Full SNR
Color Sensitivity: Nikon is Golden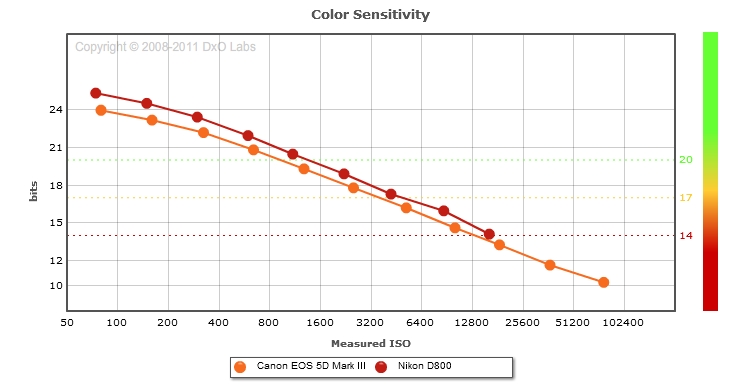 For photographers addicted to color, the D800's color depth score proved to be golden when going head-to-head with the 5D MK III. In this matchup, which measures a camera's color sensitivity, the D800 topped the 5D MK III with 25.3 bits compared to 24 bits. This 1.3 bit difference was observed in the lower ISO range. This is worth connecting to the 5D MK III's weaker performances in our dynamic range and full SNR tests, which indicate the camera's sensor – while still good – does not perform as well as the D800 in lower ISO settings.
It is also worth noting that the 5D MK III did move within striking distance of the D800 in our color depth tests at around 800 ISO, where their separation shrank to just half-a-bit.
Conclusions: Nikon Gaining Ground
In our DxoMark tests, the Nikon D800 proved to be a formidable adversary against Canon and its 5D Mark III. The D800 swept the 5D Mark III in every DxOMark image quality category – no easy task given Canon's already stellar sensor. The D800 has set a high benchmark not only for Canon cameras, but for the entire camera industry, having scored a personal best for our DxOMark RAW image quality and sensor performance tests.
But do not think for a second that Canon is throwing in the towel. To the contrary, they're probably devising a plan to use that towel to clean up the competition.
It's this competition that is hallmark to the historical legacy between Canon and Nikon – one camera maker manages to leapfrog the other in quality and innovation.
In the end, we all win as consumers and photography enthusiasts.
Further readings for the Canon 5D Mark III Review
To provide photographers with a broader perspective about mobiles, lenses and cameras, here are links to articles, reviews, and analyses of photographic equipment produced by DxOMark, renown websites, magazines or blogs.
---
---
---
---
Comments
Ultimately it's the skill...

You can test cameras all you want, ultimately it comes down to the skill level of the user. I've been in photography over 40 years and have used Canon, Nikon, etc. my understanding of exposure, composition, etc. (the basics) is what allies me to get successful images time and time again. Use what works best for you, but perfect your craft in the brain dept.


Reply | Read all replies for this comment
First replies for this comment
---
Great Jack of all trades

I work in Nyc as a fashion photographer and I have to say the the 5d series are the most used cameras out side of medium format cameras .Ive been shooting with the mark 3 for over a year after shooting with the mark 2 for 2 years great both great cameras. You can see the shots I've taken with it for my work on my website www.brianschutzaphotography.com hope it helps!! also note I only shoot RAW format


Reply
---
Added by

guslar

| April 18 , 2013

Guess who is best sponsor for DxO...

Nikon or Canon? ;)


Reply
---
First replies for this comment
---
Added by

viktas

| November 01 , 2012

viktas

I own and use a 5Dmk3 for my studies and some of my clients for a few months now. I would have to write a sensor reading doesn't even come close to showing off this bodies attributes. Canon still have best lens choices if you can afford them, just show in raw if you might want more dynamic range or change settings in Picture Styles ( easy ). This is the fastest focusing body in this price range helping any one get the shot ( not missing it ), due to focus hesitation. Build quality is still best in class except for shutter count, Canon blew that one, but swaping out the mechanisium is always a option if you are a Professional down the line. Only because I'm able to buy one FF system did I invest in the best for most situations like a pro. I did care about just studio resolution becasue I don't have time for this in the field! The 5Dmk3 is the best in the field hands down. No hesitating focus, best lens choices and buid quality. Dxo's mark is for ametures.


Reply
---
Split Personality

DxO Labs use a scientific/unprejudiced approach to measure and evaluate camera sensor properties. Then again, they also use a tabloid way of distorting whatever their findings might be.

There's a difference between perception and assessment. Lurid presentation will attract the masses, informed audience will probably be driven away by it.

Anyway, whatever the title says, information is in the measurements instead.


Reply
---
Thank you

I'm really glad to see a major website, in such dry terms, effectively lay some smack down on the 5D Mark III. It's a minor upgrade over the Mark II and it costs $1,000 more.

That's 100% corporate arrogance coming from a company that thinks it rules the industry.


Reply | Read all replies for this comment
First replies for this comment
---
Sospechosa sensibilidad.

Estoy sorprendido por la gran diferencia de calidad que hay entre las dos cámaras. He sido usuario de nikon, de canon y ahora lo soy de sony. Está claro que el sensor de la d800 es mejor en casi todo, pero hay algo que no me cuadra dado que no tiene ningún sentido. El tamaño de los foto-captadores es muy importante a la hora de obtener poco ruido a altas sensibilidades. No es posible que la D800 arroje mejores resultados a altas sensibilidades que la canon 5D markIII. Sencillamente no me lo creo, además he visto comparativas reales en internet y ni de lejos se le acerca en sensibilidad a la canon 5D markIII. No dudo de la objetividad de la pruebas efectuadas pero no cuadra de ninguna forma los resultados. Si hay forma de explicar esto sin recurrir al tópico de que son ciclos y que la tecnología avanza hacedmelo llegar. Saludos.


Reply | Read all replies for this comment
First replies for this comment
---
I AM DXOMark !

<div id="linkdxomark">This a comment for <a href="http://www.dxomark.com/index.php/Cameras/Camera-Sensor-Database/Canon/EOS-5D-Mark-III">this page on the website</a></div>


[color=blue]Latest Photoshoot Collaboration of DXOMark and Nikon !

Enjoy:
[/color]
http://i42.tinypic.com/2q83pes.jpg

[img]http://i42.tinypic.com/2q83pes.jpg[/img]


Reply
---
Confused about the low ISO score

The print graph for SNR is almost identical to the D800 but the 5dIII is rated much lower. Also looking at picture comparisons I'm surprised to see this low number.


Reply | Read all replies for this comment
First replies for this comment
---