Canon 5D Mark III Review
Friday March 02 2012
Sensor Review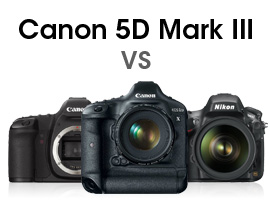 In a few weeks, Canon and Nikon will start delivering the first samples of their new professional full-frame cameras. Spring 2012 has seen a completely new generation of 24x36 bodies: the Canon EOS-1D X and EOS 5D Mark III, and the Nikon D4 and D800.
Among these, the Canon EOS 5D Mark III was the last to have been announced. Now that the whole family is together at last, let's compare the 5D Mark III with its predecessor, the EOS 5D Mark II, to see what kind of progress there's been, and then see how the 5D Mark III stacks up against its big brother, the reporter's dream camera, the EOS-1D X. We will also pit the 5D Mark III's results against those of its direct Nikon competitor, the D800.
Canon EOS 5D Mark III vs Mark II

Canon EOS 5D Mark III
Canon EOS 5D Mark II
Resolution
22,3 megapixels
21,1 megapixels
ISO latitude
100 to 12 800 (expendable to 102 400 ISO)
100 to 6 400 (expendable to 25 600 ISO)
Autofocus
61 focus points
41 are cross-type points and 5 double cross-type points
9 focus points
Exposure metering
63-zone iCFL with a coupling based on 2 groups of 2 colors
TTL 35 zone SPC metering with 4 variations
Video
1080/30p with a mic-in and a headphone jack
1080p Full HD mode up to 30 fps
Full-time AF in video
No
No
Processor
Digic 5+
Digic 4
HDR
Yes
Yes
Viewfinder
100% - magnifiction 0,71x
98% - magnifiction 0,71x
Screen
3,2" / 1 044 000 point
3" / 921 000 point
Frame rate
6 fps (4 fps in silent mode)
3,9 fps
Silent mode
Yes
No
Built-in flash
No
No
External flash sync
Yes
Yes
Storage
Double slot : Compact Flash and SD
Compact Flash
Weight
0,950 kg
0,810 kg
Battery life
950 photos
850 photos
Weather sealing
Yes
No
Price
$3,499
$2100
If, during the evolution of the EOS 5D into the EOS 5D Mark II, Canon retained its initial design —that is, using a large full-frame sensor in a light-weight body — in coming up with the EOS 5D Mark III, Canon has fully answered the expectations of photographers who have been waiting for a "Full-Frame EOS 7D." Ultimately, the 5D Mark III turns out to be a baby-EOS-1D X, from which it draws so much of its inspiration. (In this regard, Canon utilizes the same approach as Nikon.)
The EOS 5D Mark III displays several important advances:
The adoption of a new and presumably more efficient sensor with a nominal sensitivity ranging from 6400 ISO to 25,600 ISO.
A professional body with a reinforced magnesium alloy build and with all-weather tropicalization.
A viewfinder at 100% (finally!).
The latest-generation DIGIC 5+ processor, announced as being up to 17 times faster than the Digic 5 (which itself was 3 times faster than the EOS 5D Mark II's DIGIC 4).
Burst shooting that goes from 3.9 to 6 i/s.
A professional autofocus inspired by that of the EOS-1D X, with 61 collimators, of which 41 are in a cross array (with the central five in a double cross array), and which covers a larger field in the viewfinder (8x19mm).
As with the Mark II, the Mark III still has Full HD video, but now offers a choice in terms of compression mode (ALL-I vs IPB), a headphone jack, and a viewmeter for controlling sound as well as access to high sensitivities (12,800 ISO, extendible to 25,600 ISO).
A 63-zone, 100,000-pixel iFCL exposure meter with color measurement.
All this means that the EOS 5D Mark III is a much more serious reflex camera than its predecessor. What really marks it as a truly professional reflex camera is its uniformity, a quality that the 5D Mark II lacked (along with a suitable finish, autofocus, and viewfinder, all of which reduced the impact of the 5D Mark II's overall good image quality). The EOS 5D Mark IIIl appears to have made progress in all these areas as well as in autonomy, offering 100 more shots per battery charge. (Happily, the EOS 5D Mark III works with the same batteries as the EOS 5D Mark II and the EOS 7D).
So again, this spring Canon is launching a more professional camera, more robust, more responsive, and more efficient. As for the EOS 5D Mark II, it will continue to be sold through the end of 2012 at a price that is 40% less expensive than the Mark III (a pretty good deal for a full-frame camera, by the way).
Now, some photographers may accuse Canon of stagnation for using a sensor with essentially the identical resolution as the 5D Mark II's that came out three years ago. At the time, Canon was emphasizing resolution, whereas Nikon focused more on sensitivity in low light. Astoundingly enough, these roles have been reversed this year with the unveiling of the Nikon D800 and the 5D Mark III. Nikon is betting more on resolution, whereas Canon claims that it has completely redesigned its sensor such that it should permit a gain of 2 EV over the previous model, thanks to a better microlens array that is supposed to greatly improve the "fill factor"— that is, the percentage of the sensor surface allocated to capturing light. The higher the fill factor, the better the photonic signal-to-noise ratio. We will wait and see if all the DxOMark scores verify such stellar promises!
Canon EOS 5D Mark III vs Canon EOS-1D X

The DxOMark comparison is available here: Canon EOS 5D Mark III vs Canon EOS-1D X
We've already said that the EOS 5D Mark III can be considered a baby-EOS-1D X, because it utilizes some of the same up-to-date technologies, such as 61-point autofocus and measuring exposure via a 100,000-pixel, 63-zone iCFL color sensor. But a baby-EOS-1D X is not an EOS-1D X: the EOS 5D Mark III's autofocus, so close to that of its big brother, is not as fast (a double Digic 5+ processor for the former versus a single DIGIC 5+ processor makes a big difference), nor does it couple color measurement to exposure, as does the EOS-1D X's.
Although the EOS 5D Mark III has nothing to be ashamed of in terms of its burst shooting rate (6i/s) when compared to its predecessor or to the Nikon D800, the EOS 1-D X still claims the lead with burst shooting at 12 i/s (and even 14 i/s without exposure meter or autofocus, mirror raised).

And while the sensor definition is fairly close for the two cameras (i.e., 18 and 22 megapixels, respectively), one can quite naturally assume that the EOS-1D X's sensor has the upper hand. Short of surprising test results, the EOS-1D X will most likely further cement its position as an excellent camera for reportage, for field work, and for quality photos in low light.
Finally, the finish, the tropicalization, and the overall robustness of the EOS 1-D X are still a notch above those of the EOS 5D Mark III, despite the progress Canon has made with its third generation of 5D cameras. More professional, the EOS-1D X retains certain exclusive features in the Canon reflex line that allow it to insert itself better into one's workflow — for example, its RJ45 ethernet port.
Still, the EOS 5D Mark III has quite a few things in its favor, including portability and discretion (when in silent mode), its greater affordability, and a headphone jack for video mode — an important refinement, especially if shooting video is a priority for your work.
Canon EOS 5D Mark III vs Nikon D800

The DxOMark comparison is available here: Canon EOS 5D Mark III vs Nikon D800
With Canon EOS 5D Mark III, the Nikon D800 has finally met its match! The Nikon D700 was never really in competition with the Canon EOS 5D Mark II (which did not impede it from being an amazing commercial success), given that the latter really had nothing to offer other than the quality of its sensor, which broke all the records for definition for full-frame cameras at the time. But now things have changed, and in many respects — except for their sensors — the two rivals are on par: tropicalization, viewfinder at 100%, an efficient autofocus based on that of a pro reflex, Full HD video with headphone jack, advanced exposure metering (63-zone iCFL for the one, and a 91,000-pixel scene recognition sensor for the other), etc., etc., etc.
Sensors: definition vs sensitivity
The duel between the Nikon D800 and the EOS 5D Mark III would most certainly take place except that the different sensors each one has adopted makes it difficult to do a head-to-head comparison. Both sensors offer different advantages —in principle, sensitivity for the Canon and definition for the Nikon. With its 36 megapixels, the Nikon D800 clearly has concentrated its efforts on fine detail reproduction (and reinforces this position with its unfiltered model D800E).
For its part, the Canon EOS 5D Mark III chose to make a grand compromise: with its 22 megapixels, it offers both higher definition and in theory, higher sensitivity.
One is tempted to think that it will be easier to use certain lenses on the Canon when similar lenses might have problems handling the Nikon D800's 36 megapixels.
But with respect to this last point, given the same pixel pitch and technology with which we are already acquainted (thanks to the D7000), our DxOMark tests will ultimately tell us whether the Nikon D800's high definition show a noticeable and measurable gain in sharpness over the 5D Mark III in the images it produces.
In any event, our tests will certainly shed a lot of light about what is real and what is fantasy about the Nikon D800's sensor. And given its claims of having worked on optimizing its sensor image quality, Canon may yet have some surprises in store as well.
Video
Its video gave the EOS 5D Mark II a big boost. After coming out with a D700 without this "must-have" feature, Nikon bounced back in a beautiful way by equipping its new offering with these cutting-edge features: Full HD, 30p progressive scan, a microphone jack and headphone output with a view meter, all exactly like the Canon EOS 5D Mark III (although Canon claims to have considerably improved the moiré in its videos in this new iteration). As for the Nikon D800, it is the only camera to offer the possibility of recording uncompressed video flow via HDMI output, a feature that may certainly prove seductive to certain studios and broadcast media.
First conclusions (before test results)…
The gap between the two rivals has closed considerably in terms of body characteristics and features, finish, viewfinder, etc. But as ever, these cameras differ most in their underlying design philosophies.
Our DxOMark comparative tests for these two reflex cameras and their sensors will definitely measure and determine the veracity of these two principal claims:
The gain in resolution that the Nikon D800's 36-megapixel sensor should provide.
The gain in sensitivity for the Canon EOS 5D Mark III (we're betting on this).
The match will be exciting!
Further readings for the Canon 5D Mark III Review
To provide photographers with a broader perspective about mobiles, lenses and cameras, here are links to articles, reviews, and analyses of photographic equipment produced by DxOMark, renown websites, magazines or blogs.
---
---
---
---