Canon EF 100-400mm f4.5-5.6L IS USM lens review: Still a good all-round choice
By Kevin Carter -
Tuesday January 28 2014
Lens Review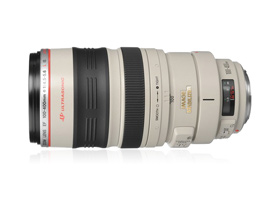 A favorite of wildlife and action photographers, Canon's EF100-400mm f4.5-5.6L IS USM is a well-specified and versatile model. However, as it approaches sixteen years in production, is it still capable of competing with more modern offerings? Read on to find out.
Before last year's introduction of the Canon EF200-400mm f4L IS USM x1.4 Extender this model was the only telephoto zoom in the range with a focal length over 300mm. Introduced in 1998 this L-series lens was made to a high specification that still stands today. As well as a two-stop image stabilizer the EF100-400mm f4.5-5.6L IS USM has a fast, quiet ultrasonic AF motor. Like all Canon L-series lenses, it's made to a high standard but it doesn't feature environmental sealing – though just how effective that is in zoom is It also has a push-pull zoom mechanism (with a collar for adjusting resistance), which although once common is unusual today.
The optical construction is impressive, consisting of 17 elements arranged in 14 groups and includes fluorite and super low-dispersion glass elements to reduce chromatic aberration. It has a 'floating' system for improved image quality and close range, and a minimum focusing distance of 5.9 ft. (1.8m) and a maximum magnification of 1:5. With a 77mm filter attachment thread and measuring 7.4 x 3.6" (189 x 92mm) it's compact (at least at 100mm), and at 48 oz (1,380g) it's of reasonable weight (in fact slightly lighter than the firm's EF70-200mm f2.8 IS II USM).
Please note that we've yet to complete our assessment of the promising new SP 150-600mm f5-6.3 Di VC USD from Tamron, which was unveiled in November last year at $1,999 (though already available at around $999). However, our review will be posted soon.
Further readings for the Canon EF 100-400mm f4.5-5.6L IS USM lens review: Still a good all-round choice
To provide photographers with a broader perspective about mobiles, lenses and cameras, here are links to articles, reviews, and analyses of photographic equipment produced by DxOMark, renown websites, magazines or blogs.
---
---
---
---
Comments
Thanks DxO

Thanks DxO.
We needed that. The Canon 100-400 is an important reference.


Reply
---
Canon 100-400, i am still interested in the test

Dear DXO-Team,
thank you for the very good software (i have paid for the first time, and for upgrades)
and thank you for the very good tests (which are for free)

I am still interestet in the test of the canon 100-400! You are promissing the test for many months...... Of course: your tests are for free for us: So we normaly should not complain.....

But please make a decision: will it be tested soon (than it is wonderful), or will it take a long time to realize the test => then please write it clearly!

Thank you

Karsten





Reply | Read all replies for this comment
First replies for this comment
---
Added by

mosaic

| September 17 , 2013

Canon 100-400

The logic of delaying testing because this is an old lens escapes me. It is also a current lens and one that is widely used. There are of course persistent rumours of a MkII. If that occurs, a current test of this lens will be even more important, as users will need to see if the new version warrants the likely very significant upgrade price.
It has been on "by the end of this month" status for at least a year. Can you/will you give us a firm commitment to a date for the test and meet it?
Thanks.


Reply | Read all replies for this comment
First replies for this comment
---
canon 100-400, when it will be testet?

I am interested in the announced test for the canon 100-400. In March the test was announced for march, in April it was announced for April. In May it was announced for may. Now (1. June) it is announced for June => it seems to me: in July it will be announced for July?

Can you give a realistic information when/whether it will be tested?

Thank you for helping and your very professional tests!

Best regards - Karsten


Reply | Read all replies for this comment
First replies for this comment
---