Canon EF 17-40mm f/4L USM lens review: Popular high-performance option
By Kevin Carter -
Monday January 13 2014
Lens Review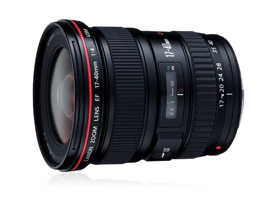 Although overshadowed by its more glamorous sibling, as a moderately priced, highly portable ultra-wide zoom, the EF 17-40mm f/4L USM is a hugely popular model. Read on to find out how well it performs in our labs.
Introduced in 2003 the EF 17-40 f/4L USM was one of the first of the lightweight pro-level L-series zooms from the firm adopting a constant f4 aperture. Not only does that make the lens relatively small and more portable compared with the f2.8 varients, but it also helps keep it moderately priced. This full-frame lens is also popular with users when mounted on APS-C cameras where it's the equivalent to a 27-64mm. Like other L-series lenses from the company, the EF 17-40mm f/4L has a high grade optical construction consisting of three aspherical lens elements and even adopts a Super-UD glass element, an expensive glass type usually resevered for more esoteric lenses in the range. The 12-element 9-group construction allows a closer than usual minimum focusing distance of 11.02" (0.28m). It weighes 1.05 lb (475g) and measures 3.81" (96.8mm) in length, and is available now for $839
Best performing wide angle zooms on the Canon EOS 5D Mark III (prices quoted are prices at launch)
Further readings for the Canon EF 17-40mm f/4L USM lens review: Popular high-performance option
To provide photographers with a broader perspective about mobiles, lenses and cameras, here are links to articles, reviews, and analyses of photographic equipment produced by DxOMark, renown websites, magazines or blogs.
---
Comments
Added by

arslens

| February 11 , 2014

17-40 appears far superior to 16-35 II in your data

Your data (plots) show that, contrary to expectations based on previous photographers' reviews, and contradicting your own words in the review, the edge-to-edge sharpness of the Canon 17-40 far exceeds the 16-35 II at any aperture and fl they have in common (ie, f/4 and smaller). In fact, the 17-40 performs almost as well as the famous Nikon 14-24, on comparable bodies, at any fl and f/# they have in common, while the 16-35 II is clearly inferior to these two lenses, based on your sharpness results (using your comparison tool). There are some issues with vignetting and lateral chromatic aberration in the 17-40, but those are easily corrected in software these days, while sharpness cannot (easily) be improved in post.

These results on the 17-40 are surprising based on what has already been written in the past, comparing the 17-40 to the 16-35 (II). In fact, your own review (text) that accompanies your plots basically overlooks the data, choosing instead to echo previous reviews -- which, again, are inconsistent with your data. I am puzzled that you would not speak to your own findings (data).

I don't understand your reply to "Smokes the 16-35?" above. That person has a valid point. In response, you imply that any f/2.8 lens automatically gets a higher score than a similar f/4 lens, which doesn't make sense.


Reply | Read all replies for this comment
First replies for this comment
---
Canon EF 17 to 40 f4L

Hey! You finally did a detailed review of this lens. Thank you!

May I very gently suggest that it might be better not to promise that the review will be done in the current month (whatever that month may be) if you know it will really be another eight months before you can get around to it. It just causes frustration among your loyal user base.

Now if you could only get around to testing the Canon EF 400L f5.6, I know there would be a large number of bird photographers who would be grateful.


Reply | Read all replies for this comment
First replies for this comment
---
First replies for this comment
---
Even before it's discontinued? Wow...

I own this lens since 2003. Guess how much I need this review in 2014.


Reply
---
EF 17-40mm/4 Thanks

Wow, just asked 2 days ago for this review, and now it's published - Thank you! Based on this I'll keep my 20-35mm and wait for your test of some lenses that might be announced this year (a 14-24mm/2.8, a 16-50mm/4 IS?)


Reply
---
Added by

madeira

| January 13 , 2014

Thanks

Finally: long overdue review for the essential Canon lens. Many thanks!


Reply
---
First replies for this comment
---
Canon EF 17 to 40 f4 L

Hi there,
I enquired about this lens in early June and was told that it would not be tested until September. In April there was a message on your Website promising it would be tested in May. In May the date had changed to June. Now you state it "may" be tested this Fall.
If you look at the photographic journals you will find I think that there are many examples of this lens being used by current enthusiasts and even professionals. Surely it deserves a higher priority.
When purchasing your DxO Pro8 program at the ExpoSure Exhibition in Toronto in May I was assured by the demonstrator/salesperson that this lens had already been tested, together with another L series lenses I own, the EF400 f5.6L - still currently being sold.
I am beginning to feel that I wasted my money.


Reply | Read all replies for this comment
First replies for this comment
---
Added by

aleita

| October 14 , 2013

when will us got the testing results.

it could be great to have a comparison with the old but good EF 17-35 2.8L
it was a great lens should perform nicely on new markIII w/ lens profiles on it.


Reply | Read all replies for this comment
First replies for this comment
---
First replies for this comment
---