Canon EF 24mm f/1.4L II USM measurements and review
Friday September 16 2011
Lens Review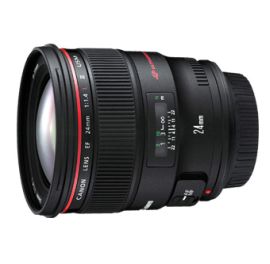 The Canon EF 24mm f/1.4 L II USM which belongs to the high-end L series of Canon is designed for high performance. Its 13 elements in 10 groups include two aspherical elements for limited the distortion and two UD glass elements to minimize the chromatic aberration. It also features "Sub Wavelength structure Coating" for reduced flare and ghosting and a floating focus mechanism to maintain the same image quality across the whole focus range.
But, how does it really perform?
The best to benchmark the Canon EF 24mm f/1.4 L II USM is to compare it with its excellent Nikon equivalent, the Nikon AF-S Nikkor 24mm f/1.4G ED.
Both lenses have very similar transmission and distortion with a slight advantage for the Canon EF 24mm f/1.4 L II USM
The resolution of both lenses is also very similar, even if they both have their own weaknesses: the Canon is excellent at F/4 but less good at F/1.4. And, the Nikon, even if it is more homogenous, is really at its best above F/5.6
Vignetting really is the weak point of the Canon EF 24mm f/1.4 L II USM down to -3 EV at F/1.4.
Both lenses keep the chromatic aberration really low, with a small advantage for the Canon lens.
Overall, both these lenses are the very best for landscape photography with a Use Case score of 4.5 stars.
Further readings for the Canon EF 24mm f/1.4L II USM measurements and review
To provide photographers with a broader perspective about mobiles, lenses and cameras, here are links to articles, reviews, and analyses of photographic equipment produced by DxOMark, renown websites, magazines or blogs.
---
---