Canon EF 24mm f/2.8 IS USM vs. Canon EF 24mm f/2.8: A side-by-side comparison
By Janice Chen -
Wednesday January 09 2013
Lens Review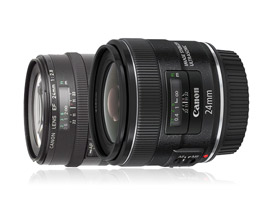 After almost 25 years, Canon has updated one of its oldest prime lenses with the new Canon EF 24mm f/2.8 IS USM. Adding optical image stabilization and a ring-type ultrasonic autofocus motor, the new fixed, wide-angle lens is an update to the Canon 24mm f/2.8 wide-angle prime originally released in November of 1988.
Touted by Canon as the world's first wide-angle prime lens with IS, which delivers up to four stops of correction, the new EF 24mm f/2.8 IS USM is geared for landscape and architectural shooting, photo reportage, and travel photography. The silent high-speed AF motor makes it well-suited for shooting video as well. The lens' redesigned optics include aspherical lens elements to correct aberration and improve peripheral image quality.
While the EF 24mm f/2.8 (now discontinued) has held its own since 1988, the improved optics and IS mean that the new lens should be able to perform better than its predecessor in low-light settings. We put the two lenses to the test side-by-side to find out what the true performance differences are.
Further readings for the Canon EF 24mm f/2.8 IS USM vs. Canon EF 24mm f/2.8: A side-by-side comparison
To provide photographers with a broader perspective about mobiles, lenses and cameras, here are links to articles, reviews, and analyses of photographic equipment produced by DxOMark, renown websites, magazines or blogs.
---
---
---