Canon EF 24mm f/2.8 IS USM vs. Canon EF 24mm f/2.8: A side-by-side comparison
By Janice Chen -
Wednesday January 09 2013
Lens Review
Canon EF 24mm f/2.8 IS USM vs. Canon EF 24mm f/1.4L II USM vs. Carl Zeiss Distagon T 21mm f/2.8 ZE Canon mounted on Canon EOS 5D Mark II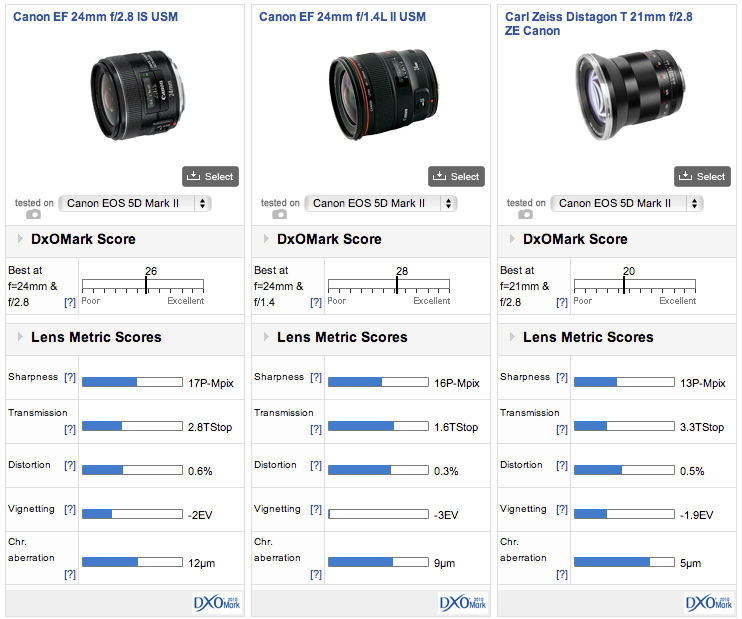 The new Canon EF 24mm f/2.8 IS USM doesn't just compare well with its predecessor, however. It also holds up against wide-angle prime lenses that sell for more than twice its $849 price tag, such as the Canon EF 24mm f/1.4L II USM ($1,749), from Canon's high-end L series, and even the Carl Zeiss Distagon T 21mm f/2.8 ZE Canon ($1,843). We tested all three lenses mounted to a Canon EOS 5D Mark II and found that in comparison to the more expensive lenses, the EF 24mm f/2.8 IS USM achieved a similarly impressive Sharpness score of 17P-Mpix compared to the higher-end Canon EF 24mm F/1.4L II USM's score of 16M-MPix and even better than the Carl Zeiss Distagon lens' score of 13P-MPix.
Taking a closer look at the sharpness measurements and field maps (below), we can see that both Canon lenses perform very well and deliver similarly consistent sharpness between f/2.8 and F/22. From f/1.4 to f/2, the L series lens delivers good sharpness in the center that softens toward the edges of the frame, but at an acceptable level. The Zeiss lens doesn't match up to either Canon lens—though resolution is sharp in the center, it decreases quickly toward the edges for all apertures.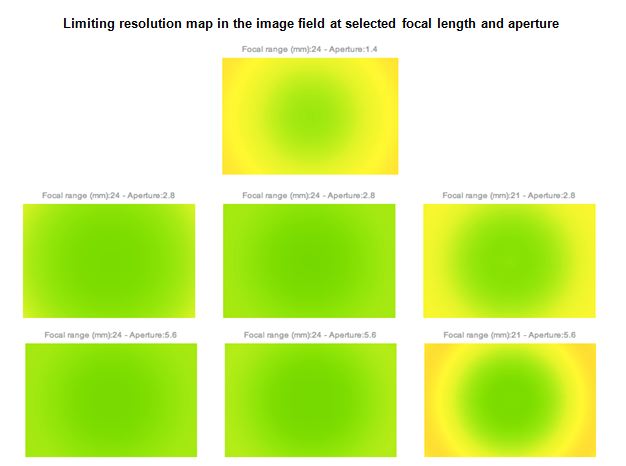 Resolution performances at different apertures for the Canon EF 24mm f/2.8 IS USM, Canon EF 24mm f/1.4 L II USM, and Carl Zeiss Distagon T 21mm f/2.8 ZE (from left to right).
In terms of light transmission, the Canon L series lens is obviously a brighter lens and therefore delivers a better score at 1.6TStop. But although the new Canon lens and the Zeiss lens have the same theoretical aperture of f/2.8, the Canon is 1/2EV brighter than the more-expensive Zeiss lens: the Canon measured accurately at 2.8 whereas the Zeiss tested low, losing a half stop and coming in with a 3.3TStop.
Where the Zeiss lens stands out among the three is in the chromatic aberration test, on which it scored a 5µm compared to 12µm and 9µm for the Canon f/2.8 lens and L series f/1.4 lenses, respectively. The Zeiss performed well for all apertures in chromatic aberration, whereas for both Canons, chromatic aberration should be slightly noticable.
Ultimately, the test results indicate that the Canon EF 24mm f/2.8 IS USM delivers better image quality for the money. While the Canon EF 24mm f/1.4L II USM offers similarly good resolution and is brighter and has better control of lens shading, at twice the price of the f/2.8, it's not as good a value. And the even more pricey Carl Zeiss Distagon T 21mm f/2.8 ZE is frankly a bit disappointing when compared to both Canon lenses: While it performs better than both in chromatic aberration control, its resolution is significantly lower than both at f/2.8 and above, and transmission is a bit low as well.
Further readings for the Canon EF 24mm f/2.8 IS USM vs. Canon EF 24mm f/2.8: A side-by-side comparison
To provide photographers with a broader perspective about mobiles, lenses and cameras, here are links to articles, reviews, and analyses of photographic equipment produced by DxOMark, renown websites, magazines or blogs.
---
---
---