Canon EF 28mm f2.8 IS USM review
By Ben Boswell -
Wednesday January 02 2013
Lens Review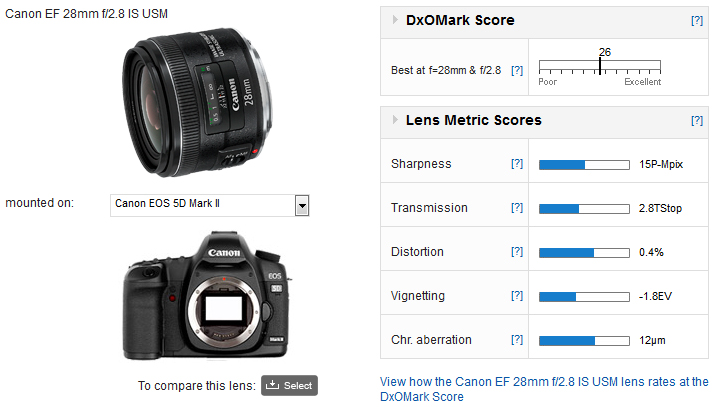 With a DxOMark score of 26 the Canon 28mm ranks very high. It is the second best of all wide Canon lenses and, if you include independently made lenses, it still ranks 5th out of all canon fit wide lenses. The scores for P-MPix are even better, showing that this is a nice sharp optic, scoring 15P-MPix. If you narrow the field further and look for just 28mm lenses, this one is the top scorer.
The individual test results show a lens that is very consistent, the only place where the scores dip is when used with a small aperture when the resolution does fall off. Chromatic aberration is well controlled, distortion is not excessive transmission is excellent and vignetting, while noticeable when using the lens wide open is exactly what you would expect of a 28mm lens.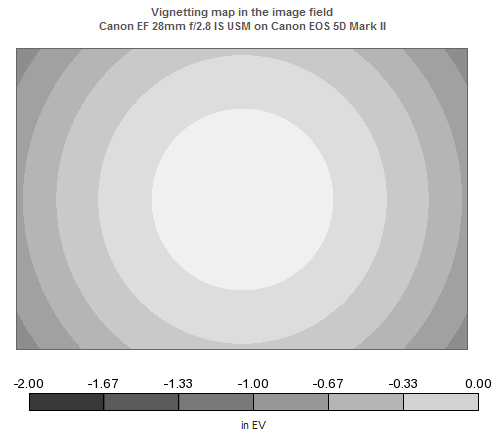 Wide open the EF 28mm f2.8 vignettes by nearly 2 stops, this disappears rapidly as the lens is stopped down. Criticizing the lens for this is rather harsh since the same results appear for nearly all lenses in this category
Further readings for the Canon EF 28mm f2.8 IS USM review
To provide photographers with a broader perspective about mobiles, lenses and cameras, here are links to articles, reviews, and analyses of photographic equipment produced by DxOMark, renown websites, magazines or blogs.
---
Lens Recommendations
|
April 03, 2013
| | |
| --- | --- |
| | The second in our series of selecting the best-quality lenses for your camera concentrates on one of the most highly-anticipated cameras of our time, the successor to the hugely popular EOS 5D Mark II. But by the time it was announced, in early March, it's probably fair to say Nikon had taken fair amount of interest away by announcing the 36M-Pix D800 and D800E models the month before. Be that as it may, there's no denying the 22.3 M-Pix EOS 5D Mark III is a remarkably capable camera, and a formidable rival to the Nikon. |
---
Comments
Image stabilization (IS) or Extra Stops

So, most other photo forums seem to agree that the 28mm 1.8 would win over the 28mm f2.8 (IS) because of a few extra stops. But it sounds like the 28mm 2.8 (IS) has better IQ? I'm wondering because I own the 28mm 1.8, but I'm seriously considering getting the 2.8 with images stabilization because I'm shooting more video.


Reply
---