Canon EF 28mm f2.8 IS USM review
By Ben Boswell -
Wednesday January 02 2013
Lens Review
Canon EF 28mm f2.8 IS USM vs Canon EF 24mm f2.8 IS USM vs Canon EF 28mm f1.8 USM: Canon progressing nicely!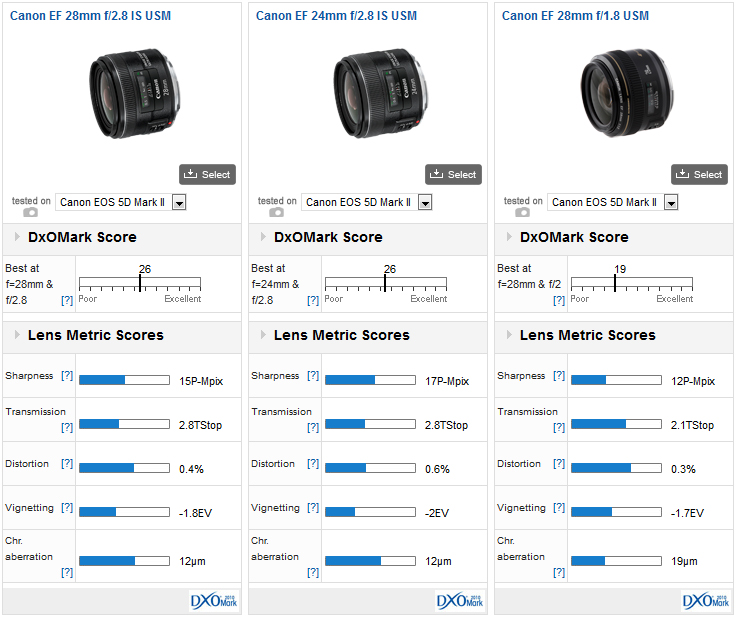 Here are three lenses that would naturally be on a photographer's shortlist if they were looking for a wide angle lens for their Canon camera. The 28mm and the 24mm f2.8 lenses were announced together in early 2012 and both sport image stabilization, which is missing on the 28mm f1.8 that has been part of Canon's range since the middle of 1995. Image stabilization is great to have, especially in a slower lens, giving the photographer the confidence to work hand held. The 28mm f1.8 is, however also the cheapest of the trio so is the extra stop of light a real bargain? Unfortunately not: The 28mm f1.8 is the poorest performer by quite a margin, especially in resolution.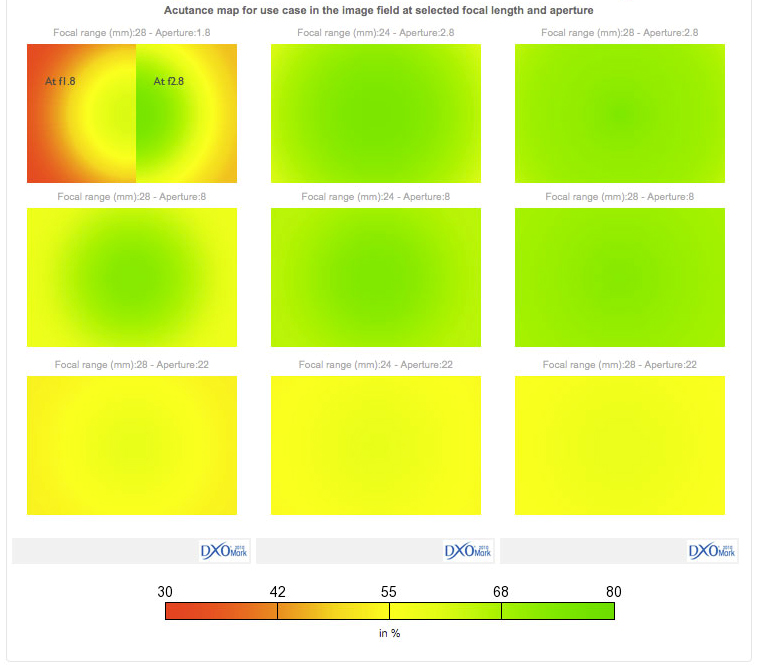 This comparison between the 17 year old 28mm f1.8 and the new 24mm and 28mm f2.8 lenses reflects well on the new versions, wide open the 1.8 is really not a good performer and still trails behind when stopped down to f2.8 to match the others.
The control of chromatic aberration tells a similar story. While all three lenses are fairly consistent in themselves, the newer two are consistently good where the 28mm f1.8 is consistently just OK.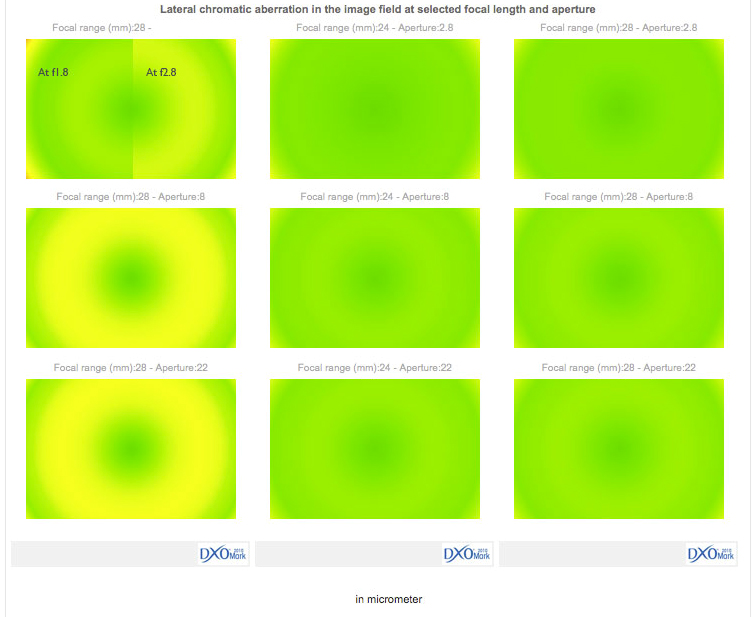 Canon's new 28 and 24mm F2.8 IS USM lenses show remarkable consistency alongside the lacklustre performance of the 28mm f1.8
Canon EF 28mm f2.8 IS USM vs Carl Zeiss Distagon T 28mm f2 ZE vs Sigma 35mm f1.4 DG HSM A: Looking elsewhere for a Wide Lens.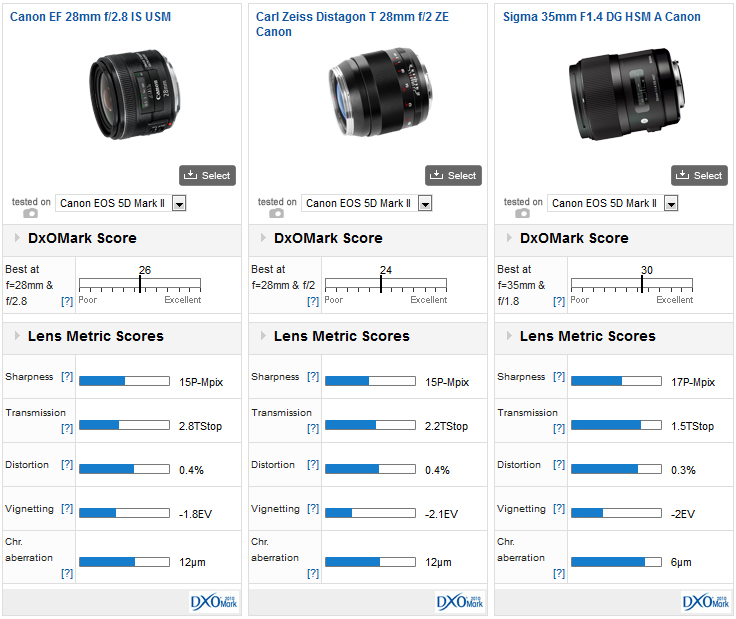 Choosing the right lens shouldn't present too many problems here, if the longer focal length isn't a problem the Sigma is clearly the best and if it must be a 28mm then the Canon is going to be much easier to use and will give better results.
Among Canon's own lenses the EF 28mm f2.8 IS USM can hold its head high, it performs very well, so is it worth looking further afield too? Carl Zeiss also produces a 28mm lens in Canon fit, their Distagon f2 ZE. Without image stabilization or auto focus this is a lens that needs to perform significantly better to justify costing twice as much: It doesn't, it actually matches the Canon virtually point for point, it's only benefit apparently being its wider aperture. However Canon's image stabilization installed in their 28mm could more than compensate for this loss of a stop leaving the beautifully built Zeiss lens out on a bit of a limb.
If your search is for a wider than standard lens and you are content to accept something a little less wide then another lens you could add to the shortlist is Sigma's excellent 35mm F1.4 DG HSM A. Only slightly more expensive than the 28mm Canon lens it boast 2 stops of extra light, enough to be able to capture shallow depth of field if you want to and it does perform very well even wide open. It scores higher in DxOMark tests than any other wide lens for Canon. Of course if you need a 28mm then a 35mm isn't going to be any good, but this is a lens worth keeping in mind.
Further readings for the Canon EF 28mm f2.8 IS USM review
To provide photographers with a broader perspective about mobiles, lenses and cameras, here are links to articles, reviews, and analyses of photographic equipment produced by DxOMark, renown websites, magazines or blogs.
---
Lens Recommendations
|
April 03, 2013
| | |
| --- | --- |
| | The second in our series of selecting the best-quality lenses for your camera concentrates on one of the most highly-anticipated cameras of our time, the successor to the hugely popular EOS 5D Mark II. But by the time it was announced, in early March, it's probably fair to say Nikon had taken fair amount of interest away by announcing the 36M-Pix D800 and D800E models the month before. Be that as it may, there's no denying the 22.3 M-Pix EOS 5D Mark III is a remarkably capable camera, and a formidable rival to the Nikon. |
---
Comments
Image stabilization (IS) or Extra Stops

So, most other photo forums seem to agree that the 28mm 1.8 would win over the 28mm f2.8 (IS) because of a few extra stops. But it sounds like the 28mm 2.8 (IS) has better IQ? I'm wondering because I own the 28mm 1.8, but I'm seriously considering getting the 2.8 with images stabilization because I'm shooting more video.


Reply
---