Canon EF 35mm f/2 IS USM preview
Tuesday November 06 2012
Lens Preview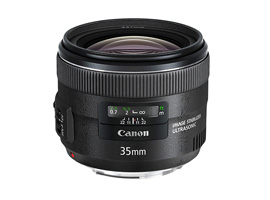 A wide-angle lens is good, but a stabilized wide-angle is so much better! Such a thing wasn't customary just a little while ago, but this is something we're seeing more and more, and Canon is not the last in line in this regard. So the Canon EF 35mm f/2 IS USM will be the first 35mm lens to benefit from optical image stabilization.
The Canon EF 35mm f/2 IS USM is intended for photographers who want to relive the sensation of classical reportage photography – with a 35mm lens screwed onto a full-format DSLR such as an EOS 5D Mark III. The cumulative effect of fairly generous f/2 aperture and image stabilization allows users to forego flash when shooting indoors or when light is scarce.
The optical formula of the Canon EF 35mm f/2 IS USM includes a molded glass (GMo) lens as the rear optical element, which should correct chromatic aberrations for the entire optical system. Each element has been treated with a Super Spectra coating. The autofocus is USM and allows for adjustments on the fly.
The Canon EF 35mm f/2 IS USM will be available in January 2013 at a price of 949 euros. The lens will be sold with the new Mark II lens cap whose open/close mechanism consists of pinching the center (as is the case with lens caps from other manufacturers).
Further readings for the Canon EF 35mm f/2 IS USM preview
To provide photographers with a broader perspective about mobiles, lenses and cameras, here are links to articles, reviews, and analyses of photographic equipment produced by DxOMark, renown websites, magazines or blogs.
---
| | |
| --- | --- |
| | A wide-angle lens is good, but a stabilized wide-angle is so much better! Such a thing wasn't customary just a little while ago, but this is something we're seeing more and more, and Canon is not the last in line in this regard. So the Canon EF 35mm f/2 IS USM will be the first 35mm lens to benefit from optical image stabilization. |
---
Comments
price drop 550$

completly changes all reviews


Reply
---
I really hope Nikon makes something like this.

VR/IS is nice, but it seems like at the wide angle it's not as effective on Nikon's system because all the lenses that go wide with VR are slow (f/3.5 or f/4). I'd be very happy if they replaced the 35mm f/2D with something like this.


Reply | Read all replies for this comment
First replies for this comment
---
Added by

ageha

| February 10 , 2013

Re: I really hope Nikon makes something like this.

Quote:


<div id="linkdxomark">This a comment for <a href="http://www.dxomark.com/index.php/Lenses/Camera-Lens-Database/Canon/Canon-EF-35mm-F2-IS-USM">this page on the website</a></div>VR/IS is nice, but it seems like at the wide angle it's not as effective on Nikon's system because all the lenses that go wide with VR are slow (f/3.5 or f/4). I'd be very happy if they replaced the 35mm f/2D with something like this.


Effectiveness isn't the reason most probably. ;)


Reply
---