Canon EF 35mm f/2 IS USM review: A 'fast' wide-angle prime for the 21st Century
By Paul Carroll -
Wednesday February 06 2013
Lens Review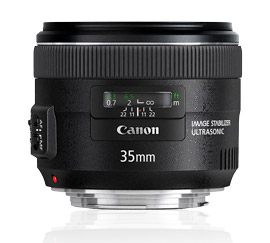 Canon were busy in 2012 releasing three wide-angle primes, the EF 24mm f/2.8 IS USM, EF 28mm f/2.8 IS USM and EF 35mm f/2 IS USM, on to the market. The latest launched in November 2012 was the Canon EF 35mm f/2 IS USM as an updated version of the original that dates back to 1990. Featuring Image Stabilization, Canon's USM Ultrasonic autofocus motor, a 'fast' f/2 maximum aperture and wide-angle focal length, it looks a great option for Canon shooters into landscape or architectural photography.
Designed primarily for the EF lens mount used on Full Frame Canon DSLRs like the EOS 5D MKII the EF 35mm f/2 IS USM offers a wide-angle field of view ideal for landscape or architectural photography. It's also compatible however with the EF-S lens mount where, taking into account the x1.6 'crop factor' on Canon DSLR utilising the smaller APS-C sensor, it offers a longer 56mm equivalent focal length making it more suited to portraiture and general photography on these cameras.
Updated with Canon's lens based Image Stabilisation or IS technology Canon claim the EF 35mm f/2 IS USM offers up to 4-stops of anti-shake performance. That means when shooting static subjects slower shutter speeds of around 1/2sec can be used without images suffering from camera shake. There's also a new Ultrasonic Motor, or USM, for quick and quiet AF, as well as instant manual focus override by simply reaching for the focus ring.
At $849 it's pretty expensive however and with the original EF 35mm f/2 still on the market and available new for much less money is this updated version worth the extra cash? Lets take a look at the DxOMark Lens Metric Scores for the Canon EF 35mm f/2 IS USM to find out.
Further readings for the Canon EF 35mm f/2 IS USM review: A 'fast' wide-angle prime for the 21st Century
To provide photographers with a broader perspective about mobiles, lenses and cameras, here are links to articles, reviews, and analyses of photographic equipment produced by DxOMark, renown websites, magazines or blogs.
---
---
Comments
price drop 550$

completly changes all reviews


Reply
---
I really hope Nikon makes something like this.

VR/IS is nice, but it seems like at the wide angle it's not as effective on Nikon's system because all the lenses that go wide with VR are slow (f/3.5 or f/4). I'd be very happy if they replaced the 35mm f/2D with something like this.


Reply | Read all replies for this comment
First replies for this comment
---
Added by

ageha

| February 10 , 2013

Re: I really hope Nikon makes something like this.

Quote:


<div id="linkdxomark">This a comment for <a href="http://www.dxomark.com/index.php/Lenses/Camera-Lens-Database/Canon/Canon-EF-35mm-F2-IS-USM">this page on the website</a></div>VR/IS is nice, but it seems like at the wide angle it's not as effective on Nikon's system because all the lenses that go wide with VR are slow (f/3.5 or f/4). I'd be very happy if they replaced the 35mm f/2D with something like this.


Effectiveness isn't the reason most probably. ;)


Reply
---