Canon EF 35mm f2 review: Old but still very competitive
By Ben Boswell -
Saturday December 15 2012
Lens Review
Canon EF 35mm f2 vs Carl Zeiss Distagon T 35mm f/2 ZE
Making a comparison between the Canon EF 35mm f2 and any other 35mm lens for Canon the first and most obvious thing that appears is the price. This lens is less than half the price of Zeiss's Distagon f2. It does not perform as well at f2 as the Zeiss but it is a little better than the Canon f1.4 and if you look at wide open, rather than comparing f2 with f2 then the difference is significant. Once you stop down to f/4 the three 2 lenses look remarkably similar.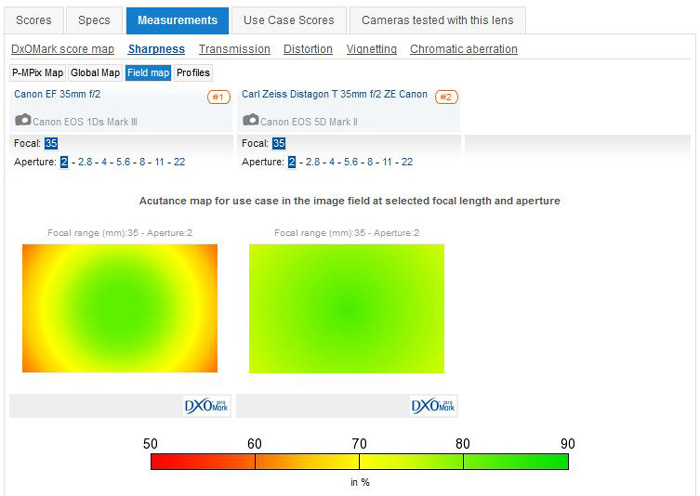 There are other measures where this budget lens has a definite advantage: weighing just 210g compared to the Carl Zeiss 35mm which tips the scale at 600g it is physically smaller too, less than half the size.
Canon EF 35mm f2 vs Sigma 35mm f1.4 DG HSM A
Here are two lenses, one 22 years old and the other brand new, just launched. The Sigma is better in virtually all measures. It is twice the price of the Canon, but this is certainly justified given the excellent scores and the wider aperture. However when viewed side by side the Canon stands up well against this very good competition.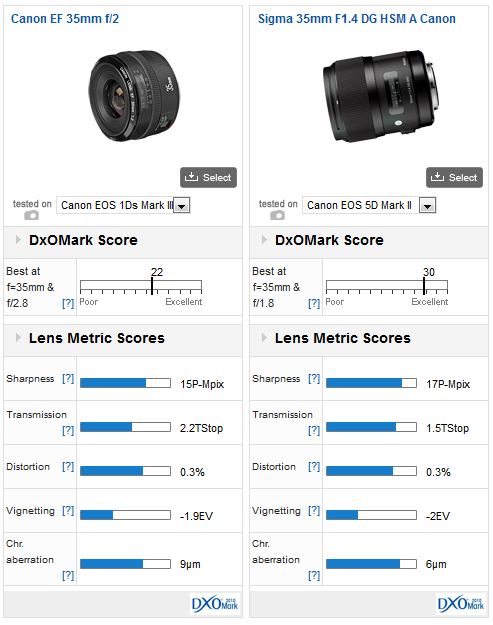 Further readings for the Canon EF 35mm f2 review: Old but still very competitive
To provide photographers with a broader perspective about mobiles, lenses and cameras, here are links to articles, reviews, and analyses of photographic equipment produced by DxOMark, renown websites, magazines or blogs.
---
Lens Recommendations
|
April 03, 2013
| | |
| --- | --- |
| | The second in our series of selecting the best-quality lenses for your camera concentrates on one of the most highly-anticipated cameras of our time, the successor to the hugely popular EOS 5D Mark II. But by the time it was announced, in early March, it's probably fair to say Nikon had taken fair amount of interest away by announcing the 36M-Pix D800 and D800E models the month before. Be that as it may, there's no denying the 22.3 M-Pix EOS 5D Mark III is a remarkably capable camera, and a formidable rival to the Nikon. |
---
Comments
Presentation of data

Firstly, thanks for making all this data available, it's a wonderful resource. Im red green colour blind so I can't actually read the charts - any chance that you can use old fashioned graphs of data lists?

Thanks

Graham Tebby


Reply | Read all replies for this comment
First replies for this comment
---
Re: Presentation of data

Hello,

Thanks for your interest in DxOMark.

Unfortunately we have no plan to change our color chart in the short term.

Sorry :)

Best regards,

The DxOMark team


Reply
---
Added by

AP7

| December 19 , 2012

Not very competitive in price and AF motor

Canon Ef 35mm f/2 is certainly competitive optically.

But, Canon needs to lower the price and put faster and quieter AF motor to make it competitive with Nikon, Sony 35mm f/1.8 lens.


Reply
---
Canon 35mm lenses

You have no test data for these lenses. Why? It is not like these are some freak lenses. Right? BTW I do rely on your site to provide me with alot of trade data. Thanks


Reply
---