Canon EF 40mm f/2.8 STM review
Thursday January 17 2013
Lens Review
Sharp and bright, but strong vignetting at widest apertures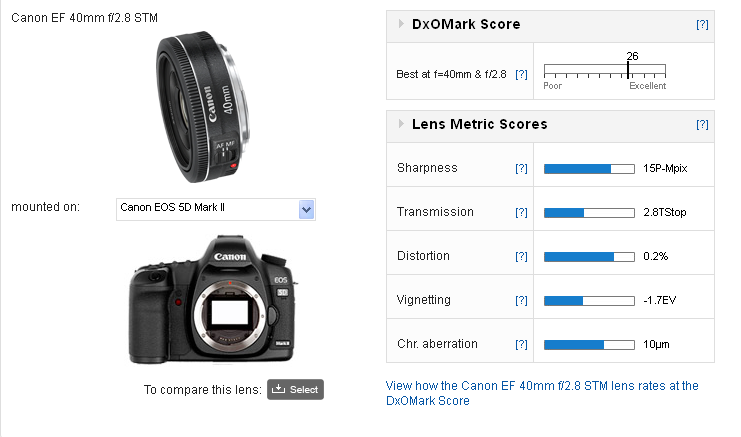 Considering its relatively low price, the EF 40mm f/2.8 STM was a solid performer on our DxOMark Camera Lens Ratings. When mounted on a Canon EOS 5D Mark II, it rates among the top seven standard prime lenses (with a focal range between 35mm and 85mm) achieving an overall DxOMark Score of 26.
Strengths of the Canon EF 40mm f/2.8 STM include resolution, as evidenced by its Sharpness score of 15P-Mpix. Additionally, our sharpness measurements and field maps (below) indicated that the lens delivered relatively consistent edge-to-edge sharpness from f/2.8 to f/11.

Canon EF 40mm f/2.8 STM: Acutance in the field
Other strengths include its low geometric distortion and well-controlled chromatic aberration as indicated by its low Chromatic Aberration score of 10µm.
The one weakness of the Canon EF 40mm f/2.8 STM was the strong vignetting evident at the widest apertures. You can see from the vignetting field maps below that at f/2.8, there is heavy shading across 2/3 of the field.

Canon EF 40mm f/2.8 STM: Shading in the field
Further readings for the Canon EF 40mm f/2.8 STM review
To provide photographers with a broader perspective about mobiles, lenses and cameras, here are links to articles, reviews, and analyses of photographic equipment produced by DxOMark, renown websites, magazines or blogs.
---
Partner reviews
|
June 12, 2013

To website




Our review of the Canon EF 40mm f/2.8 STM lens. In the latest of our lens reviews brought to you in partnership with DxOMark, we take a look at Canon's slimline 'pancake' prime for its APS-C and full frame SLRs. It's one of the smallest and cheapest lenses currently on the market, and includes a stepper motor for silent focusing during movie recording. But does its small size and low price result in compromised optics? Read our review to find out.

Read the article

---