Canon EF 70-200mm f/2.8L IS II USM measurements and review
Wednesday September 21 2011
Lens Review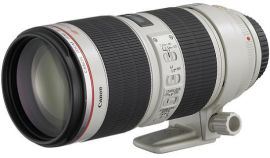 A couple of days ago, we released the measurements for the Canon EF 70-200mm f/2.8L IS II USM. With its wide aperture, its image stabilizer and its fast auto-focus, this telephoto zoom lens is definitely one of the favorite equipments of sport photographers. It is also ready to face difficult weather conditions with its solid and watertight build.
Let's see how it behaves in term of image quality compared to its predecessor.
Canon EF 70-200mm f/2.8L IS II USM vs its predecessor :
If we compare these 2 generations of L series telephoto lenses on a Canon 5D Mark II, we can see the following:
To conclude, these 2 lenses are both excellent telephoto lenses, but the overall scores come out slightly in favor of the previous version of the Canon EF 70-200mm f/2.8L IS USM, especially for Travel and Sport photography, which are the main use cases of these telephoto zoom lenses.
Please note that if we compare the same lenses on an APS-C camera, the results are much closer thanks to the smaller sensor: for example, here is the comparison on a Canon EOS 7D. So, be sure to always compare lenses in combination with the body on which you will be using it.
Further readings for the Canon EF 70-200mm f/2.8L IS II USM measurements and review
To provide photographers with a broader perspective about mobiles, lenses and cameras, here are links to articles, reviews, and analyses of photographic equipment produced by DxOMark, renown websites, magazines or blogs.
---
---
Comments
Jumping in late, but what was DXO smoking?

I've long loved, and much used my EF 70-200mm f/2.8L IS USM lens on my similarly loved and used 5D Mark II. Together, they've logged just under 100,000 images.

I recently upgraded to a 5D Mark IV, and since I was selling some old gear, I decided to upgrade to the EF 70-200mm f/2.8L II USM lens. After about a thousand shots, I can say with confidence there is simply no comparison between the two. The II performs much better and produces significantly sharper images. If I'm nitpicking I'd say I think I slightly prefer the bokeh of the original, but that's really subjective nitpicking on my part.

FWIW, both lenses had been micro-focus adjusted and I compared both on the 5D Mark IV as my Mark II was already sold by the time I got the new lens.

I have no idea how DXO came to recommend the original version for full frame cameras. For fun I checked a few other reviews, like dpreview.com, and they came to the same conclusion I did. In fact, I couldn't find any reviews and tests that gave the nod to the older version save DXO. Very strange.

If you're in the market for a fast 70-200 lens for a full frame Canon, I highly advise ignoring DXO in this case and going for the II. If you doubt me, rent them both and do your own comparison.


Reply
---
Canon EF 70-200mm f/2.8L IS II USM

The introduction of P-MP measurements change the overall lens score.
You need to compare MkI and MkII with the same, new method:
MkI: Overall lens score 21, Sharpness 13
MkII: Overall lens score 24, Sharpness 18


Reply
---
Added by

ag08025

| September 27 , 2012

Re: mixed up measurement figures ?

DxO Labs, You're grasping at straw
I had both lenses and I can say that the mk II is much better.


Reply
---
Added by

thunng8

| February 08 , 2012

This test really calls into question the validity of DXOMark lens tests

I own this lens on FF and it is much sharper than the first version. Every single site that has reviewed this lens says it is better. All over the forums, internet, even Canon data (MTF charts etc) says this lens is better.

After reading the review of this lens on this site, I have to call into question the validity of this test. Also after seeing such result that is so out of whack compared to other lens testers, I just have to call into question the validity of the whole DXOMark lens test site.


Reply | Read all replies for this comment
First replies for this comment
---
Added by

byry

| October 04 , 2011

Don't need to retest the lenses

In spite of the quality of images each lens renders, which is undeniably good and not too far from each other in terms of quality, the mk II isn't parfocal which makes it very questionable for the sorts/genres of photography one would conventionally expect a 70-200 2.8 IS to be used in. Manual zoom/focus adjusting becomes slow and unwieldy, and in AF the AF mechanism is going to be like a heart beating twice as fast as it should be. My 2c, fwiw.


Reply
---
First replies for this comment
---
mixed up measurement figures ?

Your measurements of the Canon 70-200/2, 8IS mk2 is different from http://www.photozone.de/canon_eos_ff/510-canon_70200_2is28?start=1 and http://www.slrgear.com/reviews/showproduct.php / product/1316/cat/11 measurement. I have the the old and new Canon 70-200/2,8is and without exaggeration I can say that MK2 is better than the MK1 in terms of resolution and contrast.
Have you mixed up the measurement results from the two lenses?



Reply | Read all replies for this comment
First replies for this comment
---