Canon EF-M 22mm f2.0 STM lens review: compact prime with high image quality
By Kevin Carter -
Wednesday September 11 2013
Lens Review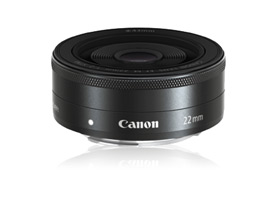 As the equivalent field of view to a 35mm f2.0, this high-speed, compact "pancake' type lens is an appealing option for the EOS M system user. Read on to find out how well this prime performs in our labs.
The EF-M 22mm f/2.0 STM is a moderately wide-angle fixed focal length lens with the equivalent field of view to that of a 35mm lens and is an attractive option for reportage, street and landscape photography. As with others in the EF-M range it adopts the firm's new linear stepper motor technology for discreet refocusing using both CD and PD AF during video-capture. It also features slim aluminum barrel measuring just 23.7mm long with a full-time manual focus collar and yet still finds room for a relatively complex construction with 7 elements (one with an aspherical surface) in 6 groups, while focusing to just 15cm and weighing as little as 105g. It has a 55mm filter thread and is available now at $229.
Further readings for the Canon EF-M 22mm f2.0 STM lens review: compact prime with high image quality
To provide photographers with a broader perspective about mobiles, lenses and cameras, here are links to articles, reviews, and analyses of photographic equipment produced by DxOMark, renown websites, magazines or blogs.
---
Comments
Comparing the Canon 22/2 with...

I'd like to thank the Dxomark staff for this review. I have 2 remarks however:

- I think this lens should be compared with the Zeiss 24/1.8 and the Olympus 17/1.8, since those have similar eq. focal length and aperture. The canon actually beat these lenses on most features except vignetting @f2, despite being smaller, lighter and cheaper!

- You should review the Fuji X100's 23/2 ASAP, since it's also a competitor and a very sought after lens.


Reply
---
Coolpix a

I doubt this Canon lens is as sharp. If the Coolpix A had the same 18MP count, it could score 15 to 16MP rating.

But then, this is a modern lens that can resolve better than older, affordable primes of Canon. Is there an EF-S mount of this?


Reply | Read all replies for this comment
First replies for this comment
---
Re: Coolpix a

CP A is also an AA-less sensor, so in theory that MP difference would be even less in terms of 'sharpness'. The CP A is also matched to the sensor where the 22mm is not (as such).

No there is no 22mm f2 for EF/EF-S mounts.


Reply
---
Re: Coolpix a

Thanks for the message. It is a very good thing for me to lern


Reply
---
First replies for this comment
---
Re: Canon lens

Newbie report it. Enable Signature with it


Reply
---