Canon EF-S 55-250mm f/4-5.6 IS II: Test and review
Tuesday December 13 2011
Lens Review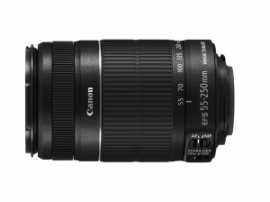 Three years after launching the Canon EF-S 55-250mm f/4-5.6 IS, Canon is renewing its "telephoto zoom" for APS-C. The Canon EF-S 55-250mm f/4-5.6 IS II is the counterpart of the Canon EF-S 18-55mm f/3.5-5.6 IS II in the entry-level range of Canon lenses. Let's just see how this new version compares with its predecessor.
Comparing both lenses on a Canon EOS 7D, we see a small advantage for the Canon EF-S 55-250mm f/4-5.6 IS II — a DxOMark score of 8, 2 points more than its predecessor. This difference doesn't come from the resolution: with a score of 42lp/mm and 44 lp/mm, for the 2 lenses, the sharpness didn't improve. The distortion and vignetting are also identical.
But the transmission of the new model is on average 1/3 stop brighter. And the chromatic aberrations are better controlled in the corners at 55 mm.
Conclusion
Very few improvements and no regression, so overall Canon maintains the quality of its kit telephoto zoom.
As a complement to the Canon EF-S 55-250mm IS II, this lens will enable amateur photographers to be prepared for most situations.
Further readings for the Canon EF-S 55-250mm f/4-5.6 IS II: Test and review
To provide photographers with a broader perspective about mobiles, lenses and cameras, here are links to articles, reviews, and analyses of photographic equipment produced by DxOMark, renown websites, magazines or blogs.
---
---
---