Canon EF24-70mm f/2.8L II USM review: A Peerless Performer
By Kevin Carter -
Friday January 25 2013
Lens Review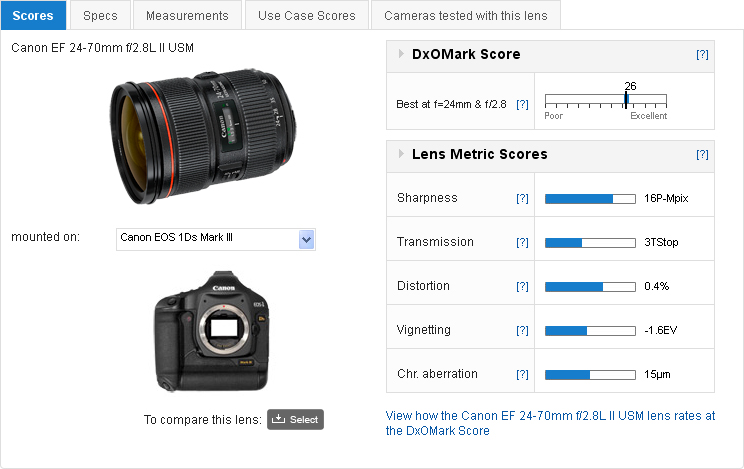 As you might hope for with a $2,500 USD asking price, the second-generation EF24-70mm f/2.8L achieves an overall DxO Mark score of around 26 depending on the camera and the highest rating yet for a professional high-speed mid-range zoom. Looking at individual lens metric scores, the 16P-Mpix score for sharpness when mounted on the Canon EOS-1Ds Mk III is very good for this lens type, and comparable to a quality prime lens (although as we'll see it can be equaled by the Sony-made Carl Zeiss equivalent). Zooms, even high quality types like this one may have some weaknesses such as some slight distortion, chromatic aberration or shading. However, Canon's engineers have designed and built a lens to very high tolerances and the results are very good for a zoom of this type.
Pros:
Good sharpness (16P-Mpix), only equalled by the Sony Zeiss equivalent.
Distortion well controlled
Transmission improved
805g total weight (145g lighter than predecessor).
Compact design.
Cons:
CA noticeable in corners.
Large (82mm) filter diameter (though front/rear element are protected with a fluorine coating)
Very high price
Further readings for the Canon EF24-70mm f/2.8L II USM review: A Peerless Performer
To provide photographers with a broader perspective about mobiles, lenses and cameras, here are links to articles, reviews, and analyses of photographic equipment produced by DxOMark, renown websites, magazines or blogs.
---
---
Comments
Incredible

result is not credible. look here: http://www.the-digital-picture.com/Reviews/ISO-12233-Sample-Crops.aspx?Lens=787&Camera=453&Sample=0&FLI=2&API=0&LensComp=618&CameraComp=614&SampleComp=0&FLIComp=2&APIComp=0


Reply
---
Added by

cometer

| December 25 , 2013

Could you also provide the sharpness perceptual Mpixel "numbers" for Canon 5D mark III ?

Could you also provide the sharpness perceptual Mpixel "numbers" for Canon 5D mark III for the 5 measured points @ F4, the 5 measured points @ F5.6, and the 5 measured points @ F8?


Reply | Read all replies for this comment
First replies for this comment
---
Added by

cometer

| December 25 , 2013

could you provide the sharpness perceptual Mpixel "numbers" for Canon 70D?

Since in the sharpness P-Mpix graph the same color code is used for > 12 P-Mpixs, could you provide the sharpness perceptual Mpixel "numbers" for Canon 70D for the 5 measured points @ F4 and the 5 measured points @ F5.6? I'd really like to know how good (sharp) the Canon EF24-70mm f/2.8L II USM performs on 70D @ F4 and F5.6


Reply | Read all replies for this comment
First replies for this comment
---
Added by

cometer

| December 07 , 2013

Suggestion to reveal more into

I noticed that there were several "measured points" in this graph, such as 4 points @ F2.8 and 4 points @ F4, etc. Could you show in somewhere the actual P-Mpix numbers for these points?

BTW, since the number of sensor mega pixels has been growing over 20M in reccent years (such as Nikon D800), I suggest that the color codes should extend to at least 40M.

Finally, are these "measured points" measured @ the center of the lens or the corner? Could you provide both info in the future?


Reply | Read all replies for this comment
First replies for this comment
---
Looking at the graph

looking at the final graph , it seem the nikon scored more than 24 and the canon mark II less then 25, but looking at the real measure the nikon scored 24 and the canon 26.
i suspect something gone wrong there..


Reply
---