Canon EF300mm f/2.8L IS USM review – Straight from the top drawer
By David Newton -
Wednesday January 16 2013
Lens Review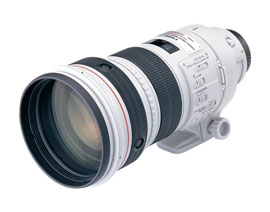 Launched in July 1999, the Canon EF300mm f/2.8L IS USM lens has been one of the most popular super telephoto lenses in the Canon range for wildlife and sports photographers alike. As expected for a super telephoto lens with a constant f/2.8 aperture and an Image Stabilizer, it is right at the top of the tree in terms of cost. But does the performance match the price? DxOMark presents the results, including a comparison of the Canon with the Pentax smc DA Star 300mm f/ 4 ED (IF) SDM, a lens also recently tested in our laboratories.
Marking the entry point into Canon's Super telephoto lenses, the EF300mm f/2.8L IS USM has always been referenced by Canon as their fastest focusing lens and offering the best image quality available at this focal length. Now replaced by a newer version, this test allows us to see just how good this lens is and also what improvements Canon have made in the intervening 12 years. Despite the weight of this lens, the inclusion of a 2-stop Image Stabilizer has made it a portable, and crucially, hand-holdable lens suitable to a wide range of uses. When attached to an APS-C camera the equivalent focal length is 480mm giving even more reach for distant or timid wildlife subjects.
Further readings for the Canon EF300mm f/2.8L IS USM review – Straight from the top drawer
To provide photographers with a broader perspective about mobiles, lenses and cameras, here are links to articles, reviews, and analyses of photographic equipment produced by DxOMark, renown websites, magazines or blogs.
---
---
Comments
Added by

Toshik

| January 16 , 2013

incorrections

There are several incorrections in the review. For example sharpness (P-Mpix) score is confused with overall DXomark Score.

For example:
Attached to the APS-C sensored EOS 7D, the EF300mm f/2.8L IS USM once again puts in a strong performance, scoring 16.7P-Mpix, relative to the EOS 7D's resolution of 18megapixels. Equally, the Pentax lens scores very well, managing 15.0P-Mpix compared to the 16.3megapixels available on the K-5. Overall, this shows the EF300mm f/2.8L IS USM is as good as it's made out to be, but in this comparison, the Pentax on a K-5 is not that far behind.

EF300mm f/2.8L IS USM + 7D =11P-Mpix not 16.7P-Mpix as mentioned.
DA Star 300mm f/4 ED (IF) SDM + Pentax K-5=only 7P-Mpix not 15.


Reply | Read all replies for this comment
First replies for this comment
---