Canon EOS 7D Mk II review: Low ISO performance lags behind rivals
By Kevin Carter -
Wednesday November 05 2014
Sensor Review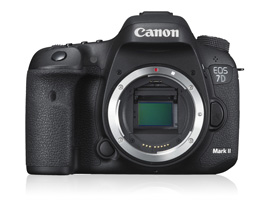 Equipped with a new 20-Mpix APS-C CMOS sensor and dual-pixel CMOS AF system, Canon's latest DSLR is the long-overdue update to the flagship EOS 7D model. Read on to find out how the new 20-Mpix sensor performs.
Given the raft of new full-frame cameras introduced recently, Canon surprised APS-C fans with the announcement of the Canon EOS 7D Mk II. Although the increase in pixel count is modest (up just 2 Mpix overall), as the replacement for the 5-year old EOS 7D, the new model features numerous improvements. It's the first pro-level model to adopt a newly-developed 20.2-MPix APS-C CMOS sensor with the firm's Dual Pixel AF technology, permitting phase-detection AF capability during Live View and movie capture. It also has a new 65-point phase-detect AF system in the viewfinder with close to 80% coverage across the frame, and adopts cross-type (vertical and horizontal line) sensors at each point. It has a similar layout to the AF system in the EOS 5D Mk III and 1 DX, and has similar controls and menu options to those models.
Other pro-level features include interchangeable focus screens (with a super-precision matte option for high-speed lenses), 100% viewfinder coverage, and continuous shooting at up to 10fps. Unlike some recent rival models, the LCD is fixed (presumably for improved sealing and long-term durability), but it's a 3-inch panel with 1.04M-dots. In addition to the Dual Pixel AF option during video capture, the new camera has been equipped with an extensive range of additional filmmaking capabilities. Options include a choice of MOV (H.264) or MP4 formats, numerous compression formats (IPB, ALL-I and Light IPB), slow motion (50/60fps), plus headphone and mic sockets as well as a mini-HDMI output to external recorders.
The new Canon EOS 7D Mk II measures 5.9 x 4.4 x 3.1" / 148.6 x 112.4 x 78.2 mm and weighs just 2.00 lbs / 910g with battery card. It is available to pre-order for $1799 body only or $2,149 complete with the stabilized EF-S 18-135mm f4.5-5.6 IS STM zoom.
Key specifications:
20.2MP APS-C CMOS sensor
Dual Pixel CMOS AF (with Live View)
Dual DIGIC 6 image processors
100% percent viewfinder coverage
Interchangeable focus screens
3-inch 1,040k-Dot LCD
Wide-area 65-point AF system using cross-type sensors only
Full HD video recording up to 60fps
ISO 16,000 sensitivity, extended to ISO 51,200
10 fps continuous shooting
Durable magnesium alloy body with extensive sealing
Built-in GPS
Further readings for the Canon EOS 7D Mk II review: Low ISO performance lags behind rivals
To provide photographers with a broader perspective about mobiles, lenses and cameras, here are links to articles, reviews, and analyses of photographic equipment produced by DxOMark, renown websites, magazines or blogs.
---
---
---
---
Comments
7D MK2 Sharpness

Lenses` sharpness values are lower on 7D MK2 than on 70D, even on 700D (Which has 18MP sensor). Could you please confirm if these scores are right and there is no error? Is 7D MK2 produces softer raw images its predecessors? Because, as laurelt said, global scores are higher, even though sharpness is lower.

By the way, thank you for that sharing great database.

Best Regards,


Reply
---
Added by

laurent

| August 11 , 2015

Impossible results?

The sharpness rate of the Canon 7D mark ii seems to be completely false:
Take any lens and compare results between 7D, 100D, 70D and 7D MKii
For example: SIGMA 50mm 1.4 Art
Transmission, Distorsion, Vignetting and Chr aberration are exactly the same. So the only difference is on sharpness rate and global score:
7D : sharpness=13 MP / Global score = 23
100D : sharpness=14 MP / Global score = 24
70D : sharpness=15 MP / Global score = 25
-> +1 / +1
7D mkii : sharpness=13 MP / Global score = 26
-> -2 / +1
Same results for any lens: sharpness rate of 7D mark ii = 7D
I can't believe it! I really think DXO has forgotten to change or test the sharpness rate of the 7D mark ii.
DXO: please check these results.
I own a Canon 100D and a 7D mark ii and with my real test on field, it's another world...



Reply | Read all replies for this comment
First replies for this comment
---
Added by

ag08025

| August 06 , 2015

I was tired

for 30 years I had nikon and now I've changed because I was tired of reading amazing reviews and see bad pictures when compared to canon.
To you the Nikon that I hold the Canon.


Reply
---
Added by

mls149

| January 30 , 2015

Canon 7D MK II Dynamic Range

I do not own a 7D MK II, but I am interested in one. I am a photographer of 45 years, a professional who has supported my family for this whole time and put my kids thru College doing nothing but photography. I have worked at News Wire Services, Newspapers, Magazines, done weddings, portraits, etc, etc. I am a bit confused by the DR numbers on the 7D MK II. I am looking at 2 other "independent" lab tests on this camera and they both show it to have about 12 stops of DR at 100 iso, with the D7100 having the same, then the D7100 falling behind the 7D MK II about one stop in DR until iso 800. Then the D7100 pulls ahead by about a stop through iso 6400. This is not a big deal to me, as I (and any other pro I know) have never shot any serious landscapes without bracketing in the past 45 years, regardless of DR. But it does raise the question - with this slight difference in test results, it appears that in some Labs, the Canon's sensor may be better than you state, at least in DR, and the Nikon D7100's worse. Given the negative press that your sensor rating has given this camera, it makes one wonder just WTF is the real story. Is there room for a half stop error in DR on both these cameras? If so, I could see why other labs may find the outcome a bit different. Food for thought.


Reply | Read all replies for this comment
First replies for this comment
---
High ISO DR question

I like these graphs that show DR per ISO. How can I find these data for other cameras not listed in this article?

The revelation that one camera with a lower DR score may actually surpass a higher scored camera when the lights go dim seems to indicate the DR score is misleading for photojournalists, who operate their cameras handheld in available light.


Reply | Read all replies for this comment
First replies for this comment
---
Added by

Touit

| November 07 , 2014

Anyway

Does anybody know when Nikon D400 or D7200 comes?


Reply
---
Added by

Peter.H

| November 06 , 2014

Canon EOS 7D Mk II

Canon EOS 7D Mark II vs Pentax K-3 vs Nikon D7100
http://www.dxomark.com/Cameras/Compare/Side-by-side/Canon-EOS-7D-Mark-II-versus-Pentax-K-3-versus-Nikon-D7100___977_914_865


Reply
---
Conclusion

The fact that you say the A77 II is a more compelling option indicates that you have absolutely no idea what this camera is to be used for and what things matter for those shots or shooting conditions. I'll help.

Base ISO DR makes virtually no difference. I have over 150,000 shots on Canon DSLRs over the last 11 years, and only one of them was limited by base ISO DR, and that one needed about 15 more stops, not 2.

Base ISO will rarely be used on this camera.

An out-of-focus shot with lots of motion blur that's improperly framed because of a slow, laggy EVF will not be saved by lots of base ISO DR.

This camera is about getting in-focus shots of fast subjects in difficult conditions. The A77 II is a cell phone camera by comparison in these conditions.

If a couple of extra stops are important to you at base ISO, fine, get something else to shoot those boring, flat, contrast-compressed, fake looking images of slow or stationary subjects. For the one-in-a-million times I need one of those, I'll shoot a 2-shot HDR in 100ms with a camera that can dominate all the rest of the time.


Reply | Read all replies for this comment
First replies for this comment
---
You have to compare it to the antique D300S

Not to make it to ridiculous. The entry level D3300 is way better. What a shame for Canon. If they don't know how to build sensors, they could buy Sony's, like Nikon does.


Reply | Read all replies for this comment
First replies for this comment
---
Canon 7d Mark II

Eagerly awaiting your test results of this camera. Lot of discussion on Dgrin.com forum about it, and I write a newsletter for local camera club.


Reply
---