Canon EOS M2 review: Incremental upgrade
By Kevin Carter -
Friday January 10 2014
Sensor Review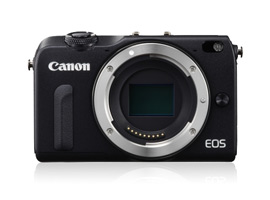 Canon was the last maker to introduce a mirrorless camera to the market and after something of a false start with EOS M, the company has released an update with the same Hybrid CMOS II sensor as the company's Rebel SL1 (100D). Read on to find out how the new, Asia only, EOS M2 performs.
Canon was the last of the major manufacturers to introduce a mirrorless model, but rather than shy away from smaller size sensors the EOS M used the same APS-C size CMOS sensor found in the EOS Rebel range of DSLRs. In fact the EOS M adopted the same 18-Mpix CMOS sensor as the Rebel T4i (EOS 650D) and introduced a small number of lenses adopting a new, smaller EF-M lens mount.
Announced late last year (December, 2013), the EOS M2 has been updated with the same Hybrid CMOS II sensor as the company's Rebel SL1 (100D). Not only does this sensor promise up to 2.3x faster autofocusing than the previous model, but the on chip phase detection pixels cover a much larger area, up to 80% of the frame. Also new to this model is an AF Servo mode during video capture. However, the new EOS M2 has so far only been launched in China and Japan.
Despite the outwardly similar shell to the original, according Canon Japan it's now slightly smaller (by 8% in volume) while also adding WiFi connectivity for sharing and remote control using the firm's free EOS Remote app. Other modifications include a remodeled mode dial, while the stereo microphone has been moved to the front from the rear. It also has a faster continuous burst rate, up from 4.3 fps to 4.6 fps.
Key specifications:
18-Mpix APS-C format CMOS sensor
ISO 100-12,800 (ISO 25,600 extended)
4.6 fps burst mode with continuous AF
3.0-inch 1.04k-Dot LCD
Full HD 1080 video capture at 30/25/24 fps
Advanced Hybrid AF System
Built-In WiFi
Further readings for the Canon EOS M2 review: Incremental upgrade
To provide photographers with a broader perspective about mobiles, lenses and cameras, here are links to articles, reviews, and analyses of photographic equipment produced by DxOMark, renown websites, magazines or blogs.
---
---
---
---
Comments
Strange forum

Sigh...So i touch the "reply button" and then I get warped out of here into some sort of general forum in which my direct ppssibility to reply to you has now gone. ????? Impractical.

Anyways....Just look at your own graphs. Compare the EPM2 and the Sony 5T. No, these sensors are not identical (I am very aware of their size etc) but they do perform almost identical.
Yet you seem to imply that :
1) The difference between the EPM2 performance and the EOSM2 is marginal
2) The difference between the 5T and the EOSM2 is noted as "Against the APS-C format Sony NEX-5T, the EOS M2 doesn't compare that favorably"

Noise performance throughout the range: all three score on par
DR: At base ISo Sony is clearly better than EOSM2, sligthly than EPM2. At high ISO the EPM2 is better than the Sony. EOSM2 also just nicks it there
Tonal range: Oly and Sony perform identical, EOSM2 is just a tad worse
Colour senisitity: Oly and Sony are again very close, EOSM2 is behind at lower ISO.

There is no reason to have a distinction between the Oly and the Sony performance. That is the point.
In fact: I wonder how come you score the Oly 72, the Sony 78. At base ISO the Sony on two points is a btit better, but above ISO 400 or so there is no difference or it is even a bit in favour of the EPM2.
That is my point.





Reply
---
Strange remark

I compared the soce of the EPM2, the Sony NEX 5T and the EOS M2. In contrast with your writing, the Sony 5T and the EPM2 are so close they are nearly identical. At base ISO the 5T is somewhat better, but the rest...The EOS-M2 is not bad at all, but if it is not close to the 5T likeyour articel suggests than the same is true for the EPM2. However you conclude there is a difference but it is a small one. Do you look at your own graphs?


Reply | Read all replies for this comment
First replies for this comment
---
Re: Strange remark

Hello,


Thanks for your comment.
About the comparison with the EPM2, our review says : "the Olympus E-PM2 adopts a different sensor altogether and outperforms both the GM-1 and EOS M2, albeit only marginally."
The EPM2 scores slightly higher than the EOS M2, difference of score is not higher than ½ stop. Please keep in mind that the EPM2 sensor is significantly smaller.
NEX 5T and EPM2 are not identical at all, which elements give you that feeling ?

Best regards,

The DxOMark team



Reply
---