Canon PowerShot G15 review: Have Canon got the balance right?
By Kevin Carter -
Thursday November 29 2012
Sensor Review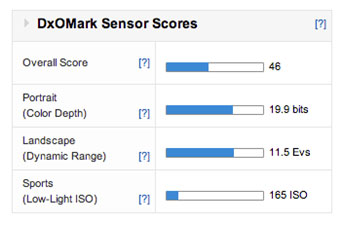 With a DxOMark sensor score of 46, the Canon PowerShot G15 actually (disappointingly) comes in behind its predecessor, the 10.1MP G12 (with its CCD based sensor), albeit by just one point. However coming 162nd in the overall DxOMark rankings, the raw sensor performance of the G15 fares a little better when viewed against last year's rivals such as the Panasonic Lumix DMC LX5 and Nikon P7100, ranked 164th and 165th respectively. We've yet to assimilate the data for this year's LX7 and P7700 models, but the G12's higher 157th placement shows a slight hike in pixel count may be impacting Canon's lead in sensor performance. We'll have to wait and see.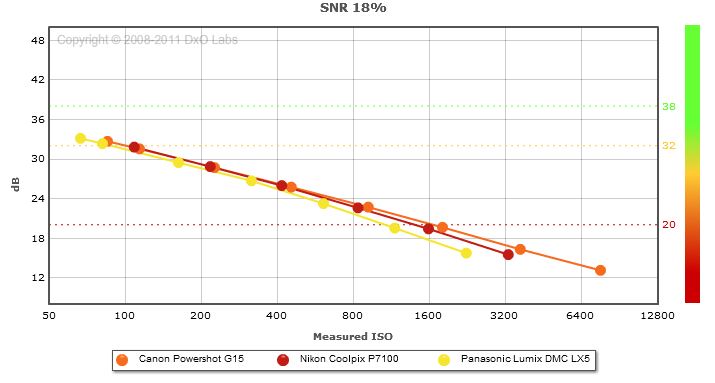 In low light noise tests the G15 is marginally ahead of the older Nikon LX5 and Nikon P7100
The Canon PowerShot G15 delivers no improvement in Low Light ISO at 165 over the G12's 161. Individual scores of 19.9 Bits for Portrait (Color Depth) and 11.5 Evs for Landscape (Dynamic Range) are both considered to be good but are behind the best performers in this class, which are currently the older Canon PowerShot S100 and Fuji X10 (though it should be noted the Fuji sensor is a slightly larger format, albeit still <4:3).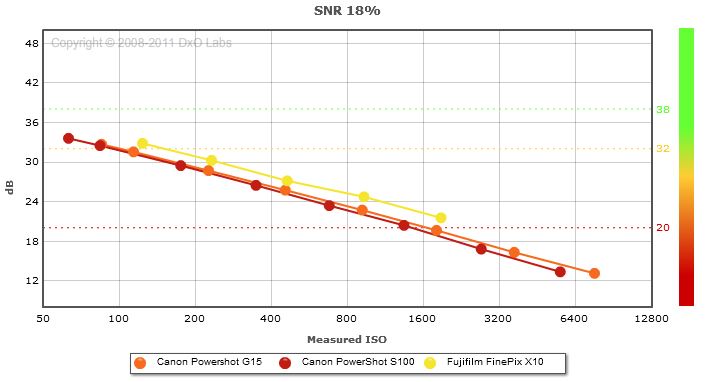 The Canon G15 holds up well against the older S100 but is still behind the Fuji X10
Further readings for the Canon PowerShot G15 review: Have Canon got the balance right?
To provide photographers with a broader perspective about mobiles, lenses and cameras, here are links to articles, reviews, and analyses of photographic equipment produced by DxOMark, renown websites, magazines or blogs.
---
Sensor Partner
|
November 29, 2012
| | |
| --- | --- |
| | Canon's PowerShot G15 is the latest iteration of the popular G-series compacts aimed at enthusiasts. It packs a number of refinements over its predecessor, not the least being a new f/1.8-2.8 high-speed zoom, larger, high-resolution screen and a smaller, more compact body. It also marks the move from CCD to a Canon made CMOS with a fourfold increase in maximum sensitivity and full HD (1080p) video capture. Will the new Canon show any advance in image quality over the earlier G12? Read on to find out. |
---
---
---
Comments
Canon G15 vs Canon G12

I suppose market research dictates that most folks in this segment want a smaller camera. The older G12 is small enough to fit into a jacket pocket and for me that's small enough thank you very much! There must be many folks with large hands like mine where beyond a certain reduced size, controls become too fiddly to be enjoyable.
One major attribute of the G12 is its articulating screen. I find it invaluable when using a tripod since most light tripods don't extend high enough to reach my eye level, requiring either bending or stooping or both to look through the viewfinder. The G12's screen turned upwards means one can happily use the camera on a low tripod for hours at a time. Ah! bliss.

For me, photography is all about enjoying the experience of taking interesting photographs and less about the current fashion of having the latest or technically the top rated gear. The best gear for me is that which brings me the happiest day out and that's not necessarily the sharpest lens or smallest size etc. I'm keeping a tight hold of my G12 and clinging on to photographic happiness for as long as possible. Thank you DxOMark for pointing out the differences and helping me stay happy!
Am I bucking the trend here?


Reply
---