Canon Powershot S110 review
By Ben Boswell -
Wednesday November 14 2012
Sensor Review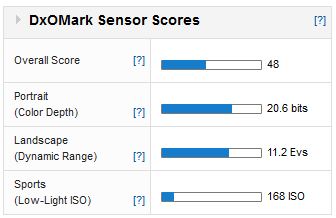 Sharing the same sensor as the Powershot S100, the S110 is positioned high on the scale among compact cameras with >4:3 sensors. The overall DxO Mark score of 48 places it third in this class but amazingly, just behind its predecessor the S100 which scored 50, matching the Fuji Finepix X10. Third in this large category is a very good result and the Fuji is rather more expensive but being beaten by the S100 seems to be a major failure on Canon's part. However, for a camera with a sensor 5.5 x 7.5mm the results are still impressive. The individual scores: 20.6 bits for Portrait and 11.2 Evs for Landscape are both at the level at which DXO Mark would describe them as good for such a sensor, but the Sport score of ISO 168 is less impressive and in view of the increase in the specified maximum ISO, is disappointing.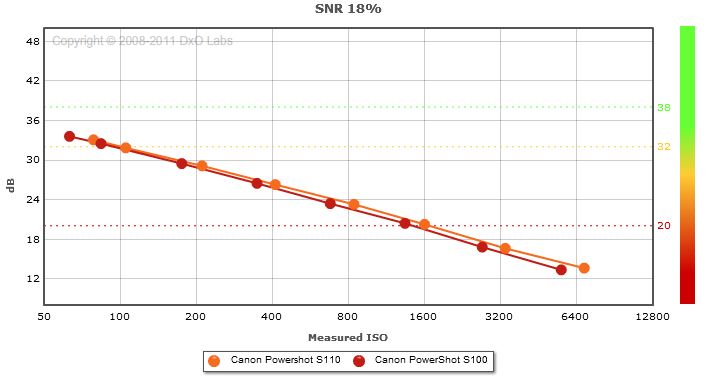 The signal to noise ratio for the Powershot S110 compared with the S100 shows virtually no difference.
Further readings for the Canon Powershot S110 review
To provide photographers with a broader perspective about mobiles, lenses and cameras, here are links to articles, reviews, and analyses of photographic equipment produced by DxOMark, renown websites, magazines or blogs.
---
Sensor
|
November 14, 2012
| | |
| --- | --- |
| | Canon's Powershot S110 in an update on its previous Powershot S100, there are some improvements in the styling and user interface and an increase in the maximum ISO, which should be welcome for users working in low light. However the DxO Mark overall score fails to live up to its predecessor, so are the changes purely cosmetic? |
---
Sensor Preview
|
September 18, 2012
| | |
| --- | --- |
| | Canon's PowerShot S110 continues the growing trend of DSC cameras adopting mobile-like technology. For its part, the S110 includes embedded Wi-Fi technology, making it easy for users to share photos and video. It also enlists a touchscreen LCD screen for photographers to adjust exposure settings, edit, and spruce up an image with filters and effects. |
---
---