Canon Powershot S110 review
By Ben Boswell -
Wednesday November 14 2012
Sensor Review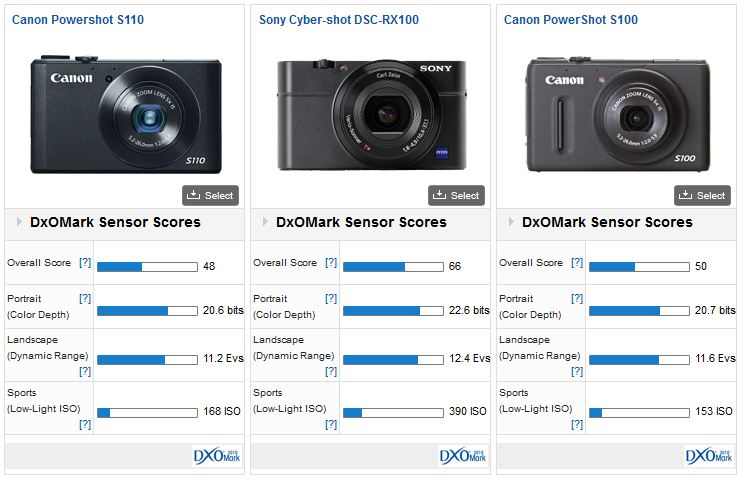 Canon Powershot S110 vs. Canon Powershot S100
Among its competitors in the compact category the Powershot S110 scores well, but considering that its predecessor the Powershot S100 scores better, at a lower price there seems to be little to justify this new model beyond a desire to be seen to be bringing out new product. The new 3" touch screen, replacing a 3" non-touch screen makes navigation of the controls tidier, and for some this will justify the new model, as will the 1 stop increase in the maximum ISO. The hike in the speed is only reflected in the interface however, with barely any actual gain in low light performance. On the converse, the facility to shoot high frame rate video for 'super slow motion' playback has been removed from the new model, something that might disappoint some users. The S100 also had a GPS device built-in, again, this is removed on the new model.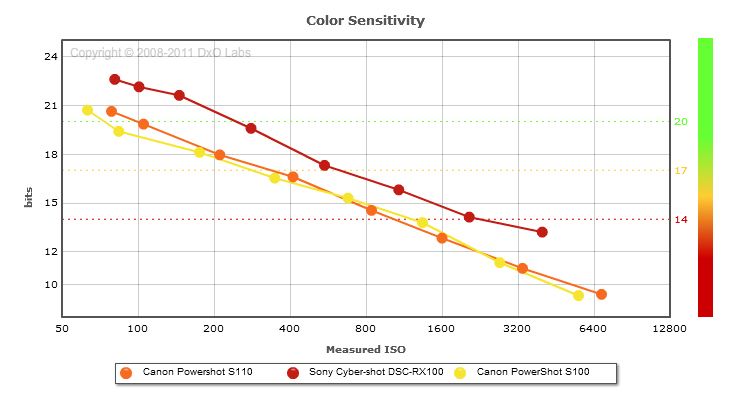 The two Canons do not stand up very well against the competition from the Sony Cybershot DSC-RX100.
Canon Powershot S110 vs. Sony Cyber-shot DSC-RX100
Since comparison between the S110 and its predecessor may leave you wanting to find a Powershot S100 to buy, perhaps it would be better to look at the S110 in comparison with a camera that scores much better while coming in only very slightly larger and heavier. The Sony Cyber-shot DSC-RX100 with a DxO Mark score of 66 sets a high benchmark. It uses a much larger sensor, both in the number of pixels and in the overall measurements of the sensor and this is well reflected in the individual scores:
2 bits of extra colour depth, (22.6 against 20.6 bits)
Over 1 stop greater dynamic range (12.4 against 11.2 EV)
Twice the performance in low light. (390 against 168 ISO)
The additional cost of the Sony Cyber-shot DSC-RX100 is more than justified in this comparison. Since the Sony is virtually the same size, just a little deeper front to back and weighs, 213g against 198g, the Canon S110 is clearly eclipsed alongside this very capable adversary.
Further readings for the Canon Powershot S110 review
To provide photographers with a broader perspective about mobiles, lenses and cameras, here are links to articles, reviews, and analyses of photographic equipment produced by DxOMark, renown websites, magazines or blogs.
---
Sensor
|
November 14, 2012
| | |
| --- | --- |
| | Canon's Powershot S110 in an update on its previous Powershot S100, there are some improvements in the styling and user interface and an increase in the maximum ISO, which should be welcome for users working in low light. However the DxO Mark overall score fails to live up to its predecessor, so are the changes purely cosmetic? |
---
Sensor Preview
|
September 18, 2012
| | |
| --- | --- |
| | Canon's PowerShot S110 continues the growing trend of DSC cameras adopting mobile-like technology. For its part, the S110 includes embedded Wi-Fi technology, making it easy for users to share photos and video. It also enlists a touchscreen LCD screen for photographers to adjust exposure settings, edit, and spruce up an image with filters and effects. |
---
---