Carl Zeiss Distagon T 25mm f/2 ZE & Carl Zeiss Distagon T 25mm f/2 ZF.2 review: A high quality wide-angle prime for Canon and Nikon
By Paul Carroll -
Monday April 08 2013
Lens Review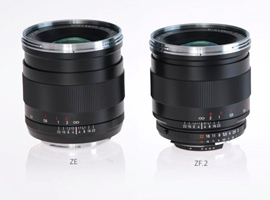 For shooting high quality landscape, architectural or interior photos, a "fast" wide-angle prime is a must. They offer significantly improved optical performance over many zooms that, while versatile, often suffer distortion and edge softness at wide focal lengths and maximum apertures. Let's take a closer look at the Carl Zeiss 25mm f/2 wide-angle prime for Nikon and Canon lens mounts to see what it has to offer.
Launched in October 2011, the Carl Zeiss Distagon T 25mm f/2 is available in both the Carl Zeiss ZE lens mount for Canon EF and ZF.2 mount for Nikon F. It works on SLRs, full-frame and crop-sensor DSLRs. Both versions feature the same optical construction, comprising 11 lens elements in 10 groups with a "floating elements" design to minimize aberrations at different distance settings.
Although only manual focus, this Zeiss is electronically coupled to record EXIF data to the metadata and provide full metering incamera. There's a 25cm minimum focus, f/2 – f/22 aperture range and a non-rotating 67mm filter thread, making it compatible with front-mount screw-on filters. The solid all-metal Carl Zeiss construction offers better quality than many modern plastic lenses and should last a lifetime.
It's not the widest prime in the Carl Zeiss range: 15mm, 18mm and 21mm versions are also available, and with "faster", full autofocus options – like the $1749 Canon EF 24mm f/1.4 L II USM and the $1799 Nikon 24mm f/1.4G ED – it's got some tough own-brand competition, too. Will its DxOMark Lens Metric Scores make it the most attractive option though?
Further readings for the Carl Zeiss Distagon T 25mm f/2 ZE & Carl Zeiss Distagon T 25mm f/2 ZF.2 review: A high quality wide-angle prime for Canon and Nikon
To provide photographers with a broader perspective about mobiles, lenses and cameras, here are links to articles, reviews, and analyses of photographic equipment produced by DxOMark, renown websites, magazines or blogs.
---
---
---
---
---
Comments
First replies for this comment
---
Re: Thanks for the review

Hello,

You are welcome :)

The DxOMark team


Reply
---