DxO Optics Pro 8 image quality now available for users of GoPro, smartphones, and Samsung NX and EX cameras
Monday July 15 2013
Partner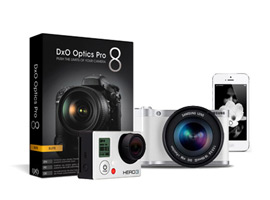 The latest version of the image processing software of reference for all serious photographers, DxO Optics Pro v8.3 now supports the entire line of GoPro cameras, five Apple iPhone and Samsung Galaxy smartphones, and nine Samsung NX and EX cameras.
DxO Labs expertise for GoPro cameras and smartphones
DxO Optics Pro v8.3 brings to GoPro cameras users all of DxO Labs' expertise when it comes to correcting optical defects. The software automatically removes distortions due to the GoPro cameras' use of a very wide-angle lens. Among other things, DxO Optics Pro v8.3's exclusive correction of volume anamorphosis restores the proper proportions of the subjects located on the edges of images, resulting in photos that look much more natural. DxO Optics Pro v8.3 supports the GoPro HERO3 line (Black, Silver, and White editions), along with the GoPro HD HERO2.
DxO Optics Pro v8.3 also benefits from the addition of new DxO Optics Modules that automatically correct the optical defects of the iPhone 4, 4S, and 5, as well as of the Samsung Galaxy S3 and S4.
Finally, DxO Labs' increased laboratory capacity has enabled DxO Optics Pro v8.3 to work with new lines, offering support for such hybrid cameras as the Samsung NX10, NX11, NX20, NX100, NX200, NX210, and NX300, as well as for the EX-1 and EX-2 expert compact models.
DxO Labs expects to soon add support for the latest cameras — for example, the Canon EOS 70D, Sony compacts, Panasonic and Olympus hybrids, and the Samsung Galaxy NX.
New DxO Optics Modules available
168 new camera/lens combinations have been added to DxO Optics Pro 8's Optics Modules library, thus bringing the total to more than 13,000 Optics Modules available. This database, unique in all the world, allows DxO Optics Pro 8 to automatically make corrections that are specific to each camera — fixing distortion, vignetting, chromatic aberrations, and lens softness with an unrivaled level of quality.
Availability and prices
The Standard and Elite editions of DxO Optics Pro v8.3 for Mac and Windows are available in the DxO Labs online store (shop.dxo.com) and at photo resellers.
This upgrade is free for all owners of DxO Optics Pro 8, as well as for photographers who obtained a DxO Optics Pro 7 license on or after September 1, 2012.
A fully-functional trial version of DxO Optics Pro 8, good for one month, is available on the DxO Labs website.