DxO Optics Pro v8.1.3: 6 new cameras supported, including the Leica M-E, M9, and M9-P
Friday February 15 2013
Partner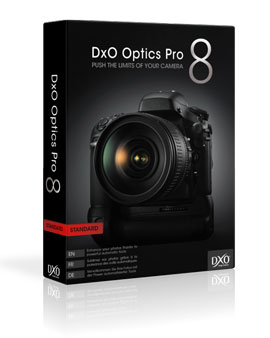 The Elite edition of DxO Optics Pro 8 to support three Leica cameras with telemetric viewfinders: the M-E, the M9, and the M9-P. Three other cameras complete the list of equipment supported by both the Standard and Elite editions of this new version: the Nikon D5200, the Panasonic Lumix DMC-FZ200, and the Canon PowerShot SX50 HS.
Ever more DxO Optics Modules
Developed in the laboratory using an exclusive calibration process, DxO Optics Modules contain tens of thousands of data points about the intrinsic characteristics and flaws of each camera and lens. This database, unique in all the world, allows DxO Optics Pro to automatically correct all the optical flaws in RAW and JPEG images — distortion, vignetting, chromatic aberrations, lens softness — with an unrivaled level of quality.
With already more than 10,000 lens/camera combinations in its library today, DxO Optics Pro v8.1.3 now adds 260 new combinations supporting additional Canon, Leica, Panasonic, Sigma, Sony, Tamron, Tokina, and Zeiss lenses for numerous Canon, Leica, Nikon, Panasonic, and Sony cameras.
Newly-supported Leica lenses include the Leica Super-Elmar-M 18mm f/3.8 ASPH, the Leica Summilux-M 50mm f/1.4 ASPH, and the Leica Summicron-M 90mm f/2.
Supported and planned combinations
Availability and prices
The Standard and Elite editions of DxO Optics Pro for Mac and Windows are available in the DxO Labs online store and at photo resellers.
See prices in our online store
This upgrade is free for all owners of DxO Optics Pro 8, as well as for photographers who purchased a DxO Optics Pro 7 on or after September 1, 2012.
A fully-functional free trial version of DxO Optics Pro 8, good for one month, is available on the DxO Labs website.