DxOMark review for APS-C camera 2010 : who takes the lead ?
Monday January 24 2011
Sensor Recommendations
SNR: K5, D7000 and A580 at the top

The tendency of the Use Case scores has a direct correlation with the SNR measurement. The metrics for the top three sensors (K5, D7000 and A580) are identical from ISO 100 to 3200. After 3200, the K5 takes a noticeable advantage, but mostly because of the smoothing it applies to the file.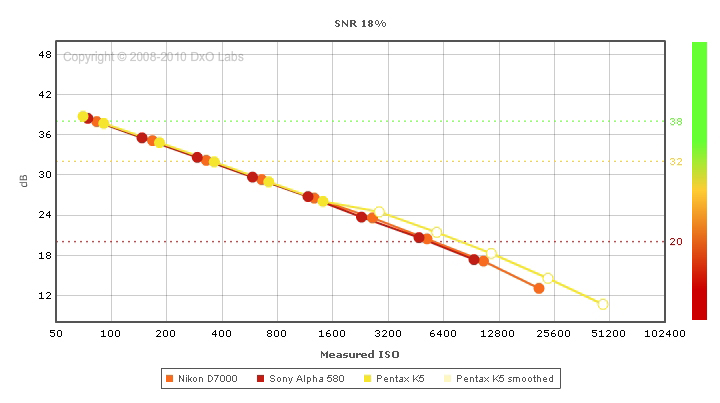 If these three sensors show very similar metrics, those for the a55 and the EOS 60D show more noise. In the case of the a55, SNR loss seems to correspond to the 1/3-stop loss mentioned on some forums. The loss of light induced by the semi-transparent mirror is certainly the origin of the problem. The a55 and EOS 60D have a comparable noise output, both sensors almost 2 dB inferior to the top three sensors. The difference is important, as 2dB means 2/3 stop.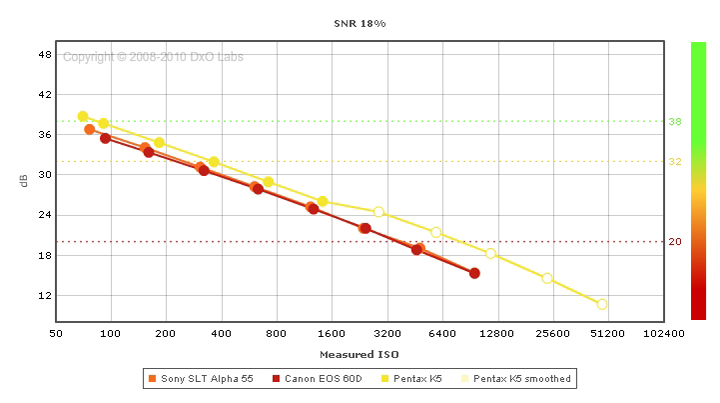 Further readings for the DxOMark review for APS-C camera 2010 : who takes the lead ?
To provide photographers with a broader perspective about mobiles, lenses and cameras, here are links to articles, reviews, and analyses of photographic equipment produced by DxOMark, renown websites, magazines or blogs.
---
Sensor Review
|
April 20, 2012
| | |
| --- | --- |
| | We are already acquainted with the D3200: apart from a few ergonomic details, it's the same camera as the compact and lightweight D3100 SLR, though missing the secondary display on its bridge for even greater compactness. The D3200 weighs only 454 grams (without battery or card). Unlike the D3100, the D3200's lens is off-center for better balance and the highly practical LiveView/video mode activation tab of the D3100 and the D5100 has disappeared in favor of a more ergonomically mundane video recording button. The D3200 comes with a second (dorsal) infrared sensor to complement its front sensor for more practical infrared remote control. The motor selection tab (single-frame, burst, timer, remote control) is gone as well, again replaced by a direct-access button. |
---
Sensor Review
|
March 19, 2012
---
Sensor Review
|
April 28, 2011
The Nikon D5100 replaces the D5000 in Nikon's lineup; it finds its place right below the Nikon D7000, according to Nikon's marketing the D90 is still positioned between the D5100 and the D7000, however the spec sheet and the performances of the D5100 make this hard to believe.

This is because the D5100 shares the same Sony 16 megapixels sensor as the D7000. The major difference between the two bodies being the AF: 11 points with 3D tracking for the D5100 (presumably the "old" MultiCam 1000 already used on the D90) versus the 39 points with 3D tracking now used on the D7000.
---
With the new data for the sony A580, DxOMark team provides an in depth benchmark of the latest APS-C sensors.
The review is available here.
---
---
---
---
---
---