Fujifilm FinePix F800EXR review – A full-featured compact
By David Newton -
Wednesday April 24 2013
Sensor Review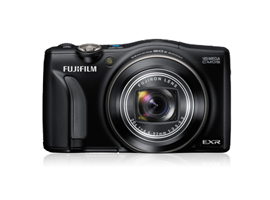 Launched in July 2012, the Fujifilm FinePix F800EXR is the latest in a line of cameras from Fuji, featuring an EXRCMOS sensor. Aimed at the upper end of the compact camera market, it offers features suitable for more advanced users and a lens focal range that is the equivalent of a 25-500mm lens in 35mm camera terms. So is this camera all things to all people?
With a 16megapixel sensor, RAW image capability and an 8fps shooting speed, not to mention full HD movie shooting and a 320fps high speed movie option, the specifications of this camera would not look out of place on a high-end DSLR camera. Compared to its immediate predecessor, the F770EXR the main difference is the inclusion of WiFi functionality to make it possible to send images directly to a smartphone or tablet. Beyond that, the FxxxEXR family resemblance is very strong in this latest release. With such a saturated market in compact cameras, the question is whether Fujifilm looked at all aspects of the camera's performance or just added some new features to look nice?
Further readings for the Fujifilm FinePix F800EXR review – A full-featured compact
To provide photographers with a broader perspective about mobiles, lenses and cameras, here are links to articles, reviews, and analyses of photographic equipment produced by DxOMark, renown websites, magazines or blogs.
---
---
Comments
Added by

XCLN

| July 31 , 2013

For Fuji EXR sensors this DxO evaluation is not appropriate

This is because at higher ISO you should really use the special binning modes of the EXR sensor which lets you shoot with much better final IQ (image quality) by reducing the number of pixels but making them more sensitive (by aggregating them). This photographer does a very good job of explaining the special features of the EXR sensors
http://kimletkeman.blogspot.com/2009/10/fuji-f70exr-how-to-shoot-it-mkii.html


Reply
---
Added by

jfy65

| April 30 , 2013

Another pointless review of a compact camera

This review measures only the sensor and ignores the lens. It would be foolish to make any purchase decision with no info on the quality of the lens.
It's a pity that DxOMark, 'the ultimate source for digital camera image quality' should jeopardize their precious reputation for the best rigorous hardware testing with such partial reviews.
Come on DxOMark! give us the same depth for fixed lens compact camera reviews as you do for interchangeable lenses and camera sensors!



Reply | Read all replies for this comment
First replies for this comment
---
Re: Another pointless review of a compact camera

Hello!

Sensor image quality remains one important part for IQ.
For now, we do not perform lens measurement for every compact camera, because it is very long and then very expensive to perform.

Best regards,

The DxOmark team



Reply
---