Fujifilm FinePix X-S1 review: an expert compact performance from a bridge-format camera
Wednesday June 27 2012
Sensor Review
The Fujifilm FinePix X-S1 faces the competition
Fujifilm FinePix X-S1 vs. Fujifilm FinePix X10: the same sensor?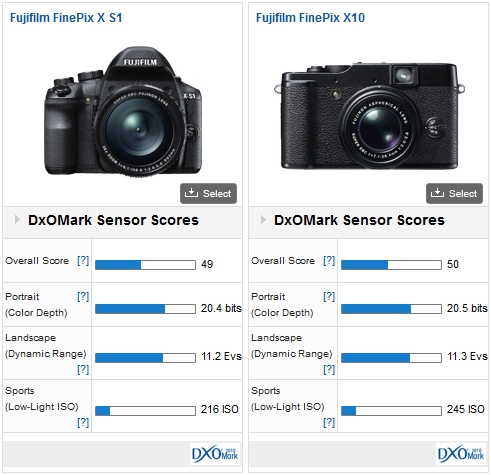 In our tests on the X-S1, we see results that are extremely close to those for the X10. With just one single point between the two DxOMark Scores, the difference is insignificant, and the closeness of the scores certainly leads one to believe that the same 2/3" 12 Mpix CMOS sensor is at the heart of both of these Fuji-X cameras. Fuji has intelligently reused the same sensor in two cameras that are polar opposites to one another: on the one hand, a fairly bulky bridge with a powerful lens; and on the other, a more conventionally ergonomic expert compact endowed with a 4x focal range, bright wide-angle lens with a maximum aperture of f/2.0.
Fujifilm X-S1 vs. FinePix F600 EXR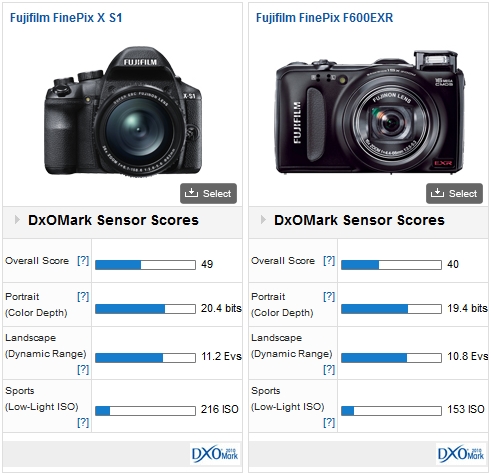 Unsurprisingly, the X-51's bigger but lower-resolution sensor turns in a performance that is a notch higher than the Finepix F600 EXR's backlit 1/2.3" 16Mpix CMOS sensor:
Color depth: 1 bit more
Dynamic range: 1/2EV
Low-light ISO: 1/2EV
But these results are still fairly flattering for the FinePix F600EXR, which acquits itself very well on the DxOMark test bench: it is far from being truly outclassed by the X-S1 despite the differences in sensor size and resolution.
Fujifilm FinePix X S1 vs. Canon PowerShot S100: 1/2EV more sensitive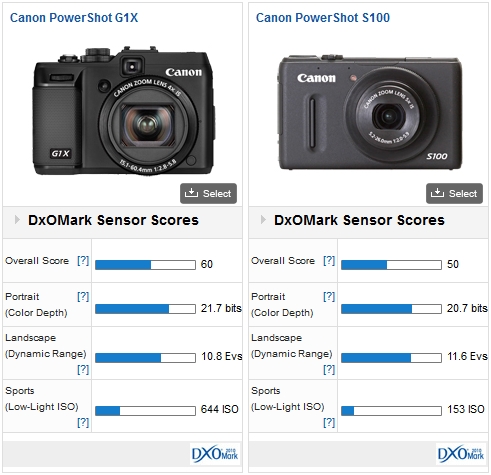 Slightly larger, but on the same order as the 1/1.7" Canon S100 sensor (the benchmark for large-sensor light compacts), the Fujifilm X-S1's 2/3" CMOS sensor takes the lead with a low-light sensitivity score that is 1/2EV ahead — a significant difference attributable to its larger sensor surface size. Portrait and Landscape scores are very close.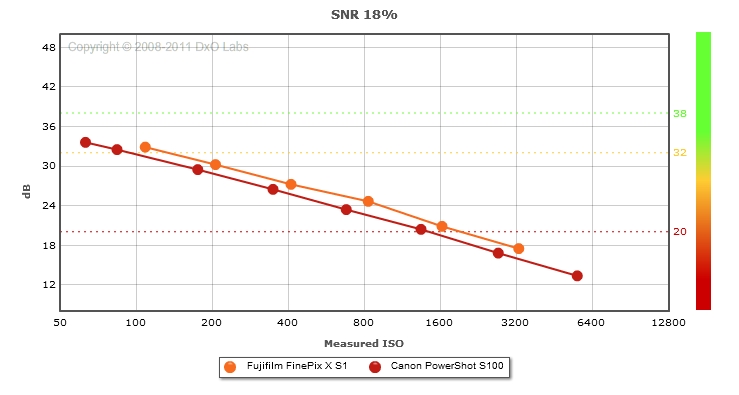 But keep in mind that we are comparing the sensors of two cameras with radically-opposed design philosophies here: on one side, the Canon S100 is a compact APN equipped with a 5x lens (24-120mm); on the other side, we have a much heavier and bulkier bridge camera equipped with an ambitious 26x lens, and with more carefully thought-out ergonomics — less like a compact, but with a user interface similar to another large-sensor expert compact, the Canon G12.
Fujifilm FinePix X S1 vs. Sony NEX-5N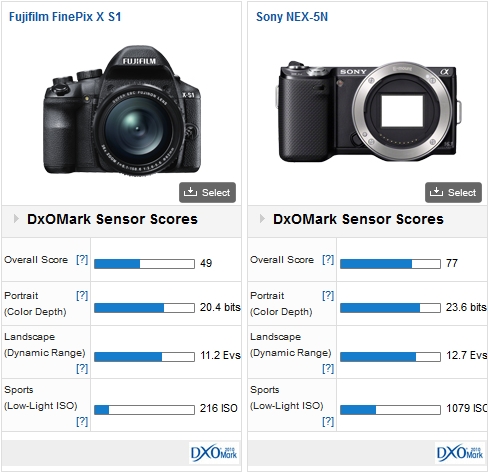 Given the difference in sensor sizes (the NEX-5N's is more than four times larger than the X-S1's), there is nothing astonishing about Sony's compact hybrid flattening the Fuji in all categories:
Color depth: +3.2 bits
Dynamic range: +1.5EV
Low-light ISO: +2.3EV
However, from a strictly functional point of view, there are no Sony E lenses capable of covering the X-S1's focal range amplitude (between 24mm and 624mm).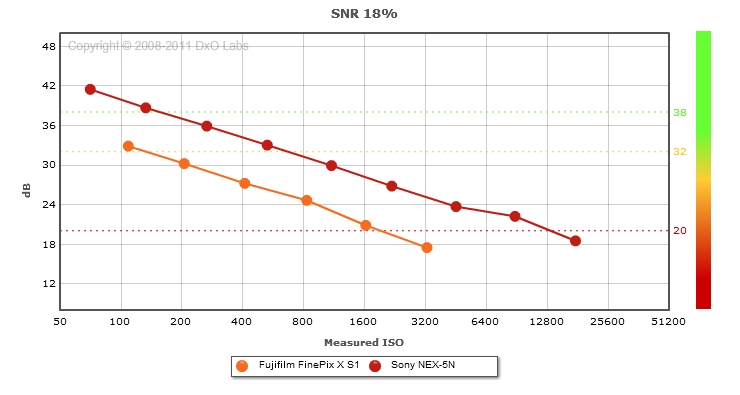 Fujifilm X-S1 vs Canon PowerShot G1 X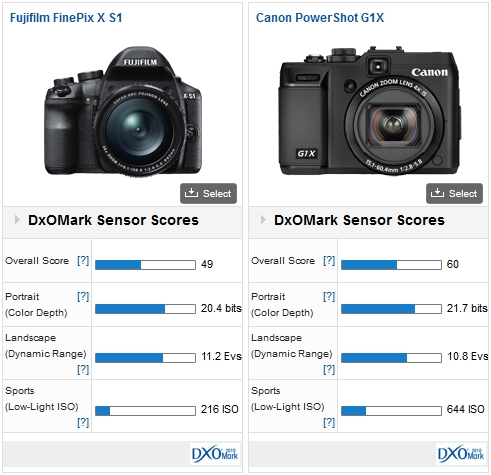 As you can see from the comparative test scores, both cameras' sensor results are not as different as one might expect in terms of dynamic range. The G1 X is ahead of X-S1 in terms of color depth, with a noticeable 1.3-bit advantage to the Canon. There is also an area in which the 2/3" sensor of the X-S1 cannot compete with the sensor of the Canon G1 X: low-light sensitivity. The Canon G1 X is 2.5EV better under low-light and that will be obvious on the high ISO images of both cameras. Low-light performance is clearly the main asset of Canon's premium compact camera.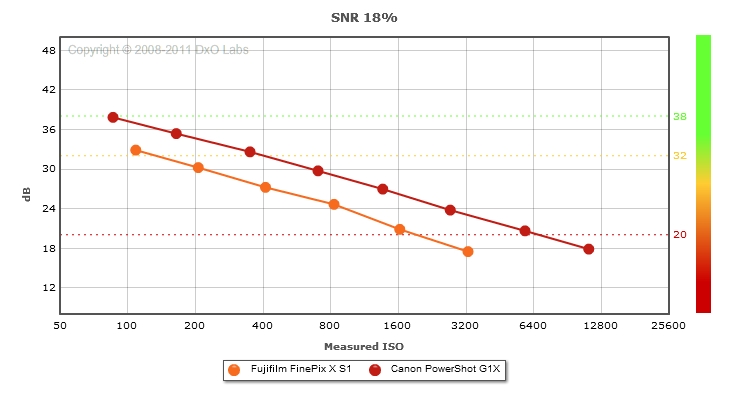 Further readings for the Fujifilm FinePix X-S1 review: an expert compact performance from a bridge-format camera
To provide photographers with a broader perspective about mobiles, lenses and cameras, here are links to articles, reviews, and analyses of photographic equipment produced by DxOMark, renown websites, magazines or blogs.
---
| | |
| --- | --- |
| | Bridge cameras often suffer from so-so image quality and cheap finishing touches. How does this premium bridge from Fuji compare to such expert compact cameras as the Canon Powershot S100 or G12? Does it use the same sensor as the Fujifilm X10? What differences in performance can we expect when pitting it against an APS-C hybrid? Here are the DxOMark.com test results for the Fujifilm FinePix X-S1. |
---
Comments
DXOMark IS TOTALLY WRONG ON FUJI X-S1 SENSOR SIZE !!!

In commenting upon Fuji XS-1 sensor DXOMark states "[i][i] Fujifilm X-S1 gets better results than a lot of ambitious cameras, yet is not equipped with a gigantic sensor like the Olympus XZ-1, the Panasonic LX-5, or the Samsung EX-1 —cameras aimed at true photo enthusiasts[/i][/i]" : well this is an INCONCEIVABLE BLUNDER from a (supposed ??!) sensor-specialist like DXO-Mark!!
X-S1 has in fact a LARGE sensor (2/3" = 8.8 x 6.6 mm), much larger than those equipping common mega-zoom cameras, common compact cameras and even larger than those on board of most high-end compacts, including ALL those TOTALLY MIS-QUOTED by DXO-Mark: Olympus XZ-1 (1/1.63" sensor = 8.07 x 5.56 mm),Panasonic LX-5 (1/1.63"), or Samsung EX-1 (1/1.7").
DXOMark seems therefore to ignore the "inch system" expressing sensor size and completely misses the point with XS-1: by using the same sensor equipping Fuji X-10, X-S1 has the largest sensor to be found on any really compact camera until very recently. Only in June 2012 that palm passed from Fuji X-10 to Sony RX100: a true compact (213 grams) equipped with a 1" sensor (" self proclaimed compacts" such as Canon G1 X, weighing well over 500 grams, are in another league).



Reply | Read all replies for this comment
First replies for this comment
---
Fujifilm X-S1 - Tested on New / Old Sensor ?

Hi Iam really happy to see the results but just want to know

1.)Was this tested on an [b]Old sensor (Orb issue) or with the New/ Modified sensor[/b].

2.)In case if you have tested both sensors, [b]which one performed better[/b] old or the New /Modified sensor (Ignoring the orb issue)

These 2 questions are running around thousands of times in most of the forums.
Hope the answers from DXO - one the trusted source would may give them a huge relief and even my purchase decision is still pending on this whether to go with new /old sensor ;)


Reply
---
EXR

<div id="linkdxomark">This a comment for <a href="http://www.dxomark.com/index.php/Cameras/Camera-Sensor-Database/Fujifilm/FinePix-X-S1">this page on the website</a></div>EXR DR mode is available for manual exposure but you have to set the image format RAW+JPG and select image size M and DR 400%. This works also with X10 and F-series. Please retest - the dynamic range is huge for a small sensor.


Reply
---