Fujifilm X100 DxOMark Review
Monday April 18 2011
Sensor Review
The X100 really has impressive metrics for a compact camera. Its sensor manages to outperform that of the Sony NEX-5, and thus takes first place in the mirrorless rankings. The interesting part though is that it also manages to outperform or rival mid-range DSLRs such as the Nikon D90 and the Canon EOS 60D, thanks to its well-handled noise and good color management, but above all thanks to a truly decent low-light performance.
Previously Sony's NEX-5 had already threatened some DSLRs in performance quality, and we now know for sure the X100 goes even further.
It remains to be seen if the X100's sensor performance can help it overcome other negative points in categories such as: video function, fixed v. interchangeable lenses, and overall speed.
On a side note let us not forget that no matter how good the X100 might be, the latest generation of Sony 16 Mpx sensors that powers models such as the K5, the Alpha 580, and the D7000 is still far better; especially where dynamic range is concerned. On the other hand, these models are still far more expensive.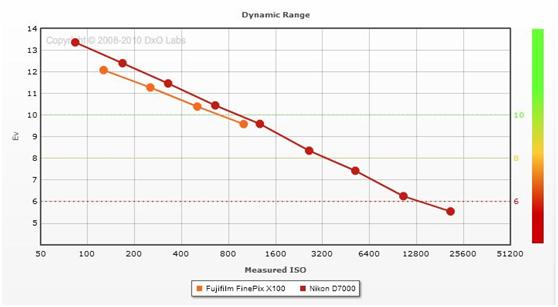 FujiFilm X100 vs. Nikon D7000 Dynamic Range
If we take only sensor performance into account, the X100 is a success and we'll even go as far as to declare it the perfect everyday companion for the DSLR enthusiast.
Further readings for the Fujifilm X100 DxOMark Review
To provide photographers with a broader perspective about mobiles, lenses and cameras, here are links to articles, reviews, and analyses of photographic equipment produced by DxOMark, renown websites, magazines or blogs.
---
Sensor Review
|
January 16, 2012
Last year, photography headlines noted a revival of enthusiasm in the old-fashioned camera sector.

The most active manufacturers for this segment were Olympus with its PEN camera and Fujifilm, with its Fuji X100 one of the most acclaimed cameras of 2011.
---
| | |
| --- | --- |
| | When Fujifilm launched the X100, they certainly didn't expect it to raise so much interest among photography enthusiasts. Earlier this week, they announced the Fujifilm XPro1, which more specifically targets this demanding market. |
---
As you well know, DxOMark, the world leader in image quality analysis conducts scientific and independent testing on the latest camera sensor technology available. This time around we have Fujifilm's latest creation; the FinePix X100 an APS-C camera with an impressive array of features, and one of the most awaited products in its category. Find out Fujifilm FinePix X100's review results...
---
---
---
---
---
---
---